Some analysts have identified winners of the mobile advertising market. Google (NASDAQ:GOOG) is dominating the $6.62 billion U.S. market in 2012. The sector has a rapid growth, but it is important to differentiate between real ad clicks and accidental or fraudulent clicks. According to eMarketer, "around 40% of clicks are either accidental or fraudulent." The market should increase by 256% in 2012, from 2011. eMarketer forecasts a $12 billion market in the U.S. for Mobile advertising by 2016. See table below.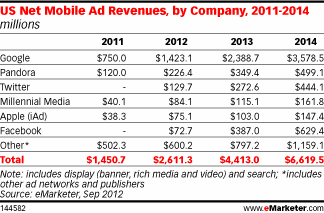 Google, the owner of Android OS, should continue to dominate the industry. However, Pandora (NYSE:P), Twitter and Millennial Media (NYSE:MM) are also important players in term of mobile revenue, but less known.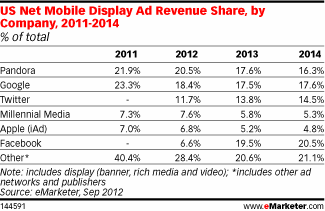 According to eMarketer, "On a net basis, Pandora Media has emerged as one of the strongest U.S. mobile display-ad sellers, and its share of the total U.S. mobile display market is expected to reach 20.5% in 2012." By 2014, Pandora will have 7.5 percent of the mobile ad market, while Twitter should have a market share around 6.7 percent.
According to GigaOM, one way that Pandora has reached these heights so quickly is by putting its mobile ads in heavy rotation. It may kill "some of the joy of using the app, and it may ultimately turn off other users of the service as well."
GigaOM suggests: "While Twitter is in front of Facebook (NASDAQ:FB) for now, it won't be long before Facebook makes a comeback." GigaOM forecasts a 9.5 percent share of the market for Facebook in 2014. Apple (NASDAQ:AAPL) should continue to struggle in one of its rare markets: mobile advertising with iAd, with a market share of only 6.8% in 2012. Some experts suggest that perhaps it is time for Apple to rethink its business model in Internet advertising.
Another report by Juniper Research reveals that the total ad spend on mobile web search will reach $12 billion per annum in five years' time, three times the ad spend this year, which will reach $4 billion. Usage of web search on mobile devices will be driven by continued adoption of high-usage tablets, with the number of these devices in-use reaching 672 million by 2017.
4 stocks expected to gain from the quick growth of the mobile advertising market
Internet ad spending represents around 22% of total ad spend. It is catching up with time spent online, 26% of total media time. That ratio is fairly comparable to old mediums like TV (43/42) and Radio (15/11). However, the discrepancy time spent on mobile online with mobile advertising is still huge (10 vs. 1%). According to Mary Meeker of Kleiner Perkins, there is a $20B+ opportunity just in USA both for Mobile and Internet advertising.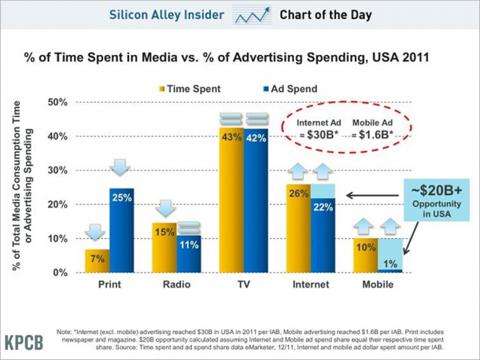 Internet advertising revenue for the first quarter of 2012 set a new record for the reporting period at $8.4 billion, according to the latest IAB Internet Advertising Report from the Interactive Advertising Bureau - IAB - and PwC U.S. It is the highest first-quarter revenue ever measured by the IAB and PwC and a $1.1 billion-or 15 percent increase-over the $7.3 billion figure reported in the first quarter 2011.
"More online consumers than ever are taking to the internet to inform and navigate their daily lives-by desktop, tablet or smartphone," said Randall Rothenberg, President and CEO, IAB. "Marketers and agencies are clearly-and wisely-investing dollars to reach digitally connected consumers."
"The year-over-year growth between Q1 2011 and Q1 2012 sets quite a milestone," said David Silverman, Partner, PwC U.S. "Moreover, a 15 percent increase over the comparable period in 2011 is a solid affirmation the internet is delivering on its promise to attract consumers and the advertising dollars that follow."
Who could benefit from this $20B+ opportunity in the USA?
I can name four important players: Google, Millennial Media, Facebook and Pandora. Those advertisers can play the role of efficient infomediation players.
1- Google has a decent P/E ratio of 22X and has around 90% of its revenue from advertising. This is changing with the Motorola acquisition. Google is largely dominating mobile search with a market share above 95%.
Google's domination in mobile search (April 2012)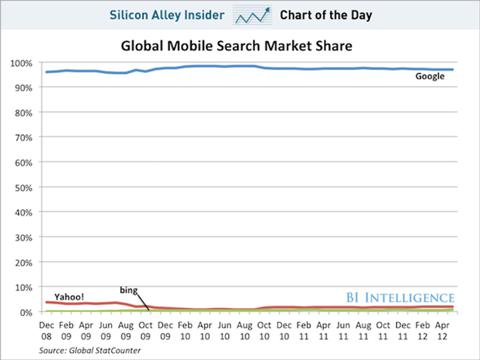 The Average recommendation score of analysts on Yahoo Finance is 1.8 (on 5, where 1 is Strong Buy) for Google. Thus, analysts are quite bullish on the potential of Google. Market capitalization on revenue is still high at 5.6X. However, forward P/E is just 15.
2- Millennial Media just had its second public quarter. The price of the stock is down 40% from day 1 of the tech IPO. MM is the fourth contender in the market just in front of Apple's iAd. The company reported a loss $0.07 in its latest quarter (TTM). The company has no debt. Market capitalization on revenue is still high at 8.6X.
Millennial Media may soon become profitable with the quick growth of the mobile advertising market. With no debt, the fourth contender may benefit greatly of the growth in mobile advertising, as mentioned by Mary Meeker ($20B+ opportunity in the USA).
3- Facebook stock is up 27% in the last 3 weeks. The company is announcing the launch of a new ad mobile network. It may pass in front of Twitter in the near future, in the U.S. mobile advertising ranking. However, the P/E ratio of 79X is a major concern for several analysts. In order to keep that high valuation, Facebook has many challenges to deal with.
According toBarron's, Facebook valuations should be around $15. At actual price it may still be overvalued. So far, Facebook has been unable to monetize the move from the desktop to mobile.
4- Pandora will face new competition by Apple . Apple made waves recently when it announced plans to enter the Internet radio market. Two weeks ago, the tech titan revealed it had started negotiating licensing agreements for its own streaming service. The market responded by sending shares Pandora down 17% that day.
While Pandora posted a $5.4 million loss in its most recent quarter, it was considered a "success." Since its founding in 2000, Pandora has lost over $100 million. The stock is down 40% from its 2011 IPO. Market capitalization on revenues is still high at 5.2X. The company has no debt.
Pandora may have quality issues with its advertising, as reported by GigaOM. Moreover, the new competition from Apple may hurt its market share of mobile advertising in Internet radio.
Conclusion
The stocks with the most promising potential in the mobile advertising market are Google, Millennial Media, followed with Facebook and Pandora. The business model of Google and Millennial Media strongly supports the developments of mobile advertising. Valuations based on the ratio Market capitalizations on revenues are relatively high on average for the four stocks. Google is the cheapest stock among the four, with a forward P/E of just 15, and a 5-year PEG of just 1.13.
Google is one of my favorite stocks to benefit from technology trends and some growth areas that I analyzed in a previous article. The potential for the development of the infomediation business model (such as location-based mobile advertising), is huge by using the data bank of its users. Moreover, its products and services (i.e. Google offers, Google TV, Google Ad Network) are leveraging several of the Internet trends such as globality, mobile commerce, advertising and empowerment of people.
Disclosure: I am long AAPL. I wrote this article myself, and it expresses my own opinions. I am not receiving compensation for it (other than from Seeking Alpha). I have no business relationship with any company whose stock is mentioned in this article.