The CME Group announcement this week to launch 3 - month Overnight Index Swaps [OIS] futures and options brings far more than the arbitrage of 3- month Fed Funds and 3- month Libor.  It brings natural trading to commercial real estate derivatives and the ISE Alternative Market.
In March 2008, the ISE Exchange announced the offering of Rexx Index commercial real estate derivatives on the ISE Alternative Market.  As the first index to establish criteria for a 3 –month Fed Funds rate, Rexx Index Total Return was unique in recognizing its value.  With the CME entry to the market, the opportunity now exists to arbitrage between two exchanges and two asset classes.
Since the Rexx Index applies the inverse of the 3 - month Fed Funds rate, taking a long position on the Rexx Index is a natural hedge to a long position on the OIS. The same would apply on short positions.  With options on the 3 – month Fed Funds going mainstream, Rexx Index Total Return for metro specific commercial real estate can be hedged with both Interest Rates and ∆ Rent leaving exposure to headline inflation [CPI] or any combination above.
image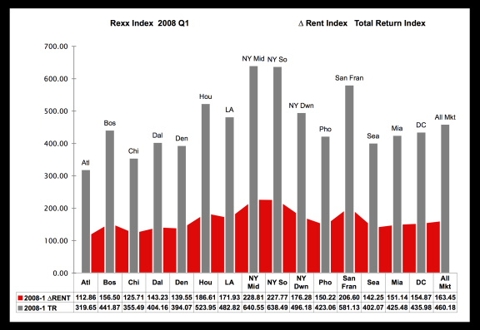 CMBS issued $137 billion last year for the first six months, and issuance is down 90% to $12 billion for the same period this year as reported by Knowledge@Wharton.  There is little confidence going forward and higher spreads factor continued uncertainty.  With CBMS default rates dependent upon rent coverage and LTV, vacancy and interest rates are seemingly on the rise.  With market acceptance of the 3 – month Fed Funds trade, it provides the first opportunity to manage these risks through a Rexx Index / OIS trade building liquidity and transparency to the commercial real estate market.
Paulson speaks out daily to restore confidence in the credit markets.  Actions taken include the government-housing bill, the government support of Fannie and Freddie, and the planned use of covered bonds.  Merrill, Lehman, and Goldman have continued to benefit from the Fed window. With the government less inclined to intervene on matters with respect to commercial assets the banks should consider this a cautionary tale.
Pricing residential land development and multihousing loans as commercial assets looks to have been a double down on the housing market.  Calpers and others found this out the hard way having to deal with $947 million in potential losses.  Merrill has succumbed to its balance sheet selling assets for $.22 cents on the dollar.  Lehman looks to be dumping $30 billion of commercial mortgages, and the beat goes on.  Having the opportunity to trade a leading monetary policy instrument on two of the largest assets classes coupled with the transparency of two leading exchanges sounds like something Paulson had in mind.