Amidst the announcement of a third round of quantitative easing, we believe that hybrid and non-agency mortgage REITs will benefit the most. MFA Financials (NYSE:MFA) and Invesco Mortgage Capital (NYSE:IVR) are our two most-favored mortgage REITs. Both have a significant portion of their asset portfolio invested in non-agency and adjustable rate securities. The combinations of non-agency with adjustable rate securities help reduce the exposure to accelerated prepayments.
As a consequence of the announcement, and the launch of the third round of quantitative easing by the Federal Reserve Bank to stimulate the sluggish U.S. economy, the spread between the Agency mortgage backed security yield and the 10-year treasury yield has dropped to a record low. Around $1.4 trillion new gross agency mortgage backed security originations are expected in the year 2012, of which the Fed will purchase 60%. The Fed will be purchasing these securities at their most expensive valuations. The graph given below shows the spread between the prevailing coupon spread for the 30-year Fannie Mae and the prevailing 10-year treasury yield.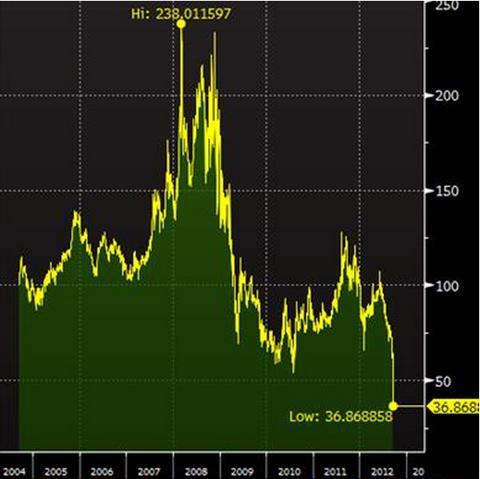 Source: istockanalyst
We believe that mortgage rates will decline further in the aftermath of the introduction of QE3. A decline in mortgage rates will have an impact of accelerating prepayments, while also shortening the durations of these securities.
In the wake of the decreasing spreads between agency yields and treasury yields, we believe mortgage REITs with large holdings of non-agency mortgage backed securities are the best candidates for long positions. Mortgage REITs that invest exclusively in Agency securities will experience a compression in their net interest spreads, resulting in dividends cuts. Annaly Capital Management (NYSE:NLY) was also forced to cut its quarterly dividend distribution by 9% from $0.55 per share to $0.5. The intensified scarcity of agency mortgage backed securities due to the implementation of QE3 will add momentum to the non-agency mortgage sector. The non-agency mortgage sector is also benefiting from the announcement of favorable capital treatment for dealers for non-investment grade non-agency MBS, and strengthening home prices.
Given the favorable situation in the U.S. non-agency mortgage sector, we believe investors should long MFA and IVR.
MFA Financials
MFA Financials invests approximately 40% of its assets portfolio in non-agency mortgage backed securities. Besides that, the company has a sizable investment in adjustable rate securities (ARMs) and hybrid securities. This blend of non-agency, adjustable rate securities and hybrid securities enables the company to make an attractive investment, which is less sensitive to the changes in the spreads between the agency mortgage backed securities and the appropriate treasury yield.
The risk of accelerated prepayments due to a further decrease in mortgage backed securities is insignificant as far as MFA is concerned. The company invests half of its assets portfolio in adjustable rate mortgage securities. These adjustable rate residential mortgage securities are less sensitive to changes in interest rate, as far as their fair values and prepayments are concerned. These securities adjust to the prevailing interest rates, thus reducing the risk of accelerated prepayments. The stock offers a 10.7% dividend yield that is well backed by an operating cash flow yield of 11%.
Invesco Mortgage Capital
Invesco Mortgage Capital invests over 27% of its residential mortgage securities portfolio in non-agency mortgage backed securities. The company has a history of exceeding its earnings estimates by 0.9%. Like MFA Financials, Invesco has a reasonable portion of its assets portfolio invested in adjustable rate securities. These securities will reduce the company's exposure to accelerated prepayments, and the resulting amortization costs. The stock offers a dividend yield of 12.8%, which is backed by operating cash flows of 17%. This reflects that the company generates sufficient cash through its operations to support its dividend distributions.
Valuations
The stocks of both Invesco Mortgage Capital and MFA Financials trade at a P/B value of 1.11 times. Compared to this, the stock of American Capital Agency (NASDAQ:AGNC) trades at a book value of 1.19 times.
Disclosure: I have no positions in any stocks mentioned, and no plans to initiate any positions within the next 72 hours.
Business relationship disclosure: The article has been written by Qineqt's Financials Analyst. Qineqt is not receiving compensation for it (other than from Seeking Alpha). Qineqt has no business relationship with any company whose stock is mentioned in this article.