When you are dealing with a stock that has the potential to trade significantly higher, one of the best ways to leverage your position for a relatively low fee is to use the following strategy. With this strategy puts are sold, and the proceeds are used to fund the purchase of calls. The benefits are two-fold. If the stock takes off you stand to benefit tremendously from the call options you purchased. On the other hand, if the stock pulls back you have the chance to get in at a lower price via the puts you sold.
Reasons to be bullish on Baidu (NASDAQ:BIDU):
It sports strong quarterly revenue growth rate of 59%
Sales increased from $652 billion in 2009 to $2.35 billion in 2011
It has a 5 year average growth income rate of 86% compared to the industry standard of 26.6%
Net income for the 2nd quarter came in at $436 million and if Baidu maintains this rate, it could exceed the $1.2 billion mark for the year.
Net income rose from $218 million in 2009 to $1.02 billion in 2011
Annual EPS before NRI increased from $0.25 in 2007 to $3.02 in 2011
A five year sales growth rate of 64%
A low long term debt to equity ratio of 0.11
An impressive 5 year EPS growth rate of 73%
Sales vs 1 year ago of 91%
A projected 3-5 year EPS growth rate of 45%
A quarterly earnings growth rate of almost 70%
A splendid current and quick ratio of 4.7 and 4.5 respectively
$100K invested 10 years ago would have grown to $1.3 million
Some highlights from the second quarter
Total revenues surged to $858 million up 59% year over year
Operating profits came in at $414 million an increase of 51.5% year over year
Net income jumped to $436 million an increase of 69.6% from the corresponding period in 2011
Management expects total revenues for the 3rd quarter to come in between $983 million to $1.009 billion, an increase of 49.6% to 53.5% year over year.
Does Baidu face a real threat in the search arena?
The stories that Qhioo 360 (NYSE:QIHU) could prove to be a serious threat to Baidu, Inc. are overblown in our opinion. Baidu is the dominant player and controls over 78% of the market in China. If a giant like Google (NASDAQ:GOOG) was unable to dethrone Baidu, the chances of a tiny player like Qhioo 360 achieving this feat will be next to impossible. Google is at a distant second with only 15.7% of the market share in computer-based searches.
Qhioo's search engine could be a threat to players with smaller market share such as Sohu com, Inc (NASDAQ:SOHU), the third largest search engine in China. However, Sohu's search engine (Sogou search) continues to experience strong growth rates.
For Search, Sogou again posted triple-digit revenue growth on a year-on-year basis. Sogou revenues were US$30 million, up 123% year-over-year and 34% quarter-over-quarter.
In the short term, it's Google that stands to lose more as Qhioo replaced them with their own search engine. The real loser is Microsoft's (NASDAQ:MSFT) Bing. It's so unpopular as a search engine that it falls under the "others" category in terms of search engine market share.
Qhioo 360 also cannot be fully trusted in terms of the data it puts out. Last November the company claimed 57% market share penetration. Then the company's CFO back peddled and stated that their market share stood at 37%. A video on YouTube nicely addresses this situation. Baidu on the other hand, states that Qhioo has a market share of roughly 22%. Web analytics company CNZZ states that Qhioo currently has a market share of 27%.
The real threat
While in \computer-based searches, Baidu does not have to worry about Google, it really needs to start paying more attention to the smart phone market. Google is the dominant player in the mobile ad's segment. Application developers and corporations are turning to Google's AdMob unit to reach smart phone users.
"Since 2010, Google has been trying many things to keep its presence in China," said Steven Chang, chief executive officer of Zenith Optimedia's China division, which buys advertising from Google and Baidu. "AdMob now has quite a significant share of the market."
Charts of Interest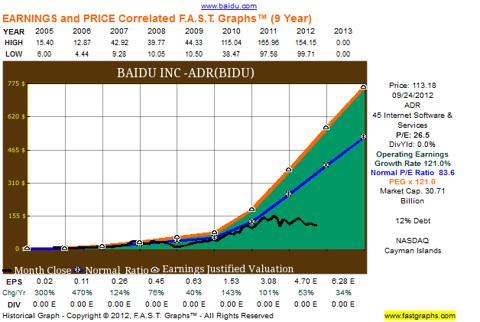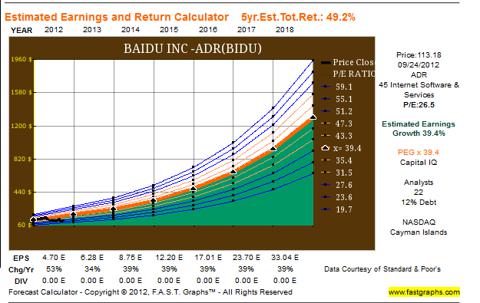 A look at some of the competition
Baidu versus Sohu inc and Sina Corporation (NASDAQ:SINA)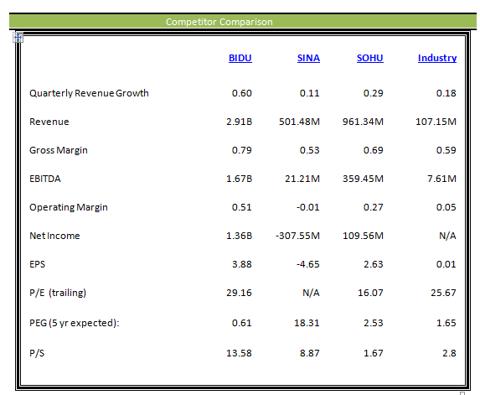 Technical outlook
After dropping to a new 52-week low on the 17th of July to $99.71, it has been putting in a series of higher lows, which is generally a bullish development. It is also attempting to put in a bottom in the $107 ranges. During his process, the stock could spike lower before trending higher, and so it could drop down to the $103-$105 ranges before the bottoming process is complete. As long as it does not close below $99.71, the trend will remain neutral. A weekly close above $120 will turn the outlook to bullish. There is a rather strong amount of resistance in the $119.50-$120 ranges and a failure to break past this zone could push it down to the $105-$107 ranges. We would divide the funds we are going to invest into this play into two lots. Deploy the first loss at $105 or better. Deploy the second lot, if it happens to trade below $100.00.
Suggested strategy for Baidu
Part 1

The March 2013, 105 puts are trading in the $9.15-$9.30 ranges. If the stock pulls back to the stated ranges, these puts should trade in the $12.50-$13.00 ranges. We will assume that the puts can be sold for $12.50 or better. You do not have to wait for the stock to trade exactly down to $105. If you feel that a pullback to $108-$110 ranges would make for a good entry point, then feel free to put this strategy into play when those targets are hit.
Part 2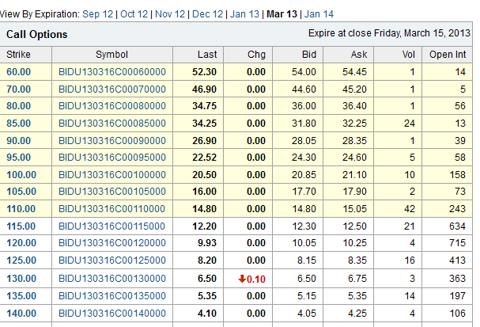 The March 2013, 135 calls are trading in the $51.5-$5.35 ranges. If the stock pulls back to the stated ranges, these calls should trade roughly in the $3.00-$3.30 ranges. We will assume that these calls can be purchased at $3.30 or better. For each put sold, you could purchase up to three calls and have a net credit of $260 left over.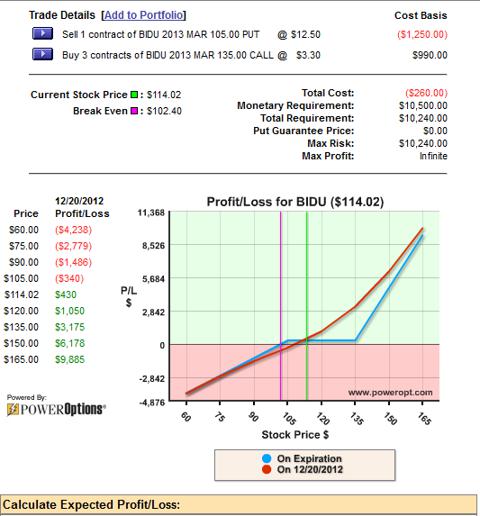 Benefits and risks associated with this strategy
You have an opportunity to significantly leverage your position in this stock for a relatively low fee. You would only need to put up $10,500 to secure the put, but you would be in a position to control up to 300 shares.
You have the opportunity to get into this stock at a lower price. If the stock trades below the strike price you sold the puts at, the shares could be assigned to your account (assignment usually occurs on the last trading day of the option). Depending on the number of calls you purchased your cost per share could range from $95.80 (if you purchased one call only) to $102.40 (if you purchased three calls).
As long as you are bullish on the stock, having the shares assigned to your account should not be an issue. The only real risk is that you have a change of heart and are no longer bullish on the prospects of the stock. In this case, you can roll the put. Buy back the old puts and sell new out of the money puts.
Conclusion
The markets have had a tremendous run without undergoing a strong correction, and so it would be prudent to bank profits as soon as possible. Our suggestion is to close half the position out if it is showing gains in the 60%-100% ranges.
Options tables sourced from yahoofinance.com. Option Profit loss graph sourced from poweropt.com. Competitor comparison data sourced from yahoofinance.com.
Disclaimer
It is imperative that you do your due diligence and then determine if the above strategy meets with your risk tolerance levels. The Latin maxim caveat emptor applies-let the buyer beware.
Disclosure: I have no positions in any stocks mentioned, and no plans to initiate any positions within the next 72 hours.
Business relationship disclosure: This article was prepared for Tactical Investor by one of our analysts. We have not received any compensation for expressing the recommendations in this article. We have no business relationships with any of the companies mentioned in this article.