Reynolds American (NYSE:RAI), the second biggest cigarette manufacturer in the United States, presents an opportunity for the discerning investor. While the legal pressures facing the tobacco industry have receded modestly, this positive development has been more than overshadowed by the specter of the FDA oversight bill Congress is reviewing. This bill would allow the FDA to regulate cigarette composition (with several exceptions) and would serve to solidify rival Phillip Morris USA's dominant position in the US market. It appears the bill is dead for the foreseeable future, as a vowed filibuster by Senate Republicans and a threatened Presidential veto thwart its advance for the near-term.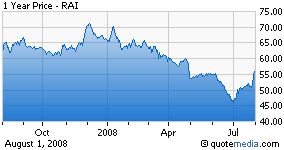 Reynolds, trading around 55 after strong earnings, yields 6.6%. This is in addition to a generous buyback announced last quarter, and speaks volumes to the company's commitment to reward shareholders. The business model Reynolds employs – characterized by a targeted approach to profitable growth and a hard line in terms of expenses, is well-suited to the current environment facing tobacco companies. Strong cash flow and fiscal discipline recently lead to an upgrade in the company's debt rating to investment grade levels, a development which will facilitate cheaper interest costs and reflects well on managements focus. Tobacco companies – whose financial futures have a pall cast over them by potentially crippling ongoing litigation – are held to a high standard by the rating agencies.
Reynolds overall volume has declined rather precipitously of late, but a more careful analysis of the declines and an attempt to reconcile the results with the company's plan is informative. Susan Ivey, Reynolds CEO, said last year in a conference that her company was focused on the premium end of the market – realizing that consumers at the high end of the tobacco spectrum would be more willing to swallow price increases and less affected by economic malaise. While overall market share has declined, the entirety of this has come from so-called "support" and "non-support" brands – Camel, Kool and Pall Mall have all gained share, showcasing the promise of these "growth" brands.
Reynolds acquisition of Conwood, a smokeless tobacco company, has proved prescient. Impressive growth exhibited by Conwood – lead by MST (moist smokeless tobacco) brands Kodiak and Grizzly, among others has bucked the company's cigarette volume trends. The smokeless tobacco industry, dominated by UST, has benefited mightily due to a migration of smokers from cigarettes to MST and related products. This trend has been exacerbated by heavy taxes on cigarettes, and a perceived reduction in health risks facilitated by a shift from cigarettes to smokeless tobacco. Reynolds has been testing a smokeless tobacco product marketed under the powerful Camel brand name – early results have been promising, and this may be a potentially material shift in product flow.
In the meantime, Reynolds is allowing its non-growth brands (think Vantage, Carleton, etc.) to lose share, and allocating the ample cash these premium brands provide to increase awareness on new refurbished incarnations of the three growth brands, such as Camel No. 9's, among others.
All said, RAI is a company with solid future prospects. Management's demonstrably shareholder-friendly approach, the soundness of long-term plans put forth by executives and the considerable liquidity generated by operations all bode well for the prudent investor. However, it is important to note that uncertainty hanging over tobacco companies engendered by lawsuits will not dissipate in the foreseeable future.
Disclosure: None