Market Recap
The market continued to struggle on Tuesday due to European woes and conversation from Charles Plosser. Despite very good prints from housing and consumer confidence, the market trailed off in the late morning and afternoon as traders/investors turned their focus to comments from Philly Fed President Plosser and Spanish issues. Plosser commented that he did not believe that QE3 would help create jobs. Further, he said that the program was very risky. The black eye on QE3 did not help the market and caused dollar strength. Further, riots in Spain and increasing bond prices were causing more "risk on" trading for the markets. Interestingly, all this weakness came as housing prices were at a two-year high and Consumer Confidence rose above the 70 level - well above expectations of 63. Some selling may have also occurred as the market prepares for low volume on Yom Kippur. Upside may be limited for the rest of the week until we get to the new quarter. For now, it looks like investors are taking profits for the month and quarter.
Here are some stocks we like moving through the week and beyond:
Stocks To Trade
Today, we are looking at an earnings trade in Panera Bread (NASDAQ:PNRA), longs in Priceline.com (PCLN) and Las Vegas Sands (NYSE:LVS), shorts in iShares Russell 2000 (NYSEARCA:IWM) and US Steel (NYSE:X).
For an earnings trade, we like the looks of Panera Bread. The company is one of our top stocks for 2012 and 2013 as they continue to grow at great rates for their industry and are maintaining strong margins despite input cost increases. We have a $180+ PT on the stock by the end of the year and believe we can make money heading into the next earnings. PNRA is an interesting stock in that it continues to move very flat in between earnings but gap up on reports. The stock has low beta and is good for writing premium on options in between reports. With earnings on October 22, we can use October options that will expire before earnings but still get strength into earnings. The company is expecting another 10%+ growth in sales as well as 20%+ growth in EPS. The stock broke out at 160, and that level looks great for support.
Trade: PNRA, Oct20, 160/155 Bull Put Spread
Max Gain: 11%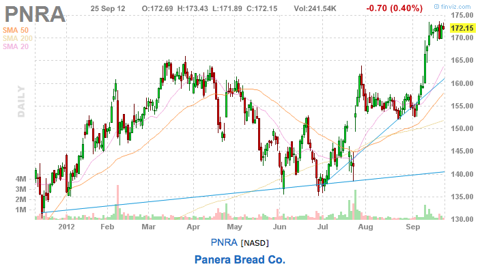 For longs, we like the looks of Priceline.com and Las Vegas Sands. PCLN has held up very well despite market weakness as well as LVS. For PCLN, the stock is very close to breaking out of a downward moving channel that is very enticing for a stock trade. The company got hit on earnings, but it has recovered very nicely since then. Fundamentally, the stock has good value right now and is benefiting from positive analyst comments like Pacific Crest mentioning that they are taking market share from other vacation suppliers as well as a Buy rating from Cantor. If the stock can get over 650, it should breakout even higher. For LVS, the company commented that they had a record weekend in China this past weekend, and it appears that casinos may be back with good trends returning in China and Macau. LVS has had a very rough year, and the stock seems to have shown a bottom at 40. The stock looks ready to breakout as well if it can get over its 200-day MA. If it breaks over that level, we would like to add the 42/41 bull put spread for a nearly 20% max gain.
Stock Trade: Long, PCLN
Breakout Point: $650
Options Trade: LVS, Oct20, 42/41 Bull Put Spread
Max Gain: 18%
For shorts, we like the looks of IWM and X. The Russell looks to be turning over right now, and it has broken its 10-day MA. The market is looking weak, and we like using the IWM as a nice portfolio hedge with a bear call spread. The Russell tends to be one of the first indices to show downside risk, and the IWM has shown a strong top at 85. The failure of the 10-day MA on Monday and continued downside on Tuesday shows a lot of market risk. In a bullish portfolio, we recommend adding this hedge. US Steel is in a strong downward wedge, and it is nearing the bottom of the wedge at 18.90. If the stock breaks that wedge, it will break down. US Steel is fundamentally weak as well in a cyclically weak period right now that is causing investors to move out of the stock. Without much upward catalyst, if the market continues to weaken, US Steel will follow suit. Short on the break of the wedge.
Stock Trade: X, Short
Breakout point: Failure of 18.90
Options Trade: IWM, Oct20, 87/88 Bear Call Spread
Max Gain: 25%
Tomorrow's Outlook:
The market will be facing some limited volume tomorrow with Yom Kippur, which could make for an interesting day. New Home Sales will be on the docket for tomorrow as well as Crude Inventories. It's hard not to see upside, even if small, if new home sales come out strong and continue to give us good data points this week. If Europe does not improve, though, it will continue to create resistance for the market. The lack of upside on the market despite good data today is concerning, and the market seems to be showing some signs of weakness. Downside this week could be allowing for buying to position for Q4, but until next week, downside looks likely.
Our Moves/Holdings:
We had a nice day in the market as we were able to lock in some solid gains. We closed down 1/2 of our Equinix (NASDAQ:EQIX) bull put spread for a 20% gain. We took a 1.5% gain on our Yum (NYSE:YUM) long as well. We also got a 1.5% gain in our American Water Works (NYSE:AWK) long. We took a 1% loss on our Lockheed Martin (NYSE:LMT) short as well as 1.5% loss in Williams-Sonoma (NYSE:WSM). We entered and exited a long in Baidu (NASDAQ:BIDU) for a 0.6% gain as well as 2.25% gain in a Lousiana-Pacific (NYSE:LPX) short. We also added a bear call spread in IWM to our Options Portfolio. We also added a bull put spread in Walgreens (WAG) to our Goldman Portfolio.
We have the following positions:
In our Short-Term Equity Portfolio we have no positions.
In our Options Portfolio, we are long Williams-Sonoma, Direxion Daily Financial (NYSEARCA:FAS), Apple (NASDAQ:AAPL). We are short OpenTable (NASDAQ:OPEN) and iShares Russell\.
In our Earnings Alpha Portfolio, we are long Target (NYSE:TGT), Alexion (NASDAQ:ALXN), Costco (NASDAQ:COST), Polaris (NYSE:PII), Crocs (NASDAQ:CROX). We are short Texas Instruments (NYSE:TXN).
In our Goldman Sachs Up/Down Paper Portfolio, we are long American Water Works, Walgreens, Apple, Manitowoc (NYSE:MTW).
Chart courtesy of finviz.com.
Disclosure: I have no positions in any stocks mentioned, and no plans to initiate any positions within the next 72 hours.
Business relationship disclosure: The Oxen Group is a team of analysts. This article was written by David Ristau, one of our writers. We did not receive compensation for this article (other than from Seeking Alpha), and we have no business relationship with any company whose stock is mentioned in this article.