In spite of Friday's miserable trading environment, my shares in Graham (NYSEMKT:GHM) enjoyed a nice move higher, closing at $101.97, up $12.97/share or 14.57% on the day.
I acquired my original 105 shares of Graham (GHM) 5/30/08 (just two months ago) at a cost basis of $64.48/share.  Two weeks ago, I sold 15 shares of Graham (1/7th of my holding) at $85.46, representing a gain of $20.98/share or 32.5% since purchase.
The 30% appreciation level is, as you may know, my first 'targeted' appreciation level at which time I sell 1/7th of my holding and use this as a "signal" to be buying a new position.  The next appreciation target is at a 60% appreciation level.
On Friday, after announcing first quarter 2009 results with sales climbing 38.3% to $27.6 million from $20.0 million in the year-earlier same period, and net income up over 100% to $5.7 million or $1.11/diluted share compared to earnings of $2.7 million or $0.53/diluted share the year earlier, the stock literally exploded on the upside.  And that is in the midst of a nasty market environment.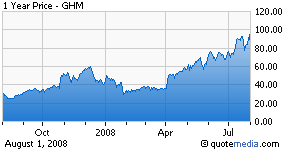 With the stock climbing to the 60% appreciation level, I sold 1/7th of my now 90 share position, which when 'rounded down' worked out to just 12 shares, at $104.45.  With my cost basis of $64.48, this represented a gain of $39.97/share or 62.0% since purchase.  Even though I personally have sold shares today on what I call 'good news,'  I am still bullish on this company and GRAHAM (GHM) IS RATED A BUY.
When would I sell shares next?
Going along with my system of selling small portions at targeted appreciation levels, my next sale point would be at a 90% appreciation level from my original purchase price which would work out to 1.90 x $64.48 = $122.51.  On the downside, having sold a portion of Graham (GHM) twice, both at the 30 and 60% appreciation levels, my sale would be at 1/2 of the highest appreciation percentage or at a 30% gain.  (NOT at 1/2 of the highest appreciation PRICE, you can see the difference).  This would work out to 1.3 x $64.48 = $83.82.
There is on other thing I would like to mention. My 'portfolio management system' generates buy and hold signals upon the sale of my own holdings.  In other words, when I generate a sale on 'good news' like this Graham transaction, I generate a 'permission slip' to be adding a new position.  When I generate sales on declines, I simply am required to 'sit on my hands' unless I am at the minimum, which for me is five positions.
Since I was at six positions, not at the maximum (20), this sale on good news generated a 'buy signal' and that nickel started burning a hole in my pocket immediately.  I did find a stock to buy, but THAT is a discussion for another blog entry entirely!
Disclosure:  The author owns GHM.