Shares of Eaton Corporation (NYSE:ETN) have recovered 25% from their recent lows of $37 touched in July. At $46.23 per share, the stock is trading at around the mid-point of its 52-week trading band between $33.09 and $53.06. I am of the view that there remains significant upside for the stock, given its favorable valuations relative to the company's fundamentals and tempting dividend yield of 3.3%.
My opinion is based on the following five reasons:
1. Eaton Corporation's pending acquisition of Cooper Industries (CBE) will likely help the company diversify its business mix and mitigate the company's cyclical nature.
2. Eaton Corporation's stock is priced favorably relative to the firm's earnings potential (see table below). Analysts on average expect ETN's EPS to rise by a 2-year CAGR of 10.3% over the current and next fiscal years, lower than the average rate of 14.8% for a peer group consisting of ETN's competitors such as Honeywell International (NYSE:HON), Danaher Corporation (NYSE:DHR), and Emerson Electric (NYSE:EMR). Accounting for the earnings estimate, the stock trades at 0.8x PEG, the lowest level in the group that has an average of 1.1x.
Click to enlarge

3. Eaton Corporation's stock also appears somewhat cheap relative to the company's other financial fundamentals (see table above). Except for the EPS growth, ETN's estimated 2-year CAGRs for revenue and EBITDA are all significantly higher than the peer averages. The firm's EBITDA margin is forecasted to expand by 2.6% in the next two fiscal years, compared to an average flat performance for the peers.
On the profitability side, ETN's profitability is fairly in line with the peer group as the differences in the margin and capital return measures are not significant. Again, ETN assumes a similar leverage level. However, the company's LTM free cash flow margin of 4.5% is below the average at 9.7%, but other liquidity measures including interest coverage rate, current ratio, and quick ratio are generally in line.
Overall, Eaton Corporation's financial condition is fairly comparable to its peers. Nevertheless, the current stock valuation implies an average of 22% discount to the peer-average LTM EV/EBITDA and LTM P/E multiples (see table above), suggesting a likely undervaluation.
Both Eaton Corporation's LTM P/E and LTM EV/EBITDA multiples have only slightly recovered from their 3-years lows (see charts below), and in addition, the stock's forward P/E trend has been trading fairly in line with the S&P 500 valuation trend over the past 12 months (see chart below).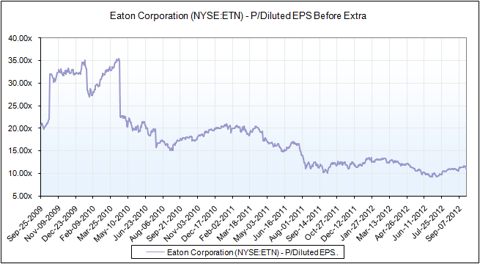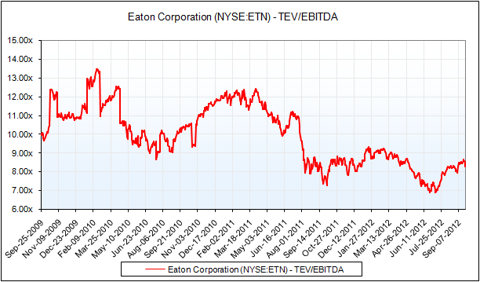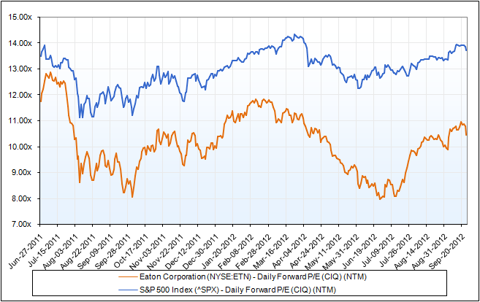 4. Street analysts are generally bullish on the stock. Of the total 19 ratings, according to Thomson One, there are 8 strong buys, 3 buys, 7 holds, and 1 underperform. The mean target price stays at $53.18, approximately 15% above the current market price. Many of them are in favor of the pending deal. Wells Fargo Securities' Andrew Casey wrote in his recent research note:
"…we continue to view the revenue mix shift with the expected introduction of Cooper to the revenue mix positively. We expect ETN's weighting to Electrical and Aerospace will increase to 68% from current 56% and decrease its weighting to Auto, Truck and Hydraulics to 32% from current 44%...ETN could potentially achieve a higher multiple (portfolio shift further to Electrical and Aerospace) with increased longer-term earnings power."
And Jeffrey D. Hammond at KeyBanc Capital Markets has the following opinion:
"The CBE transaction not only accelerates ETN's potential cash earnings power to north of $7 per share over the next four years, but meaningfully changes the profile of the business, offering less cyclicality, expanded market leadership and a complementary set of portfolios, while further reducing its exposure to its more traditionally cyclical business (namely Truck and Auto). For two sizable Electrical businesses, we view the combined companies as largely complementary with very limited overlap, supportive of capturing the Company's initial cost and revenue synergy targets."
5. Eaton Corporation's tempting dividend yield at 3.3% is another primary reason for a buy, as the yield appears to be safely backed by both the firm's quality dividend policy and ample financial capacity. Annual dividend per share has been steadily raised by a solid 10-year CAGR of 12% from $0.44 in FY2001 to $1.36 in FY2011 (see chart below), and over the past decade, annual dividend paid in average only represents less than half of the annual free cash flow generated (see chart below), implying that the ample financial resources are likely to at least maintain the current pace of dividend growth.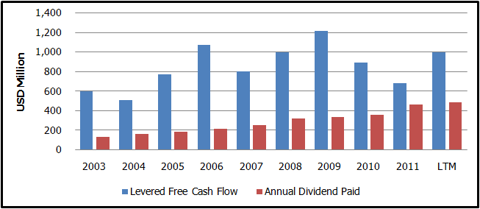 Bottom line, in the light of Eaton Corporation's cheap valuations as well as sustainable and high dividend yield, the investment's margin of safety looks quite sufficient to protect the downside. As such, I recommend buying the shares at the current price.
Comparable analysis table is created by author, all other charts are sourced from Capital IQ, and all financial data is sourced from Morningstar, Thomson One, and Capital IQ.
Disclosure: I am long ETN. I wrote this article myself, and it expresses my own opinions. I am not receiving compensation for it (other than from Seeking Alpha). I have no business relationship with any company whose stock is mentioned in this article.