Recently, I wrote an article comparing Coca-Cola (NYSE:KO) and PepsiCo (NYSE:PEP) as long-term investments. It was not too big of a surprise that other than a few minor differences, these two companies have had remarkably similar performance over the last two decades. At the request of several readers, I would like to see how these two very similar companies compare with two other grocery giants, General Mills (NYSE:GIS) and Kraft Foods (KFT). All four of these companies are similar enough, and have all been great investments for those fortunate enough to have invested in them over the past several decades; however, let's see if there is a frontrunner in the group.
General Mills is one of the largest producers of packaged groceries in the world, and is most well known for its extremely popular line of breakfast cereals, including Cheerios, Wheaties, and Lucky Charms. General Mills currently trades at around $40, yields 3.3%, and analysts are projecting a 6% annual growth rate over the next 3 years. Kraft is an even larger food and beverage company, and was the latest addition to the Dow 30, after the deletion of AIG a few years ago. Kraft's most well-known product lines are Oreo and Nabisco cookies, Philadelphia cream cheese, and Maxwell House coffee. Currently trading at around $41 with a 2.79% yield, Kraft is projected to grow slightly faster than General Mills, at around 8% per year. Now let's compare the history of these companies and see how they have done for investors in the past. Note that we can only do a 10-year comparison for these two, as Kraft didn't go public until 2001.
From the 10-year period between 2002 and 2012, General Mills' share price has climbed from $25.86 to $40.11, which is around a 5% annualized gain in share price, easily outperforming Kraft, which gained only 2.3% annually during the same time period.
The combination of share price gains with adequate yield is the goal of most retirement portfolios, so let's examine Kraft's track record in this area.
This is a plot of KFT's quarterly dividend over the past 10 years: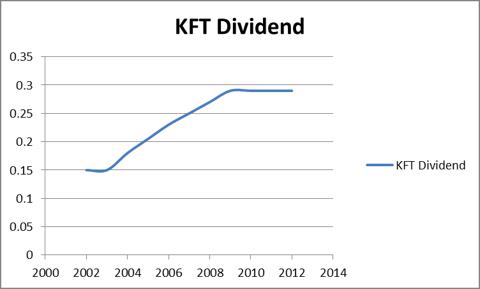 The dividend was never decreased throughout the entire period, every single year. However, the quarterly dividend has been stuck at $0.29 per share since 2009, indicating that the company may not be as confident in its recovery from the recession as Pepsi and Coke both seem to be. On average, the dividend was increased 7.02% per year, which is very impressive income growth for prospective investors. However, the lack of dividend increases over the past 4 years is a cause for concern.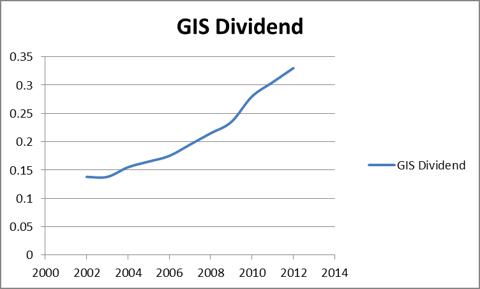 In a very surprising contrast, General Mills has raised its dividend every year since 2003 by an average of 9.21% per year. Even more remarkable is that they have raised the dividend by an average of 11.39% every year since 2009.
So, this seems like a much easier decision than Pepsi or Coke. Not only has General Mills increased the value of its shares at almost twice the rate of Kraft, but it has a much better track record of increasing its payout to shareholders. To illustrate this difference, let's see how a hypothetical $10,000 investment in 2002 would have done, assuming all dividends were reinvested.

This historical comparison is not even close. An investor in Kraft would have seen gains of $1,916.60, which pales in comparison to the $6,933.65 gain in General Mills. I was surprised at the results of this backtest, since I always thought of Kraft to be a better company (being a Dow component and a larger company).
As a result of this analysis, I have to conclude that General Mills is the better bet for long-term appreciation. The company has a much better record of producing value for its shareholders even during tough economic times. However, these companies both lose over the long term to Coke and Pepsi, which have both appreciated in price around 7% per year, and have a 20-year track record of increasing their dividend by around 10% per year. Having said that, is there any harm in holding 2, 3 or even all 4 of these stocks in your portfolio? Absolutely not!
Disclosure: I am long KO. I wrote this article myself, and it expresses my own opinions. I am not receiving compensation for it (other than from Seeking Alpha). I have no business relationship with any company whose stock is mentioned in this article.