Here on Seeking Alpha, there are many stocks that are subject to fierce back-and-forth debate between supporters and critics. Among the many companies subject to this are Sirius XM (NASDAQ:SIRI), Arena Pharmaceuticals (NASDAQ:ARNA), and Apple (NASDAQ:AAPL). The company we would like to discuss in this article is Amazon (NASDAQ:AMZN), another company that is subject to fierce debate. For purposes of disclosure, we hold shares of Amazon indirectly, via the Fidelity Growth Company Fund, but do not own the stock directly.
As of this writing, Amazon has a market capitalization of over $114 billion (placing it firmly in the upper end of the S&P 500), and a stock price north of $250. And yet, Amazon's earnings and stock price seem to be deeply out of sync. On a GAAP basis, Amazon's trailing 12-month earnings currently stand at 81 cents per share, giving it a P/E multiple of 311.679x as of this writing. No other company of Amazon's size trades at such a multiple. But more importantly, no other company of Amazon's size has been able to sustain such a high multiple. An examination of Amazon's chart over the last five years shows that while the P/E ratio has climbed to where it is mostly over the past year, Amazon has never been a "cheap" stock in the classic sense.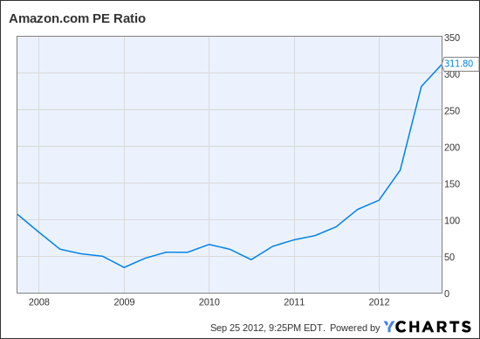 Over the past five years, Amazon's P/E ratio has rarely fallen below 50, a level many investors still consider to be too expensive. Why is this the case? Why have investors tolerated such valuations, and why do they continue to tolerate them? In our view, the answer lies with Amazon's founder and CEO, Jeff Bezos, and we explore this issue in detail below.
Jeff Bezos as the Next Steve Jobs, and Controlling Amazon Through Sheer Will
With the untimely passing of Apple's co-founder, much has been made over who will become "the next Steve Jobs." Who will become the visionary CEO of the technology sector? Several names have been thrown around, including Mark Zuckerberg, the founder and CEO of Facebook (NASDAQ:FB). But few names have been presented with more force than that of Jeff Bezos. Even John Gruber, one of the most influential Apple watchers, has gone on record to say that Bezos is the next Jobs.
On the surface, this comparison is apt, for there are similarities between Steve Jobs and Jeff Bezos. Both CEOs founded (or co-founded) their respective companies. When he was CEO, Jobs paid no attention to Wall Street, and Bezos displays the same disregard for short-term thinking and profits that Jobs did (whether or not that is a prudent approach, or even the proper one, is beyond the scope of this article). Steve Jobs saw Apple as more than just a company; he saw it as a way to change the world. Bezos sees Amazon in the same way. For him, Amazon was founded as a way to change commerce, and change how people buy products and absorb content.
What makes the Jobs-Bezos comparison even more apt is that both of these CEOs controlled (or in Bezos' case control) their companies through sheer force of will, as opposed to majority stakes or dual share classes. Within the technology sector (as well as outside it), many founders shield themselves from the demands of the market via dual, or even triple-class share structures. This is true at companies such as Google (NASDAQ:GOOG), Facebook, and LinkedIn (LNKD). But at Apple and Amazon, the CEOs have bent investors to their will and, in essence, have free reign over strategic vision and business models [for Steve Jobs, Apple was not even the source of his wealth; most of his net worth consisted of Disney (NYSE:DIS) stock he received when Pixar was taken over]. Apple and Amazon have only one share class each, and yet investors have almost no control over the strategic paths that these companies take. This is due to the will of Jeff Bezos and Steve Jobs (and now, the will of Tim Cook), and unless either company stumbles mightily, we expect investor attitudes to remain as they are.
As we said earlier, on the surface, the comparison between Jeff Bezos and Steve Jobs makes sense. But, in our view, Jeff Bezos is best compared to a different entrepreneur, and it is that comparison that forms the basis of our views as to why Amazon's shares have not collapsed, even when everything indicates that they are primed for a steep fall. In our view, Jeff Bezos is not the next Steve Jobs, but the next Elon Musk.
Jeff Bezos as the Next Elon Musk
On the surface, it may seem silly to compare Jeff Bezos to Elon Musk. After all, Jeff Bezos is 48, and is seven years Musk's senior. But we do not see age as that relevant here. What makes the two CEOs similar is that their minds never stop thinking of the next big idea.
Readers may be wondering how that alone makes Jeff Bezos not like Steve Jobs, and more like Elon Musk. The difference, in our view, lies in how well their ideas integrate together. Like Bezos and Musk, Jobs' mind was always thinking up the next big idea. But what made him unique is that all his ideas ended up integrating together. The iPad, the iPhone, and the Mac are all devices that work their best, and deliver the best user experience, when paired together. Apple's products truly shine when they are part of the Apple ecosystem, and essentially every product that Apple makes is designed to work best when used with other Apple products. Steve Jobs' brilliance and vision went beyond making individual products. It extended to making an entire ecosystem for those products, and integrating them together as closely as possible.
Jeff Bezos is indeed a CEO who never stops thinking of the next big idea. But, his big ideas often have nothing to do with Amazon's core business of selling products to consumers, and this fact is manifesting itself in both Amazon's financial statements and its growing number of business lines. (Amazon's Q2 2012 earnings release is available here).
| | | |
| --- | --- | --- |
| | Q2 2012 | Q2 2011 |
| Product Revenue | $10,791,000,000 | $8,611,000,000 |
| Service Revenue | $2,043,000,000 | $1,302,000,000 |
| Total Revenue | $12,834,000,000 | $9,913,000,000 |
| Total Revenue Growth Rate | +29.466% | N/A |
| Product Revenue Growth Rate | +25.316% | N/A |
| Service Revenue Growth Rate | +56.912% | N/A |
| Service Revenue as a % of Total | 15.919% | 13.134% |
Amazon's service revenue grew more than twice as fast as its product revenue, and now constitutes almost 16% of Amazon's total revenues. Service revenue includes third-party seller fees, subscription revenue, and all non-retail activities. It is those that we would like to focus on.
As Amazon has grown, so has the ambition of Jeff Bezos, and he has expanded Amazon into many different business lines. Some, such as the Kindle, or Amazon Prime, are indeed integrated, and further Amazon's goal of being a one-stop shopping portal for all of its users. Amazon's acquisitions of companies such as Zappos or Soap.com also serve to further that goal. But, over the last several years, Amazon has expanded into areas that are farther and farther away from its core business of selling products to consumers. One such business is Amazon Web Services, which is touted as a growth driver (and the revenues suggest that it is) for the company, is all about giving other companies the IT infrastructure that they need to run their companies. Amazon states that AWS powers businesses in 190 different countries. AmazonSupply is the company's industrial supply business line that launched earlier this year. This may seem like a simple extension of Amazon's core platform, but it is not. AmazonSupply puts Amazon into competition with a variety of industrial companies, such as Fastenal (NASDAQ:FAST) and W.W. Grainger (NYSE:GWW), companies that it did not have to deal with on such a scale before. And then there is the company's takeover of Kiva Systems. The $775 million deal was seen by many in the industry as puzzling, for Amazon has said that it intends to continue dealing with Kiva's existing customer base. The reason the deal was greeted with puzzlement is that essentially every Kiva customer competes with Amazon in some way. If Amazon does indeed continue to sell Kiva systems to other companies, that will mean yet another business line that the company must focus on.
And therein lies the comparison with Elon Musk. Musk, like Bezos and Jobs, is a man of grand ideas and ambition. But, his ideas have little, if anything to do with each other. Tesla Motors (NASDAQ:TSLA), SpaceX, and SolarCity all deal with different things. Tackling the electric vehicle market, private spaceflight, and solar energy are all grand and ambitious ideas. But they have nothing to do with one another. They are simply things that Musk found interesting, and decided to pursue further. It is likely that Musk is already thinking of what he will do after his current companies are up and running at full capacity.
We see Jeff Bezos as the next Elon Musk, and not the next Steve Jobs. Bezos' ideas are indeed ambitious, but they are not as connected and focused as those of Jobs. Selling robotic systems to help other companies with their e-commerce operations does not exactly integrate with Amazon's core business of selling products to its consumers. However, the drifting focus of Amazon and its CEO is, in our view, the exact reason why Amazon's shares have not collapsed.
Betting on Serial Entrepreneurs, and Why We Aren't Buying Amazon Shares
Amazon has its fair share of critics, both here on Seeking Alpha and beyond. And many commentators do raise interesting and insightful concerns, concerns that Amazon investors should indeed take into account. But, what many Amazon investors see is that the outside world "simply doesn't get it." They look back to the days after the dot-com bubble burst, when Amazon faced a torrent of criticism about its business model, and its profit potential. Amazon's investors see how Jeff Bezos proved his critics wrong back then, and assume that the same thing will happen today. Amazon's investor base has, for better or worse, been trained to always look to the future. Investors who bought shares of Amazon during 2001, or the years after the dot-com bubble made a fortune (shares traded below $10 in 2011).

History has shown that betting against a serial entrepreneur like Jeff Bezos is a losing proposition, and Amazon's investors are likely too afraid of missing out on Bezos' next big idea to abandon their shares, even when on the surface, the indicators would argue that it is time to do so. The gains that Amazon's investors have realized since the company went public have created a deep belief in Jeff Bezos and his abilities to grow Amazon, a belief that is hard to let go of. Jeff Bezos, like both Steve Jobs and Elon Musk, is a serial entrepreneur. But, while we hold direct stakes in both Apple and Tesla, we aren't comfortable buying Amazon's shares, and the reason has little to do with valuation.
History has indeed shown that betting against serial entrepreneurs is a losing proposition. Investors who refused to believe in Apple's renaissance missed out on returns of well over 10,000%, and Tesla, despite its 2012 revenue warning, maintained its 2013 production schedule and is set to begin generating operating cash flow by the fourth quarter. What distinguishes Bezos from Jobs and Musk is how their ideas are structured in a financial sense. Everything that Jobs did was connected, and when an investor bought shares of Apple, they bought all of Jobs' ideas as well. But because they were all connected, it was not much of an issue. Elon Musk's ideas have nothing to do with each other, but it is not an issue, for all his ideas are housed in different companies, and soon, investors will be able to pick and choose between all three. Tesla is public, SolarCity is in the process of going public, and Musk has stated that SpaceX may file for an IPO in 2013. This structure allows investors to pick and choose which of Elon Musk's' ideas to bet on. Jeff Bezos, however, houses all of his grand ideas within Amazon, even if they have little to do with the company's core business. As a result, investors simply have to either accept whatever path he chooses, even if it is one that takes the company further away from its core competency, or sell their shares. With Amazon, investors cannot choose which of Bezos' ideas they want to invest in. While it is true that Apple investors were (and still are) in the same situation, everything that Apple does is somehow integrated, and we fully expect that whatever grand ideas Apple is thinking of today, they are ideas that tie into its existing product lines and ecosystem.
When we choose stocks, we try to ensure that they are stocks that pass the "sleep at night test." It is why we always add a layer of options to our biotechnology stocks, and why we try, as best as we can, to invest in companies where the upside is driven by secular catalysts that have little, if anything to do with macroeconomic conditions. But, most importantly, we have to be comfortable holding the stock in question. And for us, Amazon fails that test. If we owned Amazon directly, we would always be wondering just exactly what the company is going to do next. Will they expand further into the technology sector? Will they turn towards the industrial sector? That, combined with the fact that the stock is indeed trading at over 300x trailing earnings gives Amazon shares a level of uncertainty that we are simply not comfortable with. Clearly, Amazon's existing investors have done well, and it is quite possible that we are leaving money on the table in the long-term by not choosing to buy into Jeff Bezos' vision and invest in Amazon. But that is a trade-off we are willing to make in exchange for an increased level of certainty.
Conclusions
Jeff Bezos is a visionary CEO, just like Steve Jobs and Elon Musk. But of those two, we believe he is more similar to Elon Musk than Steve Jobs. Bezos' grand ideas are not as integrated as those of Steve Jobs, and Amazon's fastest-growing platforms, such as Amazon Web Services, have little to do with actually selling products or content from Amazon to consumers. Amazon's future will most certainly be interesting, and it is quite possible that Amazon's stock will soar to new heights over the next several years, as Jeff Bezos unveils his next great idea (or ideas). But without the ability to pick and choose what ideas to invest in, as we can with Elon Musk, and the fact that Bezos' ideas may very well send Amazon even further away from its roots, we simply cannot bring ourselves to invest in Amazon. History has shown that betting against Jeff Bezos is a losing proposition. Will that remain the case? Only time will tell. But one thing is certain: investors in Amazon are in for an interesting journey over the next few years, and it is a journey that we hope will be profitable for everyone involved.
Disclosure: I am long AMZN, AAPL, TSLA, FB, GOOG, ARNA. I wrote this article myself, and it expresses my own opinions. I am not receiving compensation for it (other than from Seeking Alpha). I have no business relationship with any company whose stock is mentioned in this article.
Additional disclosure: We hold shares of AMZN and GOOG via the Fidelity Growth Company Fund. We hold shares of ARNA via the iShares NASDAQ Biotechnology Index Fund