I can't imagine how frustrating it must be to be a CEO of shale gas producer in the United States today. Many of these CEOs went out in 2006 and 2007 and, on the cheap, assembled a great portfolio of shale gas acreage. At the then prevailing natural gas prices, the development of this acreage was poised to create a lot of value for shareholders.
Way back then, the common wisdom was that the United States was going to be starved for natural gas production in the future. The country was planning LNG import facilities. These CEOs likely felt that they were in a sweet spot, sitting on acreage in some cases worth billions. Then the curveball came as the shale gas revolution they helped create proved too successful. A quick and sustained ramp up of natural gas production from shale reserves has crushed the price of the commodity, which has yet to recover.
These CEOs did wonderful jobs accumulating that shale gas acreage. Instead of being rewarded for it, they are being punished because they did too good of a job. They did too good of a job finding and developing the commodity and creating an abundance of natural gas for Americans.
Every now and again, I take a look at American natural gas producers and consider them for my investment dollars. A person has to think that the rapidly falling natural gas rig count at some point has to create a drop in natural gas production and a rebound in prices.
But rather than try and pick the bottom for natural gas prices in the United States, why not look elsewhere in the world where there is no glut of natural gas?
In these other places in the world, discovering large quantities of natural gas does still create a lot of value for shareholders. Natural gas outside of North America is not plentiful and discoveries are very valuable. One such place is offshore Israel, where the value creation may still be in the early innings.
In the past several years, massive discoveries of natural gas by Noble Energy offshore Israel have captured a lot of attention.
In 2010, Noble (NYSE:NBL) drilled an exploratory well into its "Leviathan" prospect and found a monster prize. The total gross estimate for the Leviathan natural gas in place is 17 trillion cubic feet. That was the largest offshore natural gas discovery in 2010.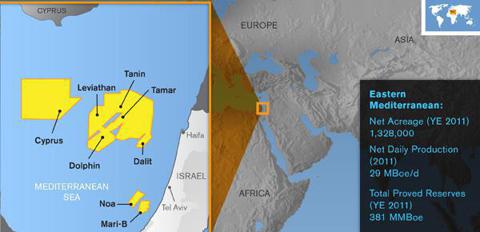 And the Leviathan discovery was not alone. Near where the Leviathan well was drilled is the Tamar discovery, which contains 9 trillion cubic feet of gas on its own. In fact, when you also add in successful wells at "Dolphin", "Dalit", "Tanin" as well as offshore Cyprus, Noble has found 35 trillion cubic feet of natural gas in the Mediterranean region.
It has been reported that Total (NYSE:TOT) and Gazprom (OTCPK:OGZPY) are negotiating with Noble and its partners Delek Drilling (OTC:DKDRF), and Avner Oil and Gas (OTCPK:AVOGF). The negotiations involve discussion of a partnership where one or both of Total and Gazprom would come on board to bring experience with LNG and capital to finance development. News of such a partnership be a catalyst for the Leviathan partners.
Investing in Noble, Delek or Avner is one way to invest in natural gas offshore Israel.
Another way is right next door to Leviathan where a consortium of companies including The Israeli Land Development Corp, IPC Oil and Gas (OTC:IGHOF), and Modiin Energy (OTC:MDNYF) are drilling the Myra licence using Noble's Homer Farrington Rig. Leading US Reserve analyst Netherland, Sewell and Associates have estimated reserves of 1.94 TCF of Gas for this prospect. The well will be operated by GeoGlobal Resources.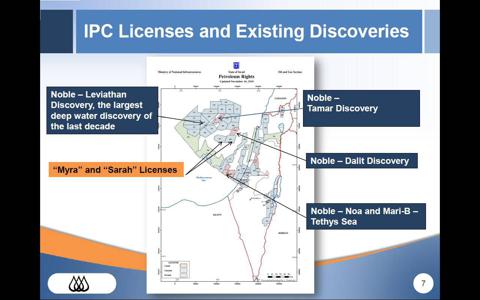 For any of these smaller companies involved with Myra, success on this prospect would be a company maker. That could result in multi-bagger returns for shareholders, but as with any exploration play, involves taking a lot of risk. These are home run swings, and when you swing big, you often miss.
Investing in one of the Leviathan partners would be less risky, as we know what has been discovered, and the "dry hole" risk has been eliminated. But I would hardly call this project risk free, because, after all, we are talking about offshore operations in one of the most volatile regions in the world.
But even with the increased risk, investing in natural gas offshore Israel might be a better idea than having exposure to this commodity in the United States. In the United States the end to low natural gas prices may still be a long way in the future.
Disclosure: I have no positions in any stocks mentioned, and no plans to initiate any positions within the next 72 hours.
Business relationship disclosure: I have a business relationship with IPC Oil and Gas