YouTube continued its inexorable drive upward and onward in June, propelling Google (NASDAQ:GOOG) to new heights of a 47.8% market share of all video viewing visits on the web. That's up 2.3 share points versus May and nearly 14 points compared to a year ago.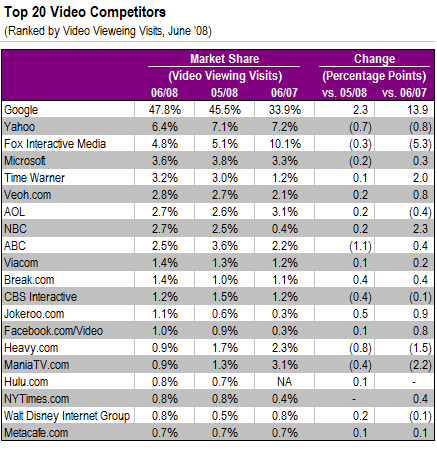 Meanwhile the best of the rest gave up share to GooTube, with Yahoo! (YHOO) in particular taking a big hit of .7 share points in June and FIM/MySpace sliding 5.3 points over the prior 12 months.
Also hurting on the leaderboard was ABC, which took at 1.1 point hit with the end of the primetime season and fresh episodes of shows like Lost and Grey's Anatomy. Somehow NBC managed to buck the trend and add .2 points in June.
Hulu and Veoh, which aggregates content network, also made incremental share gains of .1 and .2, respectively.
At the other end of the Top 20, the off-again/on-again time-waster's favorite, Jokeroo.com, also posted nice gains in June, cracking up 1.1% share of all video visits.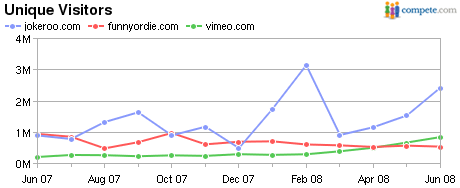 Things haven't been so amusing over at Funnyordie.com, the Will Ferrel comedy site, which cancelled the "Kung Fu Todd" series and has been on a slow decline since it roiled internet video pundits and plebs alike with The Landlord.

Vimeo.com has been making steady gains over the past few months, with Unique Video Viewers up 27% in June and 332% for the year.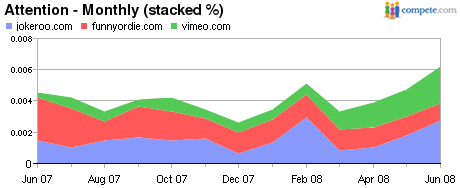 While smaller than Jokeroo and Funny or Die, Vimeo apparently has some very engaging content. The IAC-backed site stacked up greater attention in June than either of its peers.