American International Group, Inc. (NYSE:AIG) has recovered nicely following the U.S. Government's bailout of the company during the 2008 financial crisis. As of September 14, 2012, AIG has returned $194.7 billion to the U.S. Government and American taxpayers.
The company has 88 million clients in over 130 countries. It operates the following three segments: Chartis, SunAmerica Financial Group, and Aircraft Leasing. Chartis provides a variety of casualty insurance products. SunAmerica offers life & health insurance, annuities, mutual funds, and other financial products. The Aircraft leasing segment acquires and leases commercial aircraft to airline companies.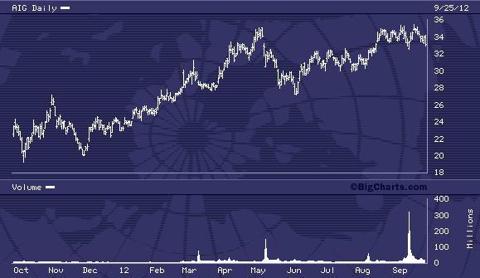 Overall revenue growth was modest for Q2 2012 at 2.7%. However, AIG was able to increase earnings by 27% in Q2 over the same quarter last year.
AIG's stock still remains undervalued with a trailing PE ratio of 3.04, a forward PE ratio of 9.53, and a PEG of 0.40. The stock is trading at a little under half of its book value per share. This presents a great opportunity to own the company for the long-term.
AIG is hauling in the cash again with a trailing twelve month operating cash flow of $5.2 billion. It also has a wide profit margin of 30.75%.
The company has exceeded its earnings estimates in 3 out of its last 4 quarters. AIG has also increased its earnings estimates for this year and next year. Original EPS estimates for 2012 were $3.67 90 days ago, but have been increased to $4.26. Next year's estimates have increased from $3.22 to $3.47 over the same period.
AIG is expected to grow earnings annually at 20.13% for the next five years. This approximately doubles the expected growth of the market. Given the company's undervaluation and expected growth, investors can reasonably expect the stock to triple in 6 years.
The company's credit ratings for short-term debt have a stable outlook according to Moody's and S&P. The senior long-term debt also has stable outlook ratings. Moody's has given AIG a rating of Baa1, S&P has an A- rating on the debt, while Fitch has given it a BBB rating. AIG's largest credit exposure is the U.S. Government at 23% of total equity as of June 30, 2012.
Conclusion:
AIG looks like a solid risk-on QE3 investment. It is significantly undervalued and has above average expected earnings growth. If the company is able to meet or exceed its estimates and the U.S. and world markets can remain out of turmoil, the stock should perform well over the long-term.
Disclosure: I have no positions in any stocks mentioned, and no plans to initiate any positions within the next 72 hours. I wrote this article myself, and it expresses my own opinions. I am not receiving compensation for it (other than from Seeking Alpha). I have no business relationship with any company whose stock is mentioned in this article.