It looks like the patent war is not limited to the war between Apple (NASDAQ:AAPL), Google (NASDAQ:GOOG) and Samsung. The war is spreading elsewhere. In a recent development, Nokia (NYSE:NOK) is rumored to be in process of filing a lawsuit against HTC in order to have the company's Windows 8 Phone banned in a number of markets due to the striking resemblance of these phones to Nokia's Lumia models, which also run on Windows 8.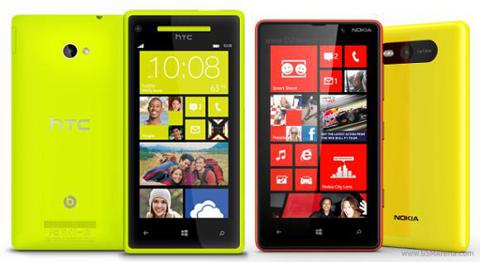 Of course, pictures don't tell the whole story about how similar two phones are. CNET conducted a hands-on comparison to see how similar the two phones will feel to the users. The website concludes:
"One look at the two phones and you wonder if HTC will have a lawsuit on its hands. They're eerily similar, and HTC's apparent mimicry doesn't make a strong case for the originality of its flagship Windows phone. It's a bizarre move for HTC, and one that doesn't fit into its typical design philosophy. At least the HTC Windows Phone 8X seems to be well-crafted."
Nokia claims that 8S is pretty much a copy-cat of Lumia 820. The two phones look strikingly similar, and both phones run on Microsoft's (NASDAQ:MSFT) Windows 8 Phone operating system. Nokia claims that the two phones are similar enough for consumers to confuse the two brands. As HTC announced its new line of phones only 2 weeks after Nokia's announcement, it is hard to tell if HTC would even have enough time to look at one of Nokia's phones and copy the design; however, the resemblance between the two phones is difficult to deny. Both phones will have a 4.3 inch screen and the phones will have very similar hardware specifications.
Interestingly enough, all the phones running on Windows 8 will come with certain Nokia applications such as Nokia Maps and Nokia Drive. This will make it even more difficult for Nokia to differentiate its phones from the competition that produces Windows phones.
While Microsoft has promised Windows phone producers that it would protect them from lawsuits that may come from companies like Apple, things will get very complex if one Windows phone producer sues another Windows phone producer. HTC's announcement for the company's line of Windows 8 phones included the CEO of Microsoft Steve Ballmer, and this made many people question the premium status Nokia has been said to enjoy with Microsoft. Nokia's last serious legal war was against Apple, and Apple agreed to pay Nokia a large amount of money as a result of a settlement between the two companies.
One Nokia spokesperson claimed that the company "began legal actions against HTC in May" whereas HTC's spokesperson denied ever having received a direct complaint from Nokia. With a few exceptions, Nokia has carried a friendly attitude towards companies that it believes to infringe its patents. The company usually approaches the other party and offers to license its patents for a fee before taking legal action. As a result, there are currently more than 40 companies that regularly pay license fees to Nokia for a variety of technologies invented by the company.
By the way, BMO's Tim Long downgraded Nokia, claiming that the company will lose 41 cents and 32 cents per share in the next two years respectively. He claims that Nokia will only sell 20 million Lumias in the next 4 quarters after launching Lumia 920 and 820 in the market. I completely disagree with Mr. Long's assessment. Mr. Long claims that Nokia can sell only 5 million Lumias per quarter; however, the company can sell many more than that. Last quarter, the company was able to sell 4 million Lumias. This is remarkable, because the consumers were already informed that their phones wouldn't be upgradable to Windows Phone 8 operating system. In addition, the phone was available in limited markets. For example, in the US, the Lumia 900 was only available through AT&T (NYSE:T), who still refuses to unlock the phone for consumers who may want to switch to another operator.
Things will be different for Lumia 920 and 820. First, this phone will be available in more markets. The Lumia 900 was only available in 54 countries, whereas the Lumia 920 will enter completely new markets such as the Middle East, which is a huge market for Nokia. The Lumia 900 became available in India as late as last week, and this country is likely to sell a lot of Nokias because the company enjoys a great brand name there. A lot of the consumers that have been holding off buying a new phone because they were waiting for a Windows 8 Phone release will be buying the new Lumias. In addition, these phones will be available through more carriers in US, such as Verizon and Sprint.
If current models of Lumia are able to sell 4 million copies per quarter with very limited exposure to international markets and very limited marketing efforts, the new Lumias can sell far more than 5 million copies per quarter. The Lumia 900 came in the markets rather quietly; however, the Lumia 920 has made a lot of noise so far. I think Nokia will do just fine in the following quarters.
I am long Nokia and I am actually tempted to increase my number of shares while I have the opportunity to do so.
Disclosure: I am long NOK, MSFT. I wrote this article myself, and it expresses my own opinions. I am not receiving compensation for it (other than from Seeking Alpha). I have no business relationship with any company whose stock is mentioned in this article.