Wednesday, September 26, 2012, is the ex-dividend date for Windstream Corporation (NASDAQ:WIN). The shareholders of WIN will receive $0.25 per share, which represents 9.25% annualized dividend yield based on Tuesday's closing of $10.81. 7.69M shares were traded today and it is very close to the 30-day average volume of 7.70M. Since the August 9, 2012 closing price of $9.3, WIN's price had been going up continuously and gradually, and had gained 16.23% at Tuesday's closing. While WIN is in the telecommunications industry offering advanced communications and technology services, including managed services and cloud computing services to businesses nationwide, as well as broadband, voice and video services to consumers in primary rural markets, our logical assumption is that investors invest in WIN primarily for its stability and attractive dividend yield. However, we are curious about today's option volume with such a big difference between the volume of calls and puts without seeing any major headline news other than tomorrow's ex-dividend event.
Oct, 2012 Options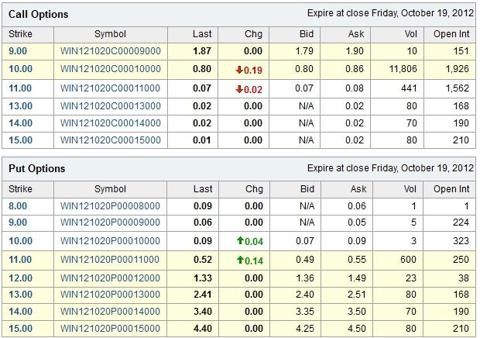 Source: Yahoo! Finance
Nov, 2012 Options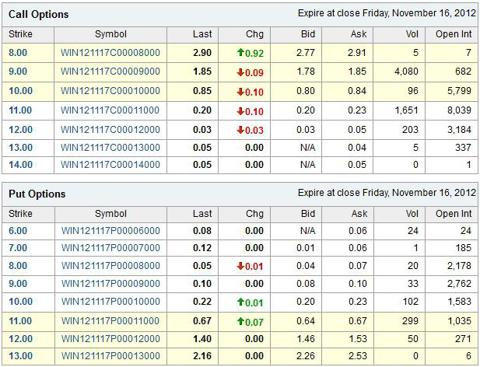 Source: Yahoo! Finance
Jan, 2013 Options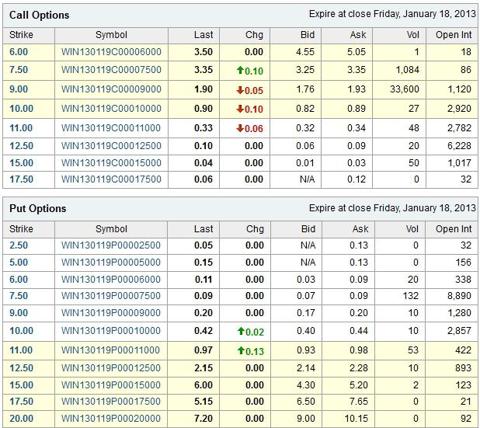 Source: Yahoo! Finance
For Oct. 2012 options, today's most traded Call with the strike price of $10 had a volume of 11,806 (open interest of 1,926) which was 19.68x as compared to most traded Put with the strike price of $11 with 600 contracts exchanged (open interest of 250). For Nov. 2012 options, the total Call volume is 6040 as compared to the total Put volume of 529. For Jan. 2012 options, the most popular Call of $9 strike price had the volume of 33,600 (open interest of 1,120), which was 254.5 times as compared to the most traded Put of $7.5 strike price with 132 contract exchanged (open interest of 8,890).
In general, we use Put/Call ratio as a technical indicator for investors' sentiment. However, in this kind of extreme difference situation between call and put volumes, it is easy for us to speculate something is going on besides the ex-dividend event and it might be revealed soon. Until then, we consider WIN as an attractive cash flow investment with the current 9.25% dividend yield and it is a good candidate for the covered short call strategy for stock holders.
Disclosure: I have no positions in any stocks mentioned, and no plans to initiate any positions within the next 72 hours. I wrote this article myself, and it expresses my own opinions. I am not receiving compensation for it (other than from Seeking Alpha). I have no business relationship with any company whose stock is mentioned in this article.