On Tuesday, the fall in footwear retailer Deckers Outdoor (NASDAQ:DECK) continued, and Deckers shares hit another 52-week low. The drop comes after another round of bearish analyst notes. The stock continues to be whacked, and on heavy volume. Deckers shares ended down more than $2.50, or 6.7% on the day, closing under $35 and just $0.14 off the day's low. Let's look at where things stand now.
Two Bearish Analyst Notes:
On Monday, it was research firm Baird. The firm, which maintained its outperform rating, lowered its estimates and price target after Deckers' recent decision to cut prices of some key brands. Baird claims that the price cuts were not factored in when Deckers gave its most recent guidance, and that margins will be negatively impacted.
On Tuesday, it was Sam Poser again. Yes, this is the same analyst from Sterne Agee who issued two negative notes on Deckers last week. I covered that report last week, when I mentioned this is the same analyst who correctly predicted Deckers' fall last year.
So what did Poser say on Tuesday? Here are the key takeaways:
Poser noted that the UGG brand is at risk. He does not like the fact that Deckers is now selling them at lower-end stores.
Poser stated that industry data showed UGG sales in July and August fell sharply from year ago numbers.
Cut his price target from $38 to $32.
Lowered 2012 EPS estimates from $3.97 to $3.49.
Lowered 2013 EPS estimates from $4.37 to $3.62.
It is troubling to see Poser lower both his earnings estimates and price target, considering he was already the most bearish analyst on the street. Now, his bearishness far exceeds anyone else.
The Earnings Per Share Issue:
Deckers was on pace for great growth going into 2012. However, a very warm winter and high sheepskin prices hit the company hard, and Deckers has seemed to have trouble recovering. Now, questions remain as to whether UGGs are a fad or not. Anyway you slice it, the picture has not been pretty for Deckers.
The chart below shows exactly how things have changed over time. These are the consensus averages for earnings per share, by analysts covering the stock. They have come down quite a bit.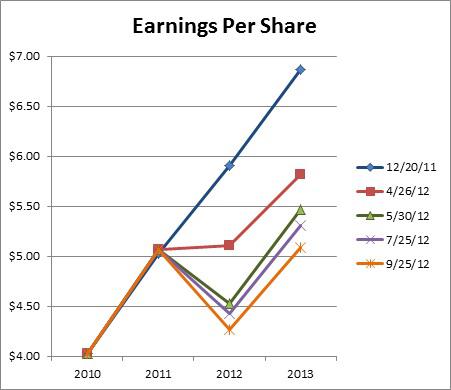 As you can see, going into 2012, analysts were expecting nearly $6 in earnings this year, and almost $7 next year. Now, those estimates stand at just $4.27 and $5.09 respectively, and the analyst I noted above has estimates way below that.
The current FactSet consensus average of $5.09 for 2013 would imply that Deckers earnings per share would be completely flat between 2011 and 2013. The scary part here is that Deckers is buying back lots of stock, so that means that net income could actually fall over the two year period!
Now, value investors would say it is ridiculous that Deckers is trading for about 8 times this years' and 7 times next year's earnings. But think about that for a minute. In December, Deckers was trading for about 15 times 2012 earnings (expected) and 13 times 2013 earnings (expected). But back in December, analysts were expecting about 20% earnings growth each year. Now, they are expecting a huge fall in earnings this year, with a rebound next year only to 2011 levels.
You can see why the valuation is coming down, and remember, this assumes earnings come in at these levels. Should things get worse, estimates could fall further. Keep that in mind.
The Fab Five Growth Declines:
Deckers is not the first high growth company to see its stock fall, and it certainly won't be the last either. In fact, since the beginning of 2011, we've seen four other names, across a variety of sectors, see giant falls. All of the names have one thing in common. They were high growth companies, probably trading at unreasonable valuations, and when growth expectations came down, so did their stocks. The following table shows the five names and their falls from high to low. The four others are Green Mountain Coffee Roasters (NASDAQ:GMCR), SodaStream (NASDAQ:SODA), Netflix (NASDAQ:NFLX), and Molycorp (MCP).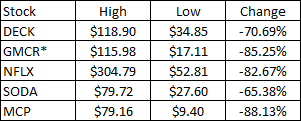 *Hit extended hours post-earnings low of about $15.25.
These four names have similar problems to Deckers, all of which can explain the dramatic falls. Green Mountain has seen its growth story fall apart, with revenue growth plunging from 95% in fiscal 2011 to under 20% (expected) in fiscal 2013. Like Deckers, Green Mountain has also been criticized for having a large amount of inventory.
Netflix decided to shift to a streaming only business model, killing off the profitable DVD segment. Netflix has seen its profits completely fall apart, and we are seeing similar declines, albeit not on the same level, with Deckers' earnings. SodaStream's fall occurred after an earnings report where the guidance on their conference call was less than expected. While SodaStream has since raised guidance, and expanded to new locations, many question if its products are fads, and we have the same argument with Deckers. Molycorp, a rare earth mineral producer and processor, has disappointed with revenues and earnings almost quarter. Molycorp has seen its forecasts taken down almost every month, in a similar fashion to Deckers.
Deckers Stock Movements:
In late July, Deckers broke below $40 for the first time in a number of years, and that was the 52-week low before the last week or so. Deckers rallied back above $50 a couple of times in August, but has not seen a five as the first number it its stock price during September.
The recent high was $49.61, and that was hit on Friday, September 14th. That is also the highest close we've seen since, and Deckers closed that day at $48.92.
In the seven trading days since, Deckers has dropped $13.93, or 28.5%. On Tuesday, shares hit a new 52-week low and closed just off that low. Over the past six trading days, Deckers has averaged 4.5 million shares in volume, which is more than 2.5 times the prior 90 day average.
For those wondering, the number of shares short continues to rise. I provided a table below to show some data regarding how many shares are short, average volume, days to cover, etc. For a longer view of the short history, click here.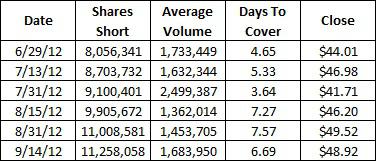 Final Thoughts / Recommendations:
Even though I have been one of the most bearish names on Deckers over the past year, and I recommended shorting this name multiple times in the high $40s, I am stunned by the recent fall. I thought that Deckers would end up back in the low $40s, so the near 30% drop is a bit surprising to me.
Is the fall over? Maybe. It depends at how you look at things. If you look at the other four names I described, they fell an average of 80%, with 3 of the 4 down more than that. Deckers is down about 71%, so that would imply it could go down more. Secondly, we've heard from just a couple of analysts so far (albeit multiple times from one). There are about a dozen analysts following the name, so any more bearish notes on Deckers could send this stock to $32 or even $30 easily. If Deckers' sales truly are bad, the company could come out with a pre-announcement. A warning like that could potentially send shares to $25, or even lower.
Personally, I do think that the fall is coming to an end, but I must stress two points. First, investors must realize Deckers' growth will not repeat prior year numbers. Second, if Deckers comes out and lowers guidance, expectations will drop even further, and even if you apply the same multiple, that means the stock will go down.
While the fall may be almost done, I'm not sure we are quite there yet. Given the way this stock is acting, I think it is still a short candidate, but only for those who are already short. I would not initiate a new short position here, but those who are short might want to cover if we get any lower. Locking in profits is never a bad idea.
In terms of investors who want to buy, I would be careful, and I wouldn't just buy it when you see a down day. That hasn't been a winning strategy lately. If you want to go long this name, I would come up with a personal expectation for what you think is a realistic valuation and realistic earnings. If you come up with a realistic number, use limit orders wisely and efficiently, and you might want to consider averaging down. For instance, you could say Deckers should trade for 6 times 2013 earnings, which you project at $5. That gives you a $30 entry point. Don't just throw out numbers, like saying Deckers should be at $60 because it was there last year and traded at that valuation in the past. We're not in the past, and this isn't the same company that it was last year, or even 6 months ago.
Disclosure: I have no positions in any stocks mentioned, and no plans to initiate any positions within the next 72 hours. I wrote this article myself, and it expresses my own opinions. I am not receiving compensation for it (other than from Seeking Alpha). I have no business relationship with any company whose stock is mentioned in this article.