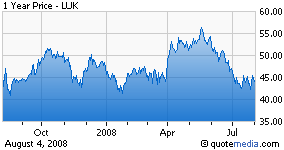 When I find a company of interest and then find very little readily available information about the company, my interest is definitely increased. Leucadia National (NYSE:LUK) definitely fits the bill. LUK is a diversified holding company that is the result of the vision of two men, Chairman Ian Cumming and President Joseph Steinberg. They took control of the company that is now Leucadia National in 1978 and have invested in a wide range of industries and companies with these guidelines:
Don't overpay, no matter what the maddening crowd is up to.
Buy companies that make products and services that people need and want and provide them as cheaply as possible with consistantly high quality. Lower cost and higher quality is a relentless and never ending-task.
Earnings sheltered by NOLS are more valuable than earnings that are taxed!
Compensate employees for performance and expect hard work and honesty in return.
Don't overpay!
Source: 2006 Letter from the Chairman and President.
In my hunt for information on Leucadia I found the best overview of the company's current businesses at Reuters. You can read the overview for yourself here. When you visit Leucadia's website you find a very bare bones, minimum information necessary site. I think the best way to get a feel for the company is too read through a couple of the Chairman and President annual letters. They are very candid about the businesses they own and what they are trying to accomplish with them.
What you get here is a company that is willing to wait for their investments to yield profits and not managed for year over year earnings. This shows up in the volatility in annual earnings. The long term results have been outstanding with book value compounding at a 21% annual rate and the stock at 26% per year. What you have here is a $10 billion market cap company with tremendous long term results and earnings estimates on Yahoo Finance from exactly zero analysts. Just the type of stock that I like.
A final positive. Leucadia is the owner of my absolute favorite winery, Pine Ridge in Napa Valley. During the 4 years we lived in Sacramento we visited wine country several times a month and Pine Ridge was definitely the favorite of all that we tried. Pine Ridge makes excellent wines year after year, and if they are an indication of how the other Leucadia companies run, I am not surprised at the long term results.
I am adding LUK to this site's Special Opportunities Portfolio and plan to start adding shares to my own account.
Disclosure: At this time I do not have a position in LUK.