By Brad Zigler
Corn futures traded lower overnight as profits were taken off the table after last Friday's decline. December futures closed out the Chicago Board floor session at $5.85 a bushel. Part of the sharp decline stemmed from weather-related optimism for this year's crop, which followed through to today's floor session.
That was all good news for recently battered ethanol producers like Pacific Ethanol, Inc. (Nasdaq: PEIX). California-based Pacific is one of the purest plays listed, which sells ethanol to gasoline refiners and wet-distillers' grains to dairy operators and animal feed distributors.
Pacific, along with its competitors, VeraSun Energy Corp. (NYSE: VSE) and Aventine Renewable Energy Holdings (NYSE: AVR), have been reeling recently. Their stock prices swooned dramatically as the price of corn - the feedstock for ethanol production) - leapt to the $7.50-a-bushel level earlier this summer.
Pacific Ethanol (PEIX) Year-To-Date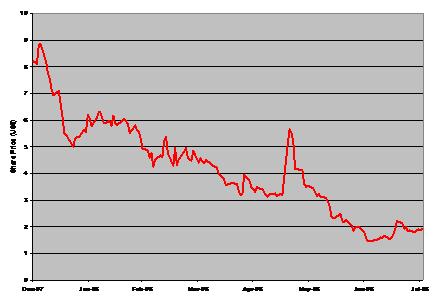 Pacific's share price trajectory pretty much moved in lockstep with the corn crush - the profit margin mirrored by ethanol and corn futures - described in "Are We At The Bottom Of The Ethanol Barrel?".
A 77% slide - from more than $8 in January to less than $2 per share now - left Pacific stock selling for less than half the price of a bushel of corn.
The corn crush, meantime, has been squeezed to 92 cents a bushel, before accounting for ancillary costs and the proceeds of distillers' grain sales. At the top of the year, the gross margin, at $1.91 a bushel, was nearly as fat as Pacific's current share price.
Corn Crush And Related Costs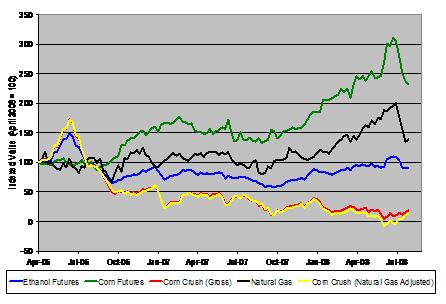 Still, the margin picture seems to have brightened for ethanol producers as the price of corn ratcheted downward. After all, Pacific's share price had dipped below $1.50 a share in July when the corn crush collapsed to 48 cents a bushel.
At least creditors seem to think there's hope for the company. Pacific's sales subsidiary, Kinergy Marketing LLC, just received a $40 million revolving credit line from Wachovia Capital Finance Corp., replacing a $25 million facility granted by Comerica Bank last year.
Of course, adding debt in this market is a dangerous undertaking. That's apparently why some pundits are forecasting further deterioration in ethanol-related shares. One such wag, in fact, thinks that an ear of corn will eventually be worth more than a share of Pacific Ethanol.
Hmm ... with 91 ears in an average bushel, that puts a price target of 6 cents a share on the company. Any bookies want to take this action?