It's not too often one can find a stock with big earnings growth and a high yield. But in the case of Calumet Specialty Products Partners (NASDAQ:CLMT), a current-year earnings growth projection of 145% coalesces with an 8% distribution. Yet it also exhibits low valuation metrics, with a forward P/E of just 9.2 and a price-to-sales (P/S) ratio as low as 0.4.
Presently trading near its 52-week high, units of this Zacks No. 1 Rank (Strong Buy) have climbed 35% during the past three months. With accretive acquisitions, widened crack spreads, and a PEG ratio of less than 1.0, this producer of specialty hydrocarbons in North America looks like a compelling value play with potential for further upside.
Strong Q2, Jump in DCF
Calumet Specialty Products reported second-quarter earnings per unit of $1.03 on Aug. 1, beating the Zacks Consensus Estimate of 53 cents by 94% and the year-ago earnings of 19 cents by 442%.
Revenues of $1,087.0 million were up 48% year over year from $733.8 million, and also surpassed the Zacks Consensus Estimate of $896.0 million. Results were driven by high crack spreads and contribution from last year's 45,000 barrels-per-day (Bbl/d) Superior (Wisconsin) refinery purchase from El Dorado, Ark.-based, Murphy Oil Corp. (NYSE:MUR).
For the three months ended June 30, total volumes for the Specialty and Fuel Products segments rose 25% and 83%, respectively. Importantly, distributable cash flow (DCF) jumped approximately 274% year over year to $94.9 million, which bodes well for future distribution increases.
Montana Refinery Acquisition -- Positive Catalyst
Calumet Specialty Products has a proven record of growth through acquisitions. The partnership has been aggressive in purchasing assets that help support its cash flow stability and complements its business. The latest in this series is the proposed buyout of a small refinery in Montana for about $120 million. The transaction -- expected to close in the fourth quarter -- will enhance Calumet's refining capacity by an additional 9,800 Bbl/d and be immediately accretive to its DCF.
Generous Distribution Yield
The partnership has raised distributions by approximately 30% over the past four years and currently dishes out an impressive 7.7% yield. On July 20, Calumet Specialty Products hiked its quarterly cash distribution to 59 cents per unit ($2.36 per unit annualized), representing an increase of 5% over the previous payout.
Solid Earnings Momentum
Following the second-quarter earnings beat, the Zacks Consensus Estimate for 2012 is up 17 cents (or 5%) to $3.34 in the past 30 days. Given the $1.36 per unit earned in 2011, the projected growth rate stands at an astounding 145% for 2012.
Valuation Picture
Units of Calumet Specialty Products have soared in 2012, but remain cheap as earnings estimates also went up. In addition to trading around 9.2 times forward estimates (under the S&P 500 average of 14.3), the partnership has a price-to-book (P/B) ratio of 1.9. Moreover, a price-to-sales (P/S) ratio of just 0.4 suggests that the stock is still undervalued (a P/S ratio lower than 1.0, a P/E below 15.0, and a P/B ratio under 3.0 generally indicate value). The PEG ratio comes in at a miniscule 0.27, a 73% discount to the benchmark of 1 for a fairly priced stock.
Market Performance and Technicals
Since June, Calumet Specialty Products units have been in an upward channel, rising approximately 40% and setting a new 52-week high in the process. Following the second-quarter earnings beat in August, this downstream operator has also been comfortably outperforming the S&P 500. With the expectation for growth in earnings and distribution, the stock looks poised to keep the winning streak going.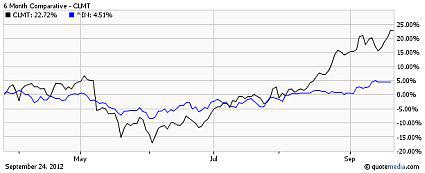 Calumet Specialty Products offers the rare combination of both value and growth in the specialty energy sector. Indianapolis-based Calumet Specialty Products Partners L.P. is a publicly traded master limited partnership that is engaged in the production of customized lubricating oils, solvents, waxes, and asphalt from crude oil and other feedstock. The partnership also makes fuel products like gasoline, diesel, and jet fuel.