According to the American Pet Products Association, in 2012 U.S. households spent over 50 billion dollars on their pets. Since 1994, the amount of money spent on pets has increased every year, even during the economic recession. Investors that want a company that is solely a play on pet needs and supplies need look no further than PetSmart (NASDAQ:PETM). PetSmart was founded in 1997 in Phoenix, Arizona and is the largest North American supplier of pet needs.
During the course of 2012, PetSmart has outpaced the S&P 500 and is up $18.00 or 35% on a year to date basis. I have owned pets (mainly dogs and cats) most of my life and one of the many reasons I enjoy PetSmart is because it has a unique shopping experience. There are not many public places pet owners can bring their pets to and PetSmart always has its doors open for pet owners. Besides selling pet food and supplies PetSmart is also in the pet service industry with veterinary services in 802 of its stores, grooming and training services.
PetSmart is also in a unique competitive position since its direct competitors are local pet stores and its in-direct competitors are grocery stores, Wal-Mart (NYSE:WMT) and Target (NYSE:TGT). PetSmart holds competitive advantages over Wal-Mart, Target, and grocery stores because PetSmart offers an array of services and needs by people who are passionate and knowledgeable about pets. The big box retailers and grocery stores can mainly offer cheap pet food and supplies, but PetSmart has been able to increase its gross margins through an array of pet services. By offering services that other retailers don't participate in, PetSmart makes 4.6 times greater annual gross margin per customer.
With rising food prices that consumers have to face at the grocery store, pet food prices have also been increasing. Some of the main ingredients in pet food are corn, chicken and soybeans. The chart below is from the Bureau of Labor Statistics that details the consumer price index for pets, pet products and services.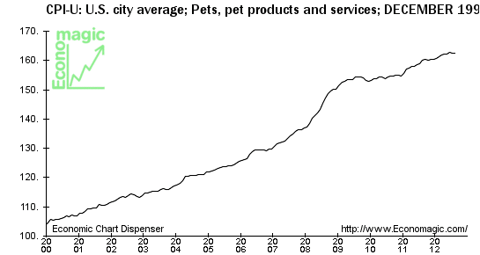 Since 2000 prices have been increasing for pet food/services and prices are expected to increase for 2013. Despite the price increases for pet food/services I don't believe pet owners will stop going to PetSmart and only buy the cheapest pet food on the market for the following reasons.
1) PetSmart is still outpacing the pet industry in growth and the pet products and services segment is expected to grow at a steady 3-5%
2) There have always been concerns on how the internet will impact PetSmart's pricing, but PetSmart's management team has constantly focused on services that the internet cannot have a competitive advantage in (grooming, vet services and bringing your pet to enjoy a shopping experience).
3) On the fundamental side PetSmart's management team has done a superior job at increasing return on invested capital, has increased year over year net sales and decreased short/long term debt since 2009, and has increased total cash.
4) On the technical side, with PetSmart at its 50-day moving average the stock has been good to investors as this has been a good buying point for investors.
5) PetSmart has earnings coming due on November 12, and since 2009 PetSmart has met or beat expectations with nine earnings surprises since 2009.
There have been concerns that PetSmart may be pricey for investors with a p/e ratio of 23 times earnings. But, if PetSmart continues to grow through its earnings and deliver increasing EBITDA, the price multiple should imply a multiple of 20 for 2013. PetSmart pays out a dividend of 0.66 or slightly under 1% and has increased its dividend since 2009. The 1% percent may not seem attractive, but for a company that's business is based solely on pets this is comparable with the industry average. Since the beginning of September PetSmart has pulled back slightly off its highs in the mid $70s range, and it appears the stock may take a breather since being up over 30 % this year.
In conclusion, Petsmart is a well-managed company that continues to deliver positive results for investors. Despite the big rise in the share price this year for PetSmart, I am still bullish on PetSmart, but would rather wait for a pullback in the mid 60's range before being a buyer. For investors that use options I would consider selling November $65 put for $1.40 In my opinion PetSmart is a niche retail play with few direct competitors and not showing any signs of slowing down.
Thanks for Reading and Good Luck.
Disclosure: I have no positions in any stocks mentioned, and no plans to initiate any positions within the next 72 hours. I wrote this article myself, and it expresses my own opinions. I am not receiving compensation for it (other than from Seeking Alpha). I have no business relationship with any company whose stock is mentioned in this article.