Our buy alert on chemicals producer Canexus Corporation (OTCPK:CXUSF) made last Thursday has panned out well so far - the stock, which is traded on the TSX symbol CUS, went from $8.16 to $8.63 Friday before succumbing to some profit-taking Monday to $8.28 and then a weak rally to $8.40 yesterday.
The stock goes "ex" 13.68 cents this morning so you might be tempted to unload. I would suggest keeping this stock.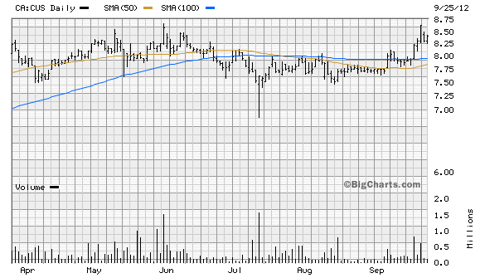 Not only is our 2012 price target $9.17, but it looks like TD Securities will pick up research coverage, but I am not sure on the timing.
Canexus only has four analysts covering (Acumen, CIBC, National and Scotia), so a fifth would be meaningful, especially if it were TD and they recommended purchase. TD currently covers only one Canadian chemical maker, Methanex (NASDAQ:MEOH).
I remember I had quite a bit of Dundee REIT at the end of 2009, at $19. I was big on REITs when few were talking about them. But I sold my massive position over the holiday to go away, as is sometimes my custom. Big mistake.
TD started coverage and got behind the stock (unbeknownst to me) and it went to $26 in a few weeks - some Christmas present. I was still licking my wounds for a month later, having missed a big payoff.
Fundamentally, we have a weak global economy, and chemicals are economically sensitive, including sodium hydroxide, chlorine, hydrochloric acid and sodium chlorate, the ones made by Canexus.
Earlier this week, slight improvements in the Dallas and Richmond Federal Reserve Bank manufacturing surveys shows there may be light at the end of the tunnel for the U.S. industrial sector, not withstanding the looming "fiscal cliff."
Canexus is a sodium chlorate supplier to the North American kraft pulp industry and demand ultimately depends on the health of the sector. Domtar (NYSE:UFS) and others announced a $20 increase in the US NBSK pulp list price for October 1. List prices are discounted heavily, but this is a sign of stabilization. Softwood pulp prices in China also were raised by several producers.
We had 30 days of NBSK pulp supply for August announced by the PPPC (Pulp and Paper Products Council), the same level as July and four days less than August 2011, with global pulp shipments increasing by 6.4% year over year.
So I would hold Canexus, even though it could pull back to $8 or so on "ex" dividend weakness. Canexus reports its Q3 in early November and I expect robust earnings.
You might ask, should we be buying Canfor Pulp (OTC:CFPUF), the largest Canadian NBSK pulp producer, on this news?
Yes, CFX.TO has been brutalized, down from $14 earlier in the year to a low of $8.17 set on September 13. It has been a rough ride for investors since the income fund converted to a corporation, and the dividend rate fell progressively from $3.00 to 20 cents per annum last quarter.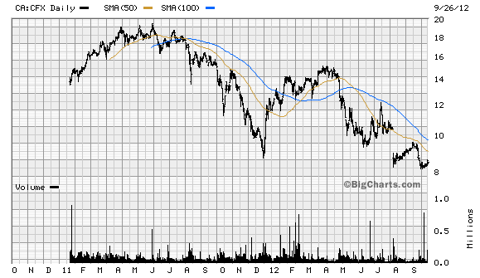 The stock rallied to $8.60 yesterday. Value players may be licking their chops at the price being this low. I think the stock could get back to the low $9s, but I'd sell at that point.
But I suspect they continue to have production problems at one of their mills in Prince George, B.C., which had a boiler leak last quarter. And Canfor Pulp faces a headwind caused by the high CAD versus the USD.
Canexus is also unhedged on USD denominated revenues after September 30 so also faces margin squeeze if the CAD strengthens. Part of the appeal of their conversion of merchant chlorine production sold in USD to hydrochloric acid sold in the Canadian oil patch, is to mitigate forex risk.
Competitor Superior Plus is also planning to sell frack HCL from their Port Edwards, Wisconsin chlor-alkali facility.
As my posture towards the market in October has been one of caution on commodities, I would wait until the Canfor Pulp earnings release in the third week of the month before taking on any more risk with this stock.
Trading note: If you missed my recent comment on Seeking Alpha, I am recommending taking profits on Air Canada (AIDEF.PK), which hit $1.32 on the TSX yesterday. Ditto for Air Transat (OTC:TRZBF).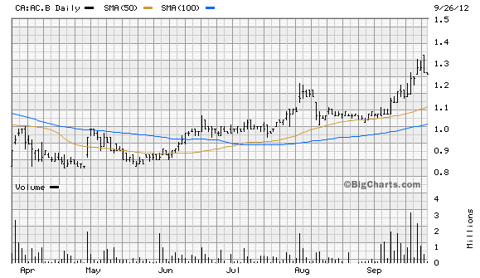 I have gradually sold AC.B in the $1.28-$1.29 area, because Westjet reported a code share agreement with British Airways. Competition is heating up with this challenge to the Air Canada mainline route, and Westjet also is planning a competitor to Air Canada's regional feeder, Chorus Aviation (OTC:CHRVF).
Many factors go into the price of airlines. Right now, the risk off trade is re-appearing and so I recommend caution in this ultra-sensitive sector, in spite of the falling crude oil price. When you buy or sell the airlines, don't quibble about getting the best price. Once we feel the market is going back to "risk on," we'll buy AC.B back, hopefully at lower prices.
Disclosure: I am long OTCPK:CXUSF, OTC:CFPUF. I wrote this article myself, and it expresses my own opinions. I am not receiving compensation for it (other than from Seeking Alpha). I have no business relationship with any company whose stock is mentioned in this article.
Disclaimer: The information above was disseminated to clients and subscribers of The BCMI Report and/or The BCMI Flash anywhere from 12-48 hours before appearing on Seeking Alpha.