By Jason Napodano, CFA
On September 18, 2012, Reckitt Benckiser (OTCPK:RBGPF) notified the U.S. Food and Drug Administration (FDA) that it was voluntarily discontinuing supply of Suboxone tablets due to increasing concern with pediatric exposure. Suboxone, a combination buprenorphine and naloxone tablet, is indicated for the maintenance treatment of opioid dependence. The drug is most commonly used by heroin addicts looking to kick their habit. Between Suboxone tablets and Suboxone sublingual film, Reckitt took in over $1.2 billion in sales from the franchise in 2011.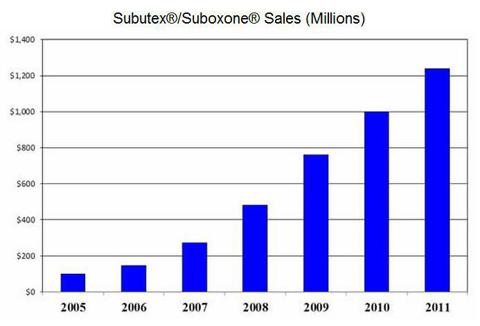 Source

: Reckitt Benckiser
Reckitt claims it received an analysis of data from the U.S. Poison Control Center last week that showed consistently and significantly higher rates of accidental unsupervised pediatric exposure with Suboxone tablets when compared with the company's Suboxone sublingual film product. The data showed an approximate 8-fold increase in accidental or unintended pediatric use for the tablet product versus the sublingual film. Prescription tracking data suggests the sublingual film accounts for approximately 70% of Reckitt's Suboxone franchise sales.
In removing the Suboxone tablet, Reckitt looks like an honorable corporate citizen. But we see a clear ulterior motive to the decision. Suboxone tablets lost patent protection in 2009. As of yet, generic competition from alternative buprenorphine and naloxone tablets is non-existent. However, Reckitt's goal is clearly to transition patients over to the still on-patent sublingual film. In fact, Reckitt has filed a Citizen's Petition asking the U.S. FDA to require all manufacturers of buprenorphine products implement public health safeguards around pediatric exposure through educational campaigns and child resistant packaging.
Suboxone tablets were previously sold in a bottle containing 30 pills. The Citizen's Petition asks the FDA to enforce unit-dose packaging - essentially each pill would be packaged individually so that accidental pediatric exposure would be limited to one pill at a time. Sounds like a good idea; but conveniently for Reckitt, it also raises the bar for generic manufacturers. Suboxone film is already supplied in a unit-dose package. So while Reckitt may take a short-term hit to its top line by removing Suboxone tablets from the market, in the long run the company benefits from seeing less generic competition and more (forced) migration over to its under-the-tongue film.
Good News For BDSI & TTNP
We view Reckitt's decision as good news for both BioDelivery Sciences International (NASDAQ:BDSI) and Titan Pharmaceuticals (NASDAQ:TTNP). Both companies are nearing new drug applications for competing buprenorphine-based products designed for opioid addiction and dependence.
Titan Pharmaceuticals is developing Probuphine, a novel, subcutaneous implantable formulation of buprenorphine designed using its ProNeura technology. Probuphine delivers six months of buprenorphine without risk of accidental pediatric exposure. Patients undergo a simple 10 minute procedure to receive the Probuphine implant and the buprenorphine is slowly released in continuous fashion over the next six months. Besides the obvious zero risk of accidental exposure or potential for abuse, we see Probuphine as a meaningful improvement in compliance. Heroin addicts and their treating physicians know Probuphine is always working to curb the addictive craze.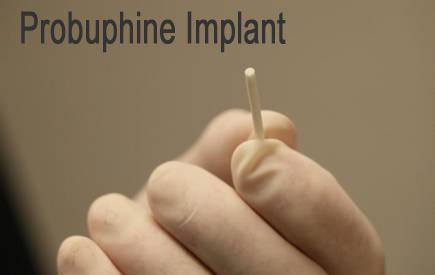 Source: Titan Pharma
Titan completed two phase III trials and two long-term safety analyses with Probuphine. Titan has guided to filing the new drug application on Probuphine in October 2012. Last week the company entered exclusive talks with a potential commercialization partner for the product.
Last week, BioDelivery Sciences International reported positive results from a pivotal pharmacokinetic study for its BEMA Buprenorphine/Naloxone (BNX) candidate. BNX is being developed for the potential treatment of opioid dependence and utilizes the company's BioErodible MucoAdhesive (BEMA) technology to deliver buprenorphine and naloxone. The product would be a direct competitor to Reckitt's Suboxone sublingual film.

Source: BioDelivery Sciences International
Based on the positive outcome of the pivotal study with BNX last week, management at BDSI anticipates that it will be in a position to submit a new drug application during the second quarter of 2013.
Reckitt's decision to remove Suboxone tablets from the market puts almost $400 million in sales up in play. Reckitt is clearly hoping to convert that $400 million over to its sublingual film formulation. However, with Titan nearing a new drug application and seeking priority review on Probuphine, and BioDelivery Sciences anticipating an application in the second quarter of 2013, the market for opioid addiction dependence is about to get a lot more competitive.
Titan's product clearly offers advantages in dosing and compliance. There is no risk for unintended exposure. We like that, and think Probuphine could capture as much as 20% of the $1.5 billion market at peak. However, both patients and physicians will have to get comfortable with the 10-minute implant procedures. BioDelivery's product is simple in design and function. Patients and physicians will be comfortable with the product from day one. Risk of accidental exposure is very low, similar to Reckitt's sublingual film. For BioDelivery Sciences, it will come down to marketing and promotion. A similar 20% market share seems achievable. Finally, we note both Titan and BioDelivery Sciences are seeking to develop their buprenorphine products for the treatment of chronic pain, which presents meaningful upside to both stories.
Disclosure: I have no positions in any stocks mentioned, and no plans to initiate any positions within the next 72 hours. I wrote this article myself, and it expresses my own opinions. I am not receiving compensation for it (other than from Seeking Alpha). I have no business relationship with any company whose stock is mentioned in this article.