Cloud computing is a pay-per-use consumption and delivery model that enables real-time delivery of configurable computing resources (for example, networks, servers, storage, applications, services). It is a computing model providing web-based software, middleware and computing resources on demand.
The Future of Cloud is Extremely Bullish
Cloud adoption is growing at a rate of five to eleven times faster than traditional software and a large portion of IT budgets are increasingly moving over to the cloud. This growth can be attributed to the lower barriers to entry and lower switching costs, which are sparking much more development and activity in the cloud.
According to a recent IBM Institute for Business Value study, few organizations are currently actively taking advantage of cloud capabilities. While cloud is widely accepted as a "technology game-changer with the potential to transform internal operations, customer relationships, and industry value chains," the majority of companies have not adopted cloud-enabled business models yet.
Businesses are increasingly recognizing cloud as an important technology and adopting cloud strategies in effort to reduce the complexity and cost associated with traditional IT approaches. Of the 527 business and technology executives that IBM surveyed in this study, almost three-fourths indicated their companies had piloted, adopted or substantially implemented cloud in their organizations -- and 90 percent expect to have done so in three years. While only 13 percent have substantially implemented cloud, this number is expected to grow to 41 percent in three years.
Cloud Computing Defined
The consumption model - Cloud computing offers a unique way to consume a shared pool of computing resources (including networks, servers, storage, applications, and services) that can be added or removed quickly and at a potential lower cost than a traditional IT infrastructure.
The services model - The three fundamental cloud computing services models are infrastructure as a service or IaaS, platform as a service or PaaS, and software as a service or SaaS. Choose any or all of these models depending on your needs.
The deployment model - There are numerous ways to deploy and use clouds with various considerations, including private cloud, community cloud, public cloud, and hybrid cloud. You can customize your deployment model according to security, network access, IT skills, and more.
Gartner Hype Cycle for Cloud Computing, 2012
According to Gartner's recently published Gartner Hype Cycle for Cloud Computing, 2012, companies are starting to subscribe to cloud based solutions because of the speed of deployment, lower costs and easier customization, -- but still caution that enterprises are far from abandoning their on-premise solutions entirely.
Gartner estimates that:
The Cloud business performance management (bpmPaaS) market will grow 25% year over year -- and point out that 40% of companies doing BPM are already using BPM in the cloud. They have identified more than 30 bpmPaaS applications and platforms -- so quite a range to choose from and more to come in the month or so.
Big Data will deliver transformational benefits to enterprises within 2 to 5 years, and boldly suggest that by 2015, enterprises adopting this technology will outperform competitors by 20% in every available financial metric.
Over 75% of respondents surveyed saying they plan to pursue Private Cloud Computing and Gartner note that there are many pilot and production deployments out there today that are giving considerable cost savings through virtualization.
Software as a service, SaaS is rapidly gaining adoption, leading Gartner to forecast more than 50% of enterprises will have some form of SaaS-based application strategy by 2015, much of this impetus coming from companies wanting to get around limitations on IT and capital spending.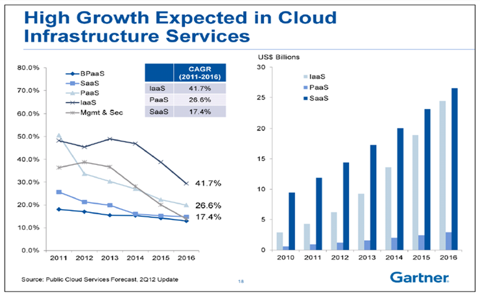 How to Profit from this Game-Changer Technology: Our Strategy
If you want to cash in from this game-changer technology, you should buy the shares of the leading companies that invested huge amount of money in developing cloud-enabled computing system.
IBM SmartCloud: SmartCloud is the IBM vision for cloud computing. IBM provides integrated power management to help customers plan, predict, monitor and actively manage power consumption of their BladeCenter servers. SmartCloud is highly scalable with significant operational flexibility and control.
IBM being at the forefront of developing a 360 degree cloud enabled computing system along with big data, we recommend to invest 40% of your capital you wish to invest in cloud computing technology in IBM (NYSE:IBM).
Microsoft Azure: In addition to managed code languages supported by .NET, Microsoft Azure will support more programming languages and development environments in the near future. Microsoft appears to have a stronghold in the cloud computing market. In the second quarter of 2012, just under half (47.9 percent) of all the revenue generated from worldwide server shipping came from Windows Server boxes, according to IDC. In July, Microsoft rolled out its new version of Windows Server, committing itself to a proprietary model of computing where the software giant makes sure all roads lead to Azure, its own cloud offering.
Invest 20% of your capital in Microsoft (NASDAQ:MSFT) to profit from cloud computing.
Intel's Cloud Builders Program: Intel expects to substantially expand its operations for cloud computing through its Cloud Builders program. The processor giant is leveraging interest in the trend to build closer ties with OEMs and others at a time when Intel's server franchise is under attack from alternative processor vendors.
We recommend investing 20% of your capital in Intel (NASDAQ:INTC) for the long-term to profit from their Cloud Builders program.
Oracle Cloud: With Oracle Cloud, customers get enterprise-grade application and platform services based on best-in-class business applications and the industry's leading database and application server, managed by experts with over a decade of experience in this field. More than 25 million users rely on Oracle Cloud every day.
Invest 10% of your capital in Oracle (NYSE:ORCL).
Amazon EC2: Amazon.com was one of the companies that pioneered the trend, selling to businesses extra time on the servers in its big data centers that run its online store. By most accounts, one of the biggest contenders in the cloud management software space is Amazon. Amazon EC2 is designed to make web-scale computing easier for developers.
Invest the remaining 10% of your capital in Amazon (NASDAQ:AMZN).
Disclosure: I am long IBM, INTC. I wrote this article myself, and it expresses my own opinions. I am not receiving compensation for it (other than from Seeking Alpha). I have no business relationship with any company whose stock is mentioned in this article.