Vodafone (NASDAQ:VOD) remains a better investing option compared to Verizon (NYSE:VZ) or, for that matter, AT&T (NYSE:T). While Vodafone remains a pure play on international wireless growth, the other two companies are bogged down with wireline operations.
Vodafone is a U.K.-based telecommunication firm, with operations in over 30 countries, and serves more than 400 million customers worldwide. It is a global telecom giant with a significant presence in countries like Germany, Italy and Spain, as well as India, Africa and the Middle East. More importantly, the crown jewel of Verizon, Verizon Wireless, is 45% owned by Vodafone, giving the company a huge investment in the U.S.
Another important distinction is that the U.S. firms continue to throw on huge amounts of debt in order to support their significant dividend payout ratios. Due to stronger stock gains, their dividend yields are now lower than Vodafone's, making the Vodafone stock more attractive.
Dividend History
The company has a strong history of raising dividends, as the chart below shows:
Click to enlarge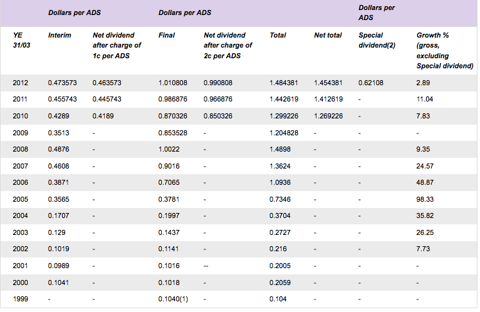 Important to note from this chart is the distinction between the interim dividend and the final dividend. The company pays a bi-annual dividend, with the final amount typically double that of the initial amount. Most financial reporting sources in the U.S. tend to pick up the most recent dividend payment and attempt to annualize it, leading to misrepresented amounts.
The current yield is around 5%, using the $1.45 normal payment in 2012. Including the special dividend of $0.62 for the Verizon Wireless payment, the total dividend for 2012 was $2.08 or roughly a 7.3% yield.
Debt and Dividend Payouts
The biggest complaint from astute investors is that AT&T and Verizon both have misleading dividend yields due to exceedingly high payout ratios and even higher debt levels. In fact, both companies have over $42B in debt on the balance sheet, with AT&T topping out over $60B.
Vodafone reported in the Q2 report that net debt was reduced to roughly $36B. In fact, the special dividend payment last year by Verizon Wireless to Verizon and Vodafone highlighted the issue (see article here). Verizon used the money to pay existing dividends, while Vodafone used it for the special dividend this year and share buybacks.
1-Year Chart Comparison
For the last year, Vodafone has been the clear laggard compared to its U.S. counterparts. The financial crisis in Europe has kept investors focused on purported better options outside the crisis zone.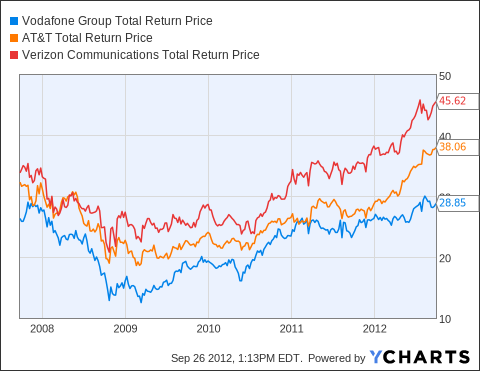 VOD Total Return Price data by YCharts
Conclusion
Now that Vodafone has a higher dividend yield and a stronger financial structure, investors should look at switching out of AT&T and Verizon. While the European crisis might be far from over, Vodafone has the balance sheet to survive and take market share with any disruptions in the markets.
Disclosure: I am long VOD. I wrote this article myself, and it expresses my own opinions. I am not receiving compensation for it (other than from Seeking Alpha). I have no business relationship with any company whose stock is mentioned in this article.
Additional disclosure: All data was sourced from Yahoo! Finance. Please consult your financial advisor before making any investment decisions. As an additional disclosure, Mark worked for Verizon prior to becoming a investment advisor in 2010.