First Street Finance Corp. (FSC) is one of a handful of business develop companies - BDCs - trading on the stock exchange and offering an attractive 10% dividend yield to investors. I plan to cover each of the BDC companies in the order of Seeking Alpha investor interest - as indicated by the number of email subscribers. First up, First Street Finance.
Note: I have already written about the largest and most popular BDC: Prospect Capital Corp. (NASDAQ:PSEC). Read my article here.
Business Development Companies are formed under special rules from the Investment Company Act of 1940 - the same law which governs mutual funds, ETFs and closed-end funds. BDCs can loosely be viewed as closed-end funds for private equity investing. To maintain its BDC status, a company is limited in the type of investments it can make and must pay out most of the income generated as dividends. The business of most business development companies is to make business loans to smaller, non-publicly traded companies.
To a certain extent, I view BDCs as "black box" investing. These companies make loans to numerous customers at pretty high yields - indicating there is some risk involved. Investors have little in the way to verify or confirm the risk a BDC is taking on to earn income. Evaluation comes mostly from the company's track record and management's explanation of how the business is doing.
Overview of FSC
Fifth Street Financial went public in June 2008. At that time, the company held a portfolio worth $303 million. By the middle of 2012, the assets had increased to $1.3 billion. The company directly originates middle market lending, usually in connection with private equity sponsors. As of the end of June, 69% of the portfolio was first lien debt and the balance consisted primarily of second position type loans. Fifth Street had investments with 76 companies at the end of the second quarter. For the second quarter - FSC's fiscal 3rd quarter - the company made $220 million in new investments and received $55 million in paybacks from previous lendings. The portfolio was generating an average yield of 12.13% at the end of the quarter.
Positives and Negatives
A helpful fact is that Fifth Street Financial uses outside, independent valuation firms to regularly evaluate the health of client companies and report to the Board of Directors. Each investment is given a rank of 1 through 5, with ranks of 1 and 2 indicating an investment is meeting or exceeding expectations and 3, 4 and 5 are different levels of failing to meet expected financial performance levels. At the time of publication, 98.4% of the investments were rated level 1 or 2.
Another possible positive is that Fifth Street has about 2/3 of its portfolio out on floating rate terms. If - in a distant future and a galaxy far away - interest rates start to increase, the company will benefit from those higher rates. For investors worried about higher short-term rates, this really is a positive feature.
On the negative side, although Fifth Street Financial has been growing its portfolio, the results have not trickled down to investors. Since the third quarter of 2010, the share NAV has declined from $10.43 to $9.85 at the end of June. The 29 cents of dividends paid in the second quarter was greater than the 28 cents of net interest income. To start off 2012, the monthly dividend was lowered to 9.58 cents from the previous 10.66%. The current monthly payout has been declared through February 2013.
Conclusion
Fifth Street Financial appears to be a stable BDC which needs to get a little more aggressive in building the book value and covering the dividend. On the last quarter's conference call, management stated they expected to cover the dividend for the final quarter of the fiscal year. Dividend investors should put FSC on their watch list and see how that works out. I have another dozen BDC stocks on my list so stay tuned for more high-yield ideas.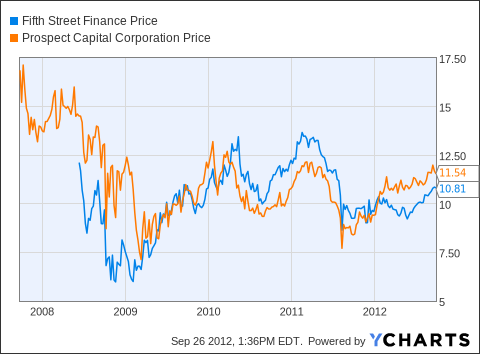 Additional Recommended Reading: Prospect Capital: A Better Choice To Earn Double Digit Dividend Yield
Disclosure: I have no positions in any stocks mentioned, and no plans to initiate any positions within the next 72 hours. I wrote this article myself, and it expresses my own opinions. I am not receiving compensation for it (other than from Seeking Alpha). I have no business relationship with any company whose stock is mentioned in this article.