The covered call strategy is a great way to open a second stream of income and minimize the impact of volatile gyrations on one's portfolio. It is a very safe strategy to use as it does not increase an investors risk and to some degree provides some downside protection. If you are unfamiliar with a "covered writes" strategy, see our piece "Benefits of a Covered Writes Strategy." Today we are going to look at Abbott Labs (NYSE:ABT). The stock has had a terrific run over the past 12 months, rallying from a low of $48.96 to its recent high of $70.41. The long term fundamentals are still good, but in the short to midterm time frames the stock is extremely overbought and due for a pull back. The best time to generally sell covered calls is when a stock is trading in the extremely overbought ranges.
Some reasons for concern
Zacks

has

a neutral rating on the stock and its target price of $70 was hit yesterday
The stock is extremely overbought and due for a pullback.
Several of its products such as clarithromcin and Omnicef are facing increased completion from generic versions and sales have been declining as a result. Tricor, which posted stellar sales of $1.7 billion in 2011, could also witness declining sales from generic drugs in the second half of 2012. The new dialysis bundling rule that came into effect in 2011

will

most likely have a negative impact on Zemplar sales, which is used for the treatment of secondary hyperparathyroidism in chronic kidney failure patients.

So the federal Medicare program, which covers the treatment of life-threatening renal conditions, regardless of a patient's age, changed its payment system to reimburse for overall care, bundling together the cost of treatment and drugs. For the dialysis centers, that instantly transformed the expensive drugs from a profit center to a drain on profits

The implementation of austerity measures in Europe and Health care reform in the USA has had an negative impact on revenues for the past several quarters. This trend is expected to continue and will continue to have a negative impact on sales. Currency fluctuations could impact sales in the 3.5%-4.0% ranges in 2012. Currency fluctuations negatively affected sales by 4.7% in the 2nd quarter.
Benefits of employing this strategy
Income generation
Each contract trades at a premium (the higher the beta the higher the premium), and the buyer of the contract pays you that premium for the right to purchase 100 shares of the stock at the strike price. The premium is deposited immediately into your brokerage account.
Downside protection and reduction in portfolio volatility
If the stock drops in value, the premium collected at least offers some type of return, and it can offset all or part of the loss depending on how severely the stock has pulled back. For example; if you sold a covered call against a stock when it was trading $20 for a premium of $2.50, then as long as the stock does not drop below $17.50 you are OK. In essence, you have reduced your entry price to $17.50. If this strategy is actively employed, then you could in general significantly reduce the volatility your portfolio is subjected to.
Predetermined rate of return
This strategy gives you a decent idea of what your rate of return on your investment will be. Regardless of what takes place you still get to keep the premium. If your shares are called away from you at the strike price, it is easy to figure your profit. This is the difference from what you paid for the stock and the strike price you sold the option, plus the premium you collected. For example, let us assume you sold SeaDrill (NYSE:SDRL) Jan 2013, 45 calls for$2.50 when it was trading at $40. If SeaDrill trades above 45, your shares are called, and you are out at 45. So your profit is 4 plus the 2.50 which you received in premium for a total gain of 14.4%
If the stock starts to drop in price, you lose money on paper (much like any other share holder) when the price of the stock falls in excess of the premium you received.
Converts a common stock into a dividend paying stock
The moment you sell the call option, the stock you own, in essence, has turned into a dividend paying-stock. If it already pays a dividend you have turbo charged your gains.
The option to repeat the process all over again
If your shares have not been called away from you, you can repeat the whole process again with the same shares of stock you own. Utilized properly this strategy can produce an income stream that can surpass the dividend paid out by that specific stock. If the stock does not pay out a dividend, you have just converted into one that does. If the stock is called, there is nothing to prevent you from buying another good stock and repeating the whole process again.
Buy back the call
If you sold the call for a premium of $2.50 and the call is now trading at $1.00, you could buy the call back, and you still get to keep the difference, which in this case amounts to $1.50. You could take things one step further and start the whole process again by selling calls that are fetching higher premiums. For example, you sold calls on stock X when it was trading at $37 with a strike at 40 for a premium of $2.50. The stock is now trading at 34, so you buy the call back and sell new calls with a strike at 37.50.
Technical Outlook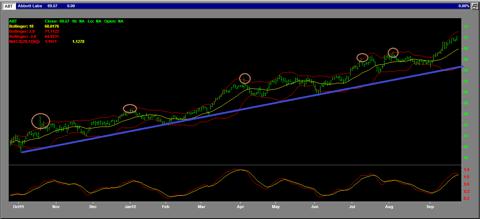 The stock is extremely overbought as indicated in the chart above. Over the past 12 months, it has not experienced even one significant pullback. Note also that the stock has a tendency to pull back every time it tests the +2 standard deviation Bollinger band (illustrated by the brown circles in the chart above). Given that the stock is in a strong up trend it could spike up to the $75.00 ranges before pulling back. The markets are also trading in the overbought ranges and are sorely in need of a pullback. There is a pretty good chance that the SPDR S&P 500 Trust ETF (NYSEARCA:SPY) could trade to the 1390-1400 ranges before trending higher. If this comes to pass Abbott could easily drop down to the $64-$66 ranges.
The Competition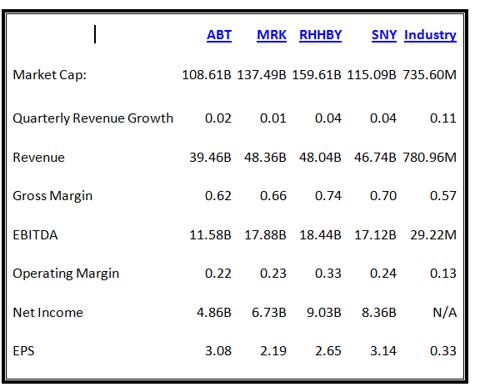 Suggested Strategy

The May 2013 75 calls are trading in the $0.93-$1.00 ranges. For this example we will assume that these calls can be sold for $.93 or better. For each call sold, $93 will be deposited into your account.
If the stock trades above $75, your shares could be called away. If the shares are called away you will walk away with a gain of 9.04% based on the current price of the stock. This is a pretty good rate of return for roughly 7 months. Additionally, any dividend payments you receive will increase your yield. If the stock does not trade above $75, you get to keep the premium and you can repeat the process again. If the stock is trading above $75 and you do not want to give up your shares, you can roll the call. Simply buy back the calls you originally sold and then sell new out of the money calls.
Conclusion
This is a good strategy to implement on a stock that is extremely overbought as it provides you with the chance to earn some extra money. It also allows you to sell the stock at a predetermined price. In other words, you are getting paid to put in a sell order. If your shares are called away you can always use the money to open a position in other great dividend players such as Altria Group (NYSE:MO), Philip Morris international (PMI), Southern Company (NYSE:SO), etc.
Options tables sourced from yahoofinance.com. Some of the Research and historical data used in this article were obtained from Zacks.com. Competitor comparison data sourced from yahoofinance.com.
Disclaimer
It is imperative that you do your due diligence and then determine if the above strategy meets with your risk tolerance levels. The Latin maxim caveat emptor applies - let the buyer beware.
Disclosure: I have no positions in any stocks mentioned, and no plans to initiate any positions within the next 72 hours.
Business relationship disclosure: This article was prepared for Tactical Investor by one of our analysts. We have not received any compensation for expressing the recommendations in this article. We have no business relationships with any of the companies mentioned in this article