It's tempting to think the rally in housing stocks has peaked. But evidence suggests weakness may prove the perfect opportunity to buy homebuilders like Lennar (NYSE:LEN) ahead of the next move higher.
Plenty of investors have missed the move in the homebuilders.
The home builders ETF (NYSEARCA:XHB) has marched 48% higher this year, far ahead of the 16.5% gain in the S&P 500 index ETF (NYSEARCA:SPY). This move has brought the ETF all the way back to May 2008 levels. Yet, few fund families are likely done buying, if they've been buying at all.
Despite the big move this year, prices remain significantly off their mid decade peak. For example, the ETF would need to rally nearly 85% to get back to its 2005 high. Lennar would need to nearly double. And small cap homebuilders such as K B Homes (NYSE:KBH), Beazer (NYSE:BZH) and Hovnanian (NYSE:HOV) would all need to double several times over.
Once burned, twice shy.
Make no mistake about it - these stocks got beaten up for good reason.
The housing implosion dropped new home construction to the lowest levels on record back to 1960. Stocks like Lennar went from earnings of $8.17 per share in 2005 to losing $12 per share in 2007. The results were similar across the industry.
But, despite being understandably gun-shy, investors should keep in mind housing is a true cyclical.
The bottom in these stocks doesn't come when PE ratios are incredibly low. Instead, the cyclical bottom comes when they're absurdly high.
The housing recovery itself remains very early stage with virtually all measures well off historic norms. For example, consider the following chart which shows monthly housing starts. In August, such starts were 29% higher than a year ago. Yet, they remain well off the million dollar threshold.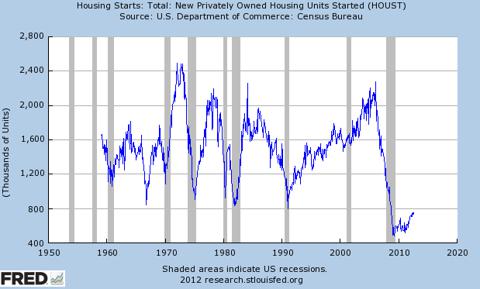 Short sellers remain too pessimistic.
Now, this isn't the first time I've thought home builders should be bought for portfolios. I've written about them here, here and here this year.
Yet, despite solid double digit growth in permits and starts, short interest remains very high across the group.
At Lennar, short sellers are still sitting on nearly 7 days to cover. Short interest in shares of D R Horton (NYSE:DHI), K B Homes, Hovnanian and Ryland (NYSE:RYL) all remain above 5 days to cover, despite record low mortgage rates and high apartment rents.
There are plenty of reasons to be a buyer.
According to tracker Axiometrics, effective rents have climbed 4.2% so far in 2012 as occupancy rates remain strong at 94.33%. Even with new supply coming online next year, the financial argument for owning versus renting remains pretty compelling - particularly for new families.
Here's what Lennar's CEO Stuart Miller had to say in the company's earnings conference call this week: "The housing market is recovering. Not only are sales, margins and backlogs improving, but the beginnings of a sense of visibility are coming back to underwriting land acquisitions and planning for the future."
Mr. Miller goes on to outline four reasons behind the homebuilder recovery:
Low home prices and cheap interest rates.
Owning versus renting monthly payments remain favorable.
Lower inventory of distressed properties.
Improving consumer confidence.
These four supports remain firmly in place and they're helping home builders like Lennar significantly grow revenue and profit. Lennar sales per community have climbed from about 1.5 to 2 to 3.2 per month in Q3.
The trend is likely to continue this quarter. Industry wide, August new homes sales increased 27.7% from a year ago while the supply of new homes fell to 4.5 months, down from 6.6 last year.
Tough mortgage standards are keeping buyers at bay.
I'd also add a fifth support pillar likely to help drive home sales in the coming year.
QE3 supports mortgage securitization.
Given the economic carnage from mortgages backed by phantom income, we can't blame banks for overshooting on standards. But, the industry has become too constrained.
The Fed recognizes this point and has made it a policy target. By making itself a willing buyer with the depth to become the majority buyer of mortgage backed securities, banks are handed a big incentive to increase their willingness to lend.
If their desire to boost fee revenue sparks an easing of standards, home volume will support further backlog and margin expansion at builders.
Unit sales growth is translating into profit growth.
In Q3, Lennar reported closings climbed to 28% from 20% the prior quarter. New orders came in up 44% versus 40%. Backlog rose 79% versus 61%. Gross margins rose to 23.2% from 22.5% and operating margins rose to 11.2% from 9.2%. S G & A has improved by 230 bps in the past year.
Additionally, recession era cost cutting is about to be leveraged further, as cheap land acquired by firms like Lennar gets developed.
Last quarter alone, Lennar spent $331 million acquiring 8300 home sites. And, over the past three years Lennar has strategically been buying what President Richard Beckwitt describes as "large-scale busted development deals where much of the infrastructure was already in the ground." This activity has built Lennar a stable of margin friendly home sites - some 124k as of the end of August.
So, while fast money will undoubtedly exit homebuilders on whiffs and whims, look for large funds to step into the fray to bulk up their positions ahead of 2013. At the same time, those pullbacks will come as welcome relief to flat footed shorts, giving them an opportunity to cover positions, providing additional upside support.
Disclosure: I am long LEN, BZH, HOV, DHI. I wrote this article myself, and it expresses my own opinions. I am not receiving compensation for it (other than from Seeking Alpha). I have no business relationship with any company whose stock is mentioned in this article.