This wasn't the way it was supposed to be, right? After months of hoping and watching with bated breath, stock market investors finally received what they so desperately longed for in another major balance sheet expanding stimulus program from the U.S. Federal Reserve. And this wasn't just any stimulus program, as the Fed went all in with an aggressive plan of open-ended bond buying that will continue for as long as the monetary powers that be deem necessary. But after a predictably euphoric response immediately following the announcement, stocks have gone adrift in the two weeks since, including an accelerating plunge in recent days.
So why has the stock market response been so muted since the QE announcement? Is this a classic case of buy the rumor and sell the news? Has the stock market finally woken up to the fact that the economic fundamentals do not support stock prices anywhere near current levels? Have we finally reached the threshold where the positive marginal impact from monetary stimulus on stock prices has completely diminished? Do the words of Philadelphia Fed President Charles Plosser have that much power over the markets? "No" is the likely answer to all of these questions. Instead, we are most likely in the midst of a market consolidation before the next QE-driven euphoric market advance.
What is often overlooked when reflecting on various phases of past market cycles is the precise timing of when the market actually responds to catalyst events. Two recent examples highlight this point.
The first was the collapse of Lehman Brothers back in September 2008. The common recollection was that Lehman failed over the weekend of September 13-14, 2008 and stocks immediately plunged into free fall. But this was not the case. Instead, stocks were trading higher as many as nine days after Lehman collapsed before the sell off finally began. It was only after this initially muted reaction that the stock market would shed over -28% of its value over eight stunning trading days from October 1 to October 10, 2008.
Click to enlarge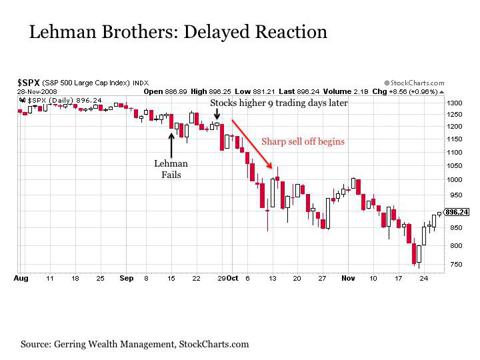 The second was the launch of QE2 back in November 2010. While many understandably mark Fed Chairman Ben Bernanke's Jackson Hole speech on August 26, 2010 as the beginning of the QE2 rally, the Fed did not officially announce the program until November 3, 2010. Thus, the anticipation rally that preceded the QE2 announcement in 2010 from late August to early November was very similar to the anticipation rally that preceded the recent QE3 announcement starting in early June 2012. But once the Fed announced QE2 on November 3, 2010 and officially launched it a few days later on November 12, 2010, the stock market rally almost immediately stalled. And it took until the end of the month and a decline in excess of -3% for the market to fully consolidate and process the QE2 launch before it began its bubbly march higher. Over the next 56 trading days after this initial consolidation from December 1, 2010 to February 18, 2011, the stock market advanced by nearly +14% including gains in 40 of these trading days, a statistically remarkable 71% of the time over this period.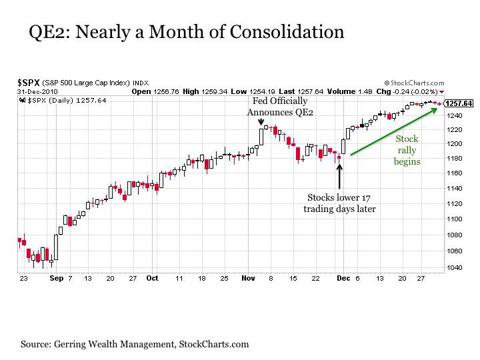 Given the similarities between QE2 and QE3 as balance sheet expanding monetary stimulus programs, it is worthwhile to note that we are also seeing a notably similar stock market path in response. In a recent article, I highlighted how the stock market behaved very similarly in their anticipation rallies ahead of the launch of QE2 and QE3. Taking this one step further, stocks have continued to follow a similar path of correcting and consolidating gains since the announcement of QE2 and QE3. Following the official announcement of QE2 in November 2010, stocks were down by -3.3% over the next 17 trading days before finally bottoming and beginning their strong advance. And following the announcement of QE3 earlier this month, stocks have fallen by as much as -1.6% over the 9 trading days since.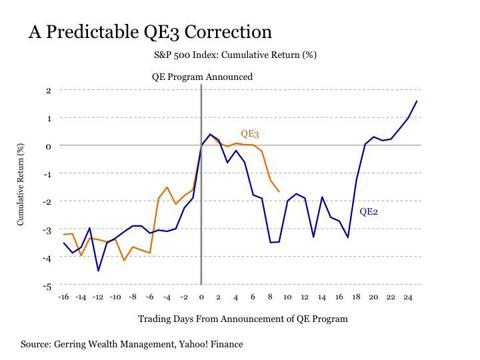 What explains these initially counter-intuitive market reactions? Why were stocks higher two weeks after the collapse of Lehman? And why do stocks initially trade lower once they receive QE from the Fed? This is due to the fact that the market does not necessarily react immediately to liquidity-driven catalysts such as these. It took several weeks and a subsequent sequence of events for market mechanisms to fully seize and mass liquidations to commence following the collapse of Lehman Brothers back in 2008. And the liquidity injected by the Fed through QE must work its way through the veins of the financial system for a few weeks before it finally finds its way into capital markets, including stocks. Such is the transitional phase we are likely experiencing now with QE3.
Thus, it would not be surprising to see stocks continue to edge lower a bit more in the first few weeks of October, as the market continues to process the launch of QE3 before beginning to move higher.
But what about the fundamentals you might ask? After all, the global economy is slowing, Europe remains in crisis, social unrest in the Middle East has resurfaced, and the U.S. is facing the uncertainty of a Presidential election in November and the fiscal cliff at the end of the year. These, of course, are all forces that imply declining stock prices, not a further advance. Given all of these risks, coupled with how far the stock market has risen to this point, how can we reasonably expect the market to continue to advance from here? This is a most excellent question. And without the seemingly endless morphine drip of monetary stimulus from the U.S. Federal Reserve, I believe we would see a stock market, as measured by the S&P 500 Index, sharply drop by as much as -500 points lower if not more in short order.
But as long as the Fed insists on expanding its balance sheet and essentially leaving $2-3 billion in cash on the doorsteps of major financial institutions at the beginning of each trading day for the foreseeable future, there is no telling how much the stock market can rise on hot thin air in the months ahead. A day of reckoning will eventually come, and when it does it will be as ugly as the stock market is allowed to rise in the meantime. Until then, stocks will likely remain detached from all rationale and we as investors are left to respond accordingly.
All of this leads to the bottom line question of how best to allocate given these market expectations going forward. Allocations to the stock market continue to make sense as part of a hedged strategy. But instead of making broad market allocations, the opportunity set is made better by focusing on those specific areas of the market that have underperformed to this point and stand to benefit most once QE3 fully takes hold. These include commodities stocks such as Occidental Petroleum (NYSE:OXY) in energy, BHP Billiton (NYSE:BHP) in mining including copper and Potash Corporation (POT) in agriculture.
Looking overseas, the Chinese stock market (NYSEARCA:FXI) is also consistent with the commodities them offers attractive relative value versus the U.S. stock market along with a government that has ample scope for further stimulus in its own right if needed. A focus on lower beta names that make up the S&P Low Volatility PowerShares (NYSEARCA:SPLV) that have trailed during the QE3 anticipation rally and are overdue to catch up such as McDonald's (NYSE:MCD), Nike (NYSE:NKE) and Hormel Foods (NYSE:HRL) are also worth consideration.
The more preferred investment allocations continue to reside outside of the stock market. Leading among these is gold (NYSEARCA:GLD) and silver (NYSEARCA:SLV), both of which have trailed over the past year and stand to benefit most from more balance sheet expanding monetary stimulus from not only the Fed but global central banks in the months ahead. My favored vehicles for maintaining this exposure are the Central Gold Trust (NYSEMKT:GTU) and the Central Fund of Canada (NYSEMKT:CEF), which is composed of 53% gold and 46% silver.
Spread products such as High Yield Bonds (NYSEARCA:HYG) and High Yield Municipal Bonds (NYSEARCA:HYD) also offer a more favorable risk-adjusted returns alternative to stocks. And categories that continue to perform well regardless of what the Fed is doing such as Agency MBS (NYSEARCA:MBB), U.S. Treasury Inflation Protected Securities (NYSEARCA:TIP) and Build America Bonds (NYSEARCA:BAB) also offer appeal from a total returns and diversification standpoint.
So as we move into October, it would not be surprising to see the stock market continue to drift lower. But it is just as likely that once the monetary morphine reaches its destination, the subsequent stock market advance could be just as dreamy as it has been in the past, even if it makes absolutely no sense from a fundamental perspective.
This post is for information purposes only. There are risks involved with investing, including loss of principal. Gerring Wealth Management (GWM) makes no explicit or implicit guarantee with respect to performance or the outcome of any investment or projections made by GWM. There is no guarantee that the goals of the strategies discussed by GWM will be met.
Disclosure: I am long OXY, BHP, POT, FXI, MCD, NKE, HRL, SPLV, GTU, CEF, MBB, TIP, BAB, HYG, HYD. I wrote this article myself, and it expresses my own opinions. I am not receiving compensation for it (other than from Seeking Alpha). I have no business relationship with any company whose stock is mentioned in this article.