Deflation is one of the biggest fears for central bankers, and creating moderate to moderately high inflation one of their biggest objectives - not only consumer price inflation, but also asset inflation. Invariably, central banks have stepped in and taken action when equity markets have witnessed sharp declines.
This article investigates the primary reason central bankers are concerned about asset market inflation. For the same reason, it is very likely that equity markets will continue to trend higher even if economic activity remains sluggish for a prolonged period.
In order to put things into perspective, the charts below give the total financial assets held by households in the US, Euro area and Japan.
Click to enlarge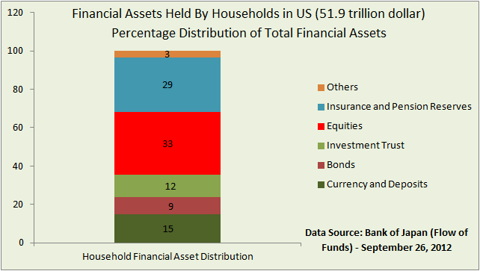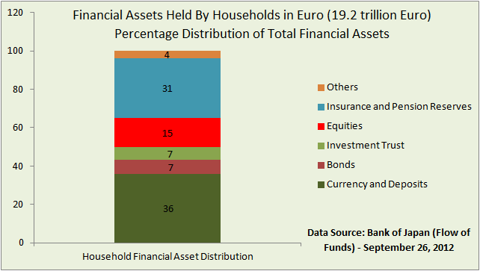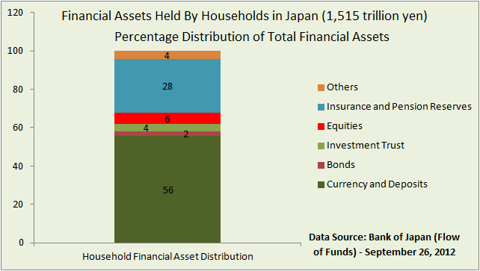 The total household financial asset (in USD) for these three regions amounts to $96 trillion as of June 2012. Of the total household financial assets, nearly 23% or $22 trillion is invested in equities.
Therefore, even a 20% decline in equity markets will lead to erosion of $4.4 trillion of wealth for households. This is a big reason to be concerned, as wealth erosion can have a cascading impact on the economy as it changes consumer sentiment and reduces spending.
Depressed consumer sentiment and reduced consumer spending would again be a perfect recipe for another bout of consumer price deflation.
In other worlds, a decline in markets can have a serious impact on economic activity (with a lag period).
Further, depressed valuation would not encourage private players to sell equity for any planned expansion. As a result, weak equity markets will impact private sector contribution to job creation and GDP growth.
These factors are reasons big enough for central bankers to stay alert on any market correction and take necessary action. I am certainly not suggesting that this is an excellent economic and financial model or way of working. All I want to emphasize is that asset markets are critical in the current environment and markets will not crash or collapse (at least in the foreseeable future).
A correction of 10-15% is very likely at regular intervals. This is especially true when the economy is oscillating between sluggish growths to near-recession phases. I would consider any correction of over 10% as a good buying opportunity.
One can say with a lot of conviction that central bankers will do whatever it takes to support asset markets and take it to even higher levels.
Readers might argue that the Lehman collapse and the subsequent crash could not be prevented by central bankers. I am of the opinion that the Lehman story was a learning experience for central bankers and policymakers. Since then, they have ensured that the financial system is flooded with ample liquidity to prevent any such scenario from occurring again. The TED spread, which had surged to over 450bps during the Lehman, crisis is at pre-crisis levels currently.
Clearly, there is no immediate reason to be concerned about the banking system. It does not mean that the banking system has been doing great. It just means that the system has been flooded with enough liquidity to prevent another Lehman-like situation in the absence of core banking activity growth and continued losses arising from delinquent loans.
Currently, banks in the US have nearly $1.5 trillion of excess reserves deposited with the Fed. This is a good indication of the comfortable liquidity position in the banking system.
Considering these factors, I don't expect another market crash coming. The negative sentiments developed by weak economic numbers would be offset by liquidity in the system.
If markets were really impacted by economic activity to a large extent, equities would not have been at a five year high with the US economy way below its 2007 peak and the global economy being in a manufacturing recession.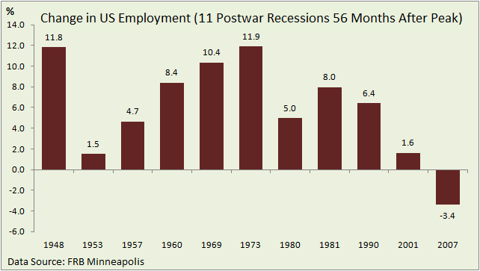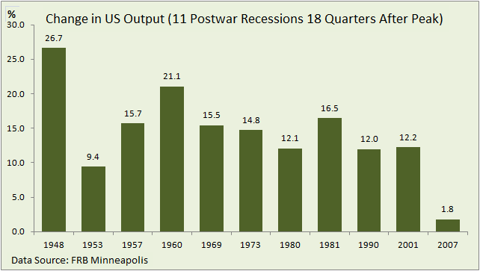 Therefore, investors need to worry less about volatile economic fluctuations and focus more on investing in quality stocks in the US and globally.
In constructing an equity portfolio, I would certainly consider the following stocks and ETFs for the long term.
SPDR S&P 500 (NYSEARCA:SPY) ETF - It has been proven that beating the index is not an easy task. Therefore, the strategy should be simple - beat the index or invest in the index. From this perspective, SPY looks interesting. The ETF provides investment results that, before expenses, generally correspond to the price and yield performance of the S&P 500 Index.
iShares MSCI Emerging Markets (NYSEARCA:EEM) ETF - A global diversification is necessary and exposure to emerging markets is critical. Over the long term, emerging markets will outperform developed markets in terms of equity price appreciation. The iShares ETF correspond generally to the price and yield performance, before fees and expenses, of publicly traded securities in emerging markets, as represented by the MSCI Emerging Markets Index.
BP Plc (NYSE:BP) - Long-term exposure to oil exploration companies is a must if one is bullish on the energy sector. Geopolitical tensions, weaker currencies and demand from emerging markets will be the key growth drivers for energy stocks. I personally like BP, which gives me a dividend yield of 4.4%, besides looking promising for long-term capital appreciation. The company is an attractive long-term buy due to several other reasons: excellent and diversified asset base, presence across the value chain and presence in alternative investment themes. Further, the TTM P/E is at an attractive level of 7.88. Overall, BP is well positioned to take advantage of the long-term appreciation in crude oil prices.
Seadrill Limited (NYSE:SDRL) - SDRL, which provides offshore drilling services to the oil and gas industry worldwide, is also an excellent long-term buy, in my opinion. The company has a diverse asset base of 24 drillships & semi-submersibles, 21 jack-up rigs and 21 tender rigs. Further, 18 newbuilds would serve as long-term revenue drivers once they come into operation in 2013 and 2014. SDRL currently has an order backlog of USD20.3 billion, which gives revenue visibility in the foreseeable future. Being the second largest ultra-deepwater player also serves as an advantage for SDRL in the long term. Investors can consider gradual accumulation of this exceptionally high dividend yield (8.4%) stock.
Johnson & Johnson (NYSE:JNJ) - I like this highly diversified healthcare company, with product as well as regional diversification. Further, the sector catered to by JNJ is not very prone to economic shocks. JNJ has been a good dividend payer in the past, with a dividend yield of 3.5%. In my opinion, the stock is excellent for a long-term portfolio. It also commands a higher rating than the U.S. Sovereign Rating.
Disclosure: I have no positions in any stocks mentioned, and no plans to initiate any positions within the next 72 hours. I wrote this article myself, and it expresses my own opinions. I am not receiving compensation for it (other than from Seeking Alpha). I have no business relationship with any company whose stock is mentioned in this article.