Seagate Technology (NASDAQ:STX) is the world's leading hard drive manufacturer and provider of storage solutions for cloud computing. Founded in 1979, the company has the widest offering of storage drives in the industry, including hard disk drives, solid state drives, and state hybrid drives. SXT gathers its revenues mostly from original-equipment manufacturers such as Hewlett-Packard Co. (NYSE:HPQ), Dell Inc. (DELL), and EMC Corp. (EMC).
At the time of this writing, STX stock was trading at around $32, with a 52-week range of $9.05 - $35.70. It has a market cap of about $13 billion. The trailing twelve-month P/E ratio is 4.8, whereas the forward one is 3.5. P/B, P/S, and P/CF ratios stand at 3.6, 0.9, and 4.3, respectively. The operating margin is 16% while the net profit margin is 20.8%. With a debt/equity ratio of 0.8, the company obviously has some debt issues. The beta of 2.38 makes STX extremely vulnerable to market changes caused by a supply shock experienced following the Thailand flooding.
Seagate Technology has seen fluctuating performance over the last year. This is mostly because of speculation regarding STX acquiring solid state disk manufacturer - OCZ. This fueled the sharp drops and rises in mid-2012. While the company is still on the lookout to acquire SSD makers, the market's optimism is currently more subdued. Furthermore, a sharp drop also occurred at the time that Q2 results were announced, as the company' EPS fell short of the estimated $2.51 expected on Wall Street.
STX currently has a 1-star rating from Morningstar. Out of six analysts covering the company, two have a "buy" rating, and the other four preferred a "hold" rating.
Dividend Profile
Seagate Technology pays substantial dividends; the trailing yield is 3.23%, whereas the forward one is 4.14%. Upcoming dividends are expected to amount to $.32 per share. Over the last five years, the company has boosted its dividend amount by 220%. The five-year dividend history proves that Seagate shares an aspiring dividend-growth policy.
Competitor performance
Currently, Seagate's main competitors are SanDisk (SNDK) and Western Digital (NYSE:WDC).
The chart below reflects Seagate's performance relative to industry competitors over the last five years.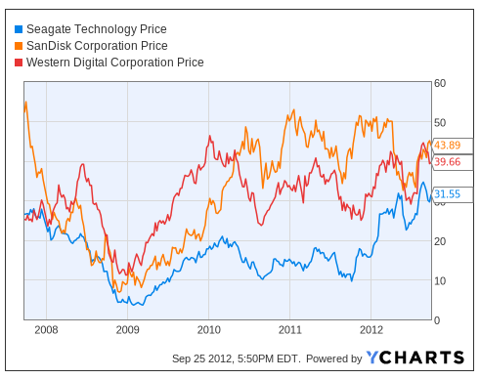 Notably, Seagate, along with its competitors, has been experiencing problems regarding supplies. However, SanDisk and Western Digital both have been managing to outperform Seagate over the past five years.
Seagate

Technology

SanDisk

Western

Digital

Trailing P/E

4.8

17.3

6.1

Forward P/E

3.5

14.8

4.4

Trailing EPS

6.5

2.3

6.8

Debt/Equity

0.8

0.1

0.3

Return on Equity

96

9.6

24.5
With a relatively high ttm P/E, SanDisk has experienced a bullish performance on the stock market and become a more attractive buy than Seagate these days. By contrast, Seagate is considerably aggressive in funding its economic growth with debt when compared to its competitors. That is why STX's financial standing might be comparably vulnerable to the possible market decline.
Current Economic Outlook
Seagate is a kingfish when it comes to manufacturing HDDs (Hard Disk Drives). It has impressive customers such as Hewlett-Packard, Samsung (OTC:SSNLF), and Dell. However, many of these manufacturers are now rolling out 'Ultrabooks' which use SSDs (Solid State Drives). Seagate does not have a large foothold in SSD production, which is why it continues to look to acquire an SSD manufacturer. Keeping in mind the slow industry demand and recent downgrading of its stock value, it might be a smart move to enhance its operations in the SSD market.
Meanwhile, cash has been reallocated into the company's buyback plan. However, Seagate is still expected to maintain a margin profile well ahead of industry standards. The company bought back $1.1 billion worth of its shares in the last quarter. The entire buyback plan is worth $2.5 billion, spread across the next 2 years, which will reduce Seagate's total number of stocks by 25%. When companies buy back stocks, the total number of outstanding shares is reduced. In turn, this boosts the EPS provided to shareholders. Seagate also has new competitors entering the market, as Samsung and Intel (NASDAQ:INTC) currently have their own SSD development department. For EXP, it will be a challenge to keep up with and surpass these computer giants.
Summary
While SSDs are arguably the way of the future, much of the computing world still relies on the dependability and storage benefits of HDDs. Furthermore, SSDs come at a premium price, and average computer users may continue to choose HDDs for their cost-effective performance. For now, Solid State Drives remain a niche market. Furthermore, Seagate has impressive cloud storage, which offers an attractive alternative to the SSDs altogether. Expect STX's earnings to remain moderate for the next year. After evaluating the financial, growth and profitability position of the company, I would recommend to buy Seagate stock, keeping in mind that earnings per share have increased significantly.
Disclosure: I have no positions in any stocks mentioned, and no plans to initiate any positions within the next 72 hours. I wrote this article myself, and it expresses my own opinions. I am not receiving compensation for it (other than from Seeking Alpha). I have no business relationship with any company whose stock is mentioned in this article.