Despite worldwide moratoriums on fracking of new wells, natural gas prices continue to hover around $3 per MMBtu, up from a frighteningly low $2 per MMBtu. The natural gas industry it seems has outsmarted itself and overproduced while at the same time a global economic slowdown is reducing demand. This chart from the US Energy Information Administration shows a clear inverse relationship between domestic production and price.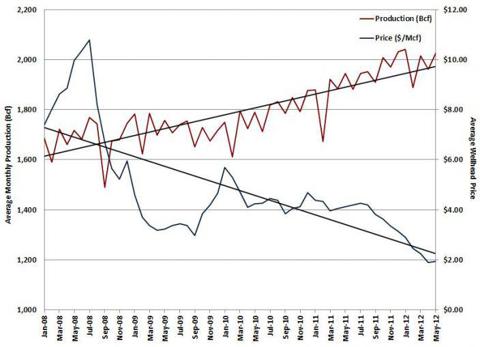 Earlier this year Chesapeake Energy (NYSE:CHK) announced that it might reduce production by cutting its natural gas rig count, and they're not the only ones to do so. Overall natural gas rig counts began dropping slightly in the first half of 2012. Notice however, that the percentage of new rigs being deployed to extract natural gas has been steadily losing ground to oil rigs since prices peaked in 2008.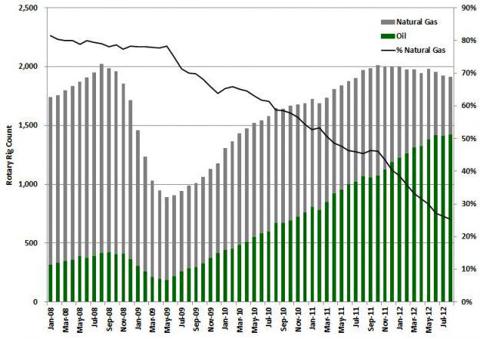 What boggles my mind is the lack of consumption in response to incredibly low natural gas prices. As the price of natural gas has fallen from a peak of roughly $10 MMBtu in 2008 to a low of about $2 MMBtu earlier this year total consumption in the US has been nearly flat. Assuming the second half of 2012 matches the first, we can expect total natural gas consumption in the US to reach just under 25,934 billion cubic feet. That is an 11.4% increase over 2008's total consumption, which seems like a lot until you consider that the price of natural gas fell about 500% during that same period.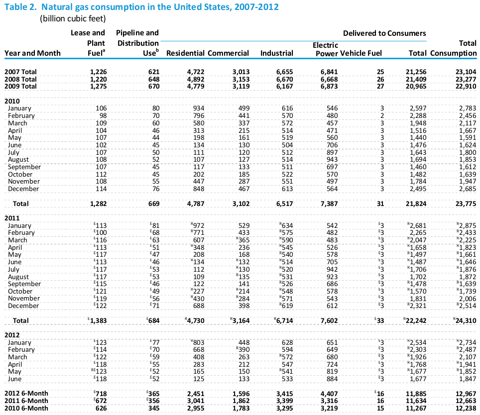 In the US, the biggest increases in natural gas usage are coming from electricity generation while vehicle usage has sadly remained flat.
The demand for natural gas in the United States might be stuck in the mud, but globally the usage of natural gas is blowing up. This is largely due to the popularity of using compressed natural gas as a vehicle fuel. Toyota (NYSE:TM), General Motors (NYSE:GM) and other automakers produce versions of their vehicles with factory installed compressed natural gas tanks and gasoline. The gasoline is used sparingly to provide power when the driver steps on the accelerator and the much cheaper natural gas makes cruising very inexpensive.
In addition to factory production models, retrofitting a gasoline vehicle with a CNG or liquefied propane gas tank can be done for less than a thousand dollars. In Thailand, where I spend most of my time, the cost of retrofitting a vehicle to run on CNG is recouped after driving about 10,000 km; consequently demand for natural gas in Asia is wildly outpacing that of the US.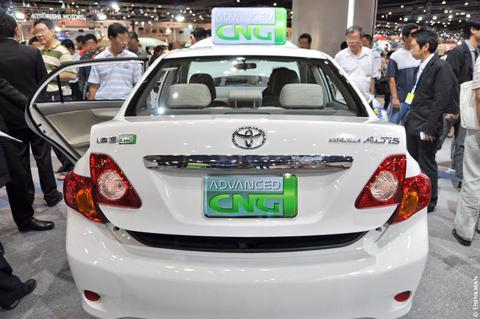 Popular passenger vehicles that run on both compressed natural gas and conventional gasoline are widely available, and popular throughout Asia.
The US should eventually catch up to the developing world's usage of CNG vehicles. In the meantime I think the best opportunities for investors to profit from advanced natural gas extraction techniques in the US will come from exporting liquefied natural gas.
Unfortunately the amount of natural gas exported by the US will remain right where it is until after the November elections. Many state lawmakers are pressing the Obama administration to allow more natural gas to be liquified and shipped overseas. According to Secretary of Energy Steven Chu, the administration is hesitant to allow more natural gas to be exported to foreign countries, like China, because they do not want to be responsible for higher prices at home. I'm sure that they are far more concerned about the Romney campaign distorting a decision to export more fossil fuels as an act of treason. I'm sure that soon after elections, exports of natural gas will be allowed to rise.
Cheniere Energy, Inc. (NYSEMKT:LNG) is betting the farm on future natural gas exports. Their Sabine Pass Liquefaction project is well underway and a new LNG terminal is to be built in Corpus Christi. So far, Cheniere is the only US company allowed to export LNG to countries without free trade agreements, albeit in limited quantities. India's largest gas transmission company, GAIL signed a 20 year agreement with Cheniere to buy 3.5 million tons of LNG per year. A lift on export restrictions would almost certainly result in more contracts for Cheniere from India and other gas hungry nations.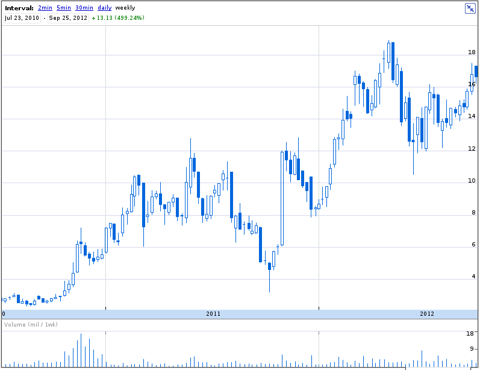 Cheniere has had an incredible run up over the last two years. If liquified natural gas exporting restrictions are eased, the run up should continue.
Relying on favorable policy and commodity prices is risky business to say the least. Furthermore, Cheniere has posted negative earnings 5 quarters in a row. If you want to make a bet on Cheniere I strongly suggest a simple call spread. For example:
Buy December 2012 call with a strike of '16' (priced at $1.50)
Sell the December 2012 call with a strike of '18' (priced at $0.70)
Net debit to start: $0.80
Maximum Profit: $1.20
This trade gives you about a month and a half after the election for the Obama administration to approve, or reject, an increase in natural gas exports. Your upside is limited to $120 per contract, but your risk is limited to only $80 per contract. Even if you hold on to the contracts until the date of expiration you only need a stock price of $16.80 to break even.
Disclosure: I have no positions in any stocks mentioned, and no plans to initiate any positions within the next 72 hours. I wrote this article myself, and it expresses my own opinions. I am not receiving compensation for it (other than from Seeking Alpha). I have no business relationship with any company whose stock is mentioned in this article.