Cooper Tire & Rubber (NYSE:CTB) is the 4th largest tire manufacturer in the U.S., and the 9th largest in the world. It provides passenger, winter, specialty, and light and commercial truck tires, and operates in the replacement tire market with a 13% market share. 70% of its sales come from North America, and the rest from international operations. We recommend buying CTB because the company is taking the right measures to deal with expirations of tariffs on Chinese tire imports. Moreover, sales have been increasing, and the company is making strategic investments, while also paying a respectable dividend (2% dividend yield).
The chart given below provides details of sales by product: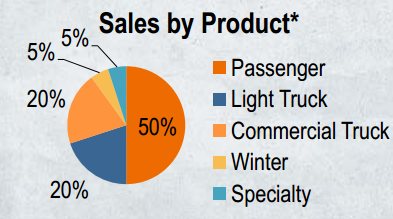 Source: Investor Presentation
Cooper's net sales have gone up over the years in the U.S., as well as internationally, from $2 billion in 2004 to $3.9 billion in 2011. In Q22012, the company reported net sales of $1.06 billion, 15% greater than those in the same period last year. The figure was greater than analyst expectations of around $1 billion. Q22012 EPS was $0.82, which meant a positive surprise of around 70%. In the same quarter last year, EPS was $0.18, and meant a negative surprise of around 56%. The company attributed its recent good performance to higher volumes of units sold globally, and lower raw material costs.
According to Cooper, it is in a good position to deal with the expiration of the 25% tariff on imports of Chinese light vehicle tires in the U.S. The company says that the cost differential of Chinese tires has diminished due to higher labor, freight and utilities costs. The company has also enhanced the competitiveness and flexibility of its operations in China. Around 50%-55% of the cost of goods sold is due to raw material costs (67% in Q22012), while 20%-30% is due to labor costs. Below is a table showing different components of raw materials: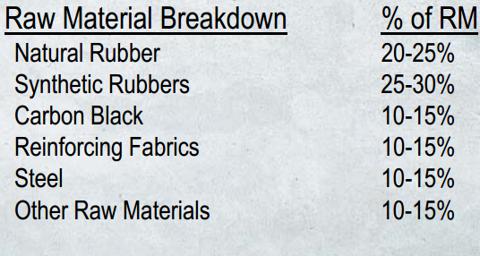 Rubber prices have fallen from 181 cents per pound in February to 126 cents per pound in August 2012. Although, there were talks of production cuts in mid-August by rubber manufacturers in Thailand, Indonesia and Malaysia, they do not seem to have caused an increase in prices. Rubber prices are expected to remain weak in 2012 and 2013 due to greater production as compared to demand.
Deutsche Bank recently upgraded its stance on CTB from hold to buy. The bank said that it became bullish on the prospects of both CTB and Goodyear (NYSE:GT) after talking to manufacturers about the anticipated expiration of tariffs. According to the analyst, some price deflation in tires is inevitable, but the margins for manufacturers are set to rise. The concerns over tariff expiration are overblown. The only downside to their investment thesis is any unforeseen supply-demand changes in the industry. According to the article, prices of raw materials for tires have declined by almost 18% since April. Analysts estimate that a 1% fall in the cost of raw materials can increase EPS by $0.26 for both CTB tire and its competitor, GT.
The company has a dividend yield of 2% i.e. an annual dividend of $0.42/share. Cash per share for the company was $3.86 as of the last quarter. The free cash flow yield is 10%, which implies that dividends are safe, and there is a lot of room for growth. The interest coverage ratio is more than 5 times the earnings. The operating cash flow of $320 million in the trailing twelve months is more than enough to cover the maturing debt as well as the planned capital expenditure.
Guidance and Analyst Expectations:
According to the company, raw material costs declined in the latter half of the 2nd quarter which is expected to continue into the 3rd quarter as well.
CAPEX is expected to be between $180 million and $210 million.
Analysts are expecting EPS of $2.55, up from last year's $1.36. Revenues for 2012 are expected to increase by 8% YoY.
According to Thomson Reuters' data, CTB has seen a lot of upward revisions in the consensus EPS estimate for 2012 in the last couple of months. This means that analysts are expecting better results from CTB in the remaining half of the year.
Valuations
CTB trades at a forward P/E of 6.7x, as compared to GT's 5x. Both have an EV to EBITDA multiple of around 4x. The consensus price target for CTB is $26. It is currently trading at a 14% discount when compared to its 52-week high of $23.
We believe that increasing sales, investment in ERP system to increase efficiency, declining raw material costs, and respectable dividends make CTB a good buy. Greater investments and cost savings in China, Europe and Mexico also make it an attractive prospect for investors.
Disclosure: I have no positions in any stocks mentioned, and no plans to initiate any positions within the next 72 hours.
Business relationship disclosure: The article has been written by Qineqt's Retail Analyst. Qineqt is not receiving compensation for it (other than from Seeking Alpha). Qineqt has no business relationship with any company whose stock is mentioned in this article.