Total (NYSE:TOT) has shown an impressive improvement of 82% in its European refinery margins, and a rise in throughput and utilization rates. The stock is trading at attractive valuations, at a forward P/E of 7.2x, which is at a discount when compared to the industry average of 10x. It is paying the highest dividend yield of 5.69% amongst its peers, and has a strong dividend payout ratio of ~48% when compared to the industry average of 12%. Moreover, the revised guidance of an average annual production growth rate of 3% in the coming years reflects rising demand from Asia and other emerging markets. Upcoming production projects in Kazakhstan, Angola and China will bring an enhancement in its volume growth. Therefore, we maintain our bullish stance on the stock.
Total is a French-based integrated oil and gas company that operates in around 130 countries. The company is engaged in the production, exploration, development, supply and marketing of oil and gas across the globe. Its businesses are segregated into four segments, comprising of upstream, downstream, corporate and chemicals.
The company's recent discoveries and exploration of wells in the Norwegian North Sea, Ivory Coast and Gulf of Mexico are very promising projects for its upstream business. It generated around 25% of its revenue from its upstream business in 2011 showing an increase from the 13% in 2010. Going forward, the company's drilling activities and upcoming projects will enhance the proportion of revenue from the upstream business segment.
In order to cater to rising oil demand, the company has revised its average annual production target from 2.5% to 3% for 2012-2015. The target will be achieved through current projects, as well as with the help of some projects that are currently in the pipeline. TOT Chief Financial Officer Patrick de la Chevardiere is confident that this 3% growth rate will take production up to 3mboe/d by 2017.
Globally, the oil and gas rig count has increased by 3.5% in the last year, as depicted in the table given below. The company is also following the same trend. Due to the increase in natural gas consumption, it has started focusing on lucrative natural gas projects.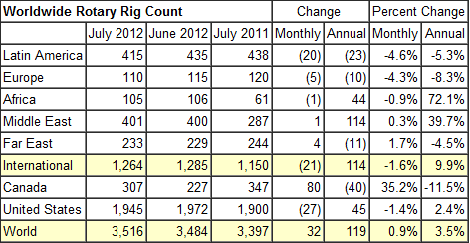 Source: WTRG Economics
The company's bright future prospects are highlighted in its business restructuring efforts. It has decided to restructure its chemical and refining business by raising cash; this will be raised by selling assets worth $15 billion to $20 billion in the next two years. The company has decided on restructuring, mainly because of a shutdown of its operations in North America, and also due to the Arab Spring uprisings. TOT was badly hurt due to the disruption in oil and gas production in Yemen and Syria. However, it has invested in new projects after considering political risk factors. TOT has tried to offset the political risk by decreasing its production by 16% in the Middle East, and increasing it by 12% and 29% in Africa and CIS.
| | | | | | |
| --- | --- | --- | --- | --- | --- |
| | €/$ | European refining margins ERMI* ($/t)** | Brent ($/b) | Average liquids price*** ($/b) | Average gas price*** ($/Mbtu) |
| Second Quarter | 1.28 | 38.2 | 108.3 | 101.6 | 7.1 |
| First Quarter | 1.31 | 20.9 | 118.6 | 115.2 | 7.16 |
Source: Company website
The company's cash flow from operations has increased by 22% in the last one year, primarily because of hydrocarbon production of 2,261kboe/d in the second quarter of 2012. Due to the decrease (7% YoY and 9% QoQ) in prices of crude oil, the company's earnings have suffered a decline of 4% YoY and 6% QoQ. Furthermore, the exchange rate deterioration in favor of the Euro has also contributed towards the decline in earnings. We believe that this decline will be offset by an improvement in refining margins and a further decline in the effective tax rate. Moreover, European refining margins have more than doubled in the last one year due to a better European environment for petrochemical.
Comp Sheet
| | | | | |
| --- | --- | --- | --- | --- |
| | Total SA | Chevron (NYSE:CVX) | Exxon Mobil (NYSE:XOM) | Occidental Petroleum (NYSE:OXY) |
| Market Cap: | 118.05B | 231.67B | 424.11B | 70.46B |
| Qtrly Rev Growth (yoy): | 10% | -10% | -7% | -7% |
| Gross Margin (NYSE:TTM): | 30% | 30% | 29% | 67% |
| Operating Margin : | 13% | 16% | 11% | 41% |
Source: Yahoo Finance
The company's operating and gross margins of 30% and 13% are at par with its competitors Chevron and Exxon Mobil, whereas they are way below those of Occidental Petroleum. In our opinion, increasing refinery margins in the coming period will improve the company's margins.
Comp Sheet
| | | | | |
| --- | --- | --- | --- | --- |
| | Total SA | Chevron | Exxon Mobil | Occidental Petroleum |
| PEG (5 yr expected): | 1.08 | NA | 1.47 | 1.29 |
| P/S : | 0.51x | 1x | 0.98x | 2.92x |
| Forward P/E | 7.23x | 9.45x | 11.33x | 11.29x |
| EV/Revenue | 0.61x | 0.95x | 0.97x | 3.08x |
| EV/EBITDA | 3.48x | 4.31x | 6.42x | 5.32x |
Source: Yahoo finance
TOT is trading at a price of 0.5x to its sales, at a discount when compared to Chevron's 1x, Exxon's 0.9x and Occidental Petroleum's 2.9x. Moreover, it is trading at EV/Revenue of 0.6x, EV/EBITDA of 3.4x, and forward P/E of 7.2x, at a significant discount when compared to its competitors in the industry. Due to its cheap valuations and higher dividend yield, we maintain our bullish stance on the stock.
Disclosure: I have no positions in any stocks mentioned, and no plans to initiate any positions within the next 72 hours.
Business relationship disclosure: The article has been written by Qineqt's Energy Analyst. Qineqt is not receiving compensation for it (other than from Seeking Alpha). Qineqt has no business relationship with any company whose stock is mentioned in this article.