Dunkin' Brands (NASDAQ:DNKN) and Tim Hortons Inc. (THI) (the Canada-based equivalent coffee shop, named after the former Montreal Canadiens defenceman) provide their respective nation's working classes with similar menus of doughnuts, bagels, and other baked goods, washed down of course by coffee and, these days, gourmet beverages, such as lattes and cappuccinos. Tim Hortons went public in 2006; Dunkin' emerged from a private equity group (including Bain Capital, prominent in this year's U.S. presidential election with Mitt Romney) in 2011. While this gives Tim Hortons much more financial data to analyze, the companies do have enough similarities that a comparison of performance is a useful guide to which might be a better investment.
Let's look at their trailing PEs first. According to Yahoo Finance, Tim Hortons has earned $2.55 in the last year; at a current price of $51 a share that gives us a trailing PE ratio of almost exactly 20x. Dunkin's $29 share price is 26x times its $1.10 of the last four quarters. Thus, investors value Dunkin' more highly.
Does this richer valuation make sense? The investor should look at the following data closely. DNKN shows solid profitability measures, but its high debt drags down return on equity and return on capital:
Gross Margin: THI 33%, DNKN 79%
Operating Margin: THI 20%, DNKN 28%
Return

on

Equity: THI 35%, DNKN 11.6%
Return on Assets: THI 19%, DNKN 12%
Return on Invested Capital: THI 24%, DNKN 2%
debt/equity: THI .42x, DNKN 1.95x
source: E-Trade.
Could earnings per share growth and/or sales growth account for the difference? Apparently not. Over the last five years, Dunkin's revenue has grown from $488 million to $591 million, a compound rate of 3.9% annually. Tim Hortons's grew from $2046 million to $2853 million, 6.9% annually.
Over the last three years, Dunkin's net income has stagnated near $35 million, while Hortons's has grown from $281 million to $375 million, according to Yahoo finance.
Seems like Dunkin's stock has a bit too much caffeine in it for this analyst's tastes. The market seems to agree. Rising with the tide earlier this year, Dunkin's stock has languished through the summer even though earnings have beaten estimates in recent quarters and prospects for the current quarter have been stable at $0.35 a share:
Click to enlarge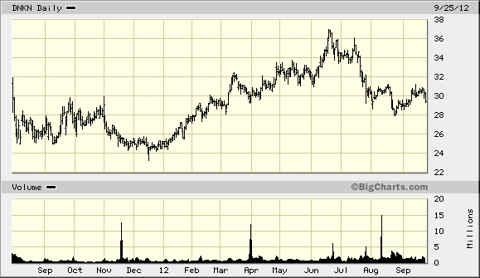 Source: www.bigcharts.com
Thus investors should not view the recent sell-off as a buying opportunity. Even assigning Hortons's lower PE to Dunkin' leads to a price in the low $20s, and as we saw above, Dunkin' doesn't match up to Tim Hortons very well. I would avoid the stock until the price falls into the high teens.
What about Tim Hortons? The chart is similar; earnings prospects have held steady at $0.72 a share for this quarters, but the stock has also sold off: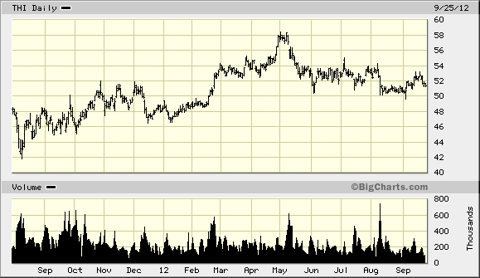 In contrast to Dunkin', this recent sell-off presents a buying opportunity for aggressive investors. While not as low as the PE was in the dark days of the recession, the PE is still significantly lower than earlier this year.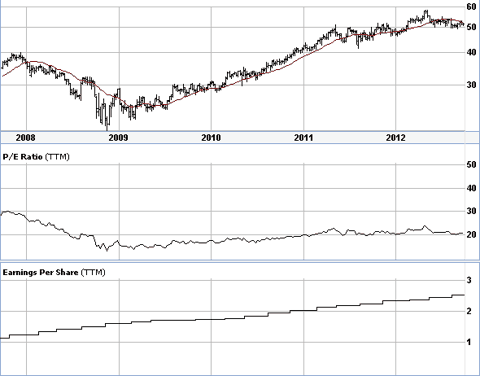 Source: E-Trade.
Not bad for a company with solid growth potential (like DNKN, it is expanding throughout the US) and one with a dividend that has tripled in the last five years. It currently yields 1.6%.
Tim Hortons does have options, but they are thinly traded. Thus, writing puts to acquire the shares at a discount should be done only by experienced options traders with patience and using limit orders.
Disclosure: I have no positions in any stocks mentioned, but may initiate a long position in THI over the next 72 hours. I wrote this article myself, and it expresses my own opinions. I am not receiving compensation for it (other than from Seeking Alpha). I have no business relationship with any company whose stock is mentioned in this article.