As I began writing this article I really wanted to list the reasons why you should either avoid or short the stock of Green Mountain Coffee Roasters (NASDAQ:GMCR). The bad news pilling on top of this company appears endless; SEC inquiry, CEO dumping $66 million in stock, excessive inventory growth, patent expiration. The stock has dropped like a rock falling from $116 this time a year ago down to the mid $20's. The market apparently feels bad news is still to come, with short interest (see chart below) reaching 31.67% of the float, the "herd" is betting on further downside.

Source: Bloomberg
While the debates regarding market efficiency can be argued for years to come, I think it is safe to say the market is at least "semi-strong efficient", meaning all public information is factored into a stocks current share price. However time and time again we watch a stock drop double digits, read the negative report as to why this fall occurred, and instinctively think there is more room to fall further. By the time you read negative press on a company, the shares have already adjusted accordingly. Green Mountain is a perfect example, prior to their rapid share price descent, this company was the growth story that could do no wrong. We has since absorbed a load of negative news, and now shares offer a compelling entry point for long term investors.
Revenue Growth
Before you write me off and continue thinking GMCR is headed to penny stock territory, think about their business model. Take a look around most corporate offices, banks, doctor offices, and kitchens and you will likely see one of Green Mountain's coffee machines. I haven't heard one doctor say they are ditching their Keurig because the SEC is investigating Green Mountain, nor have I heard one office managers story of replacing their Keurig with a drip coffee machine because the CEO has been selling his shares. By simply looking at the revenue growth of this company you can see that K-Cup sales are indeed on the rise, and no competitor has yet emerged with a device to compete. Kraft (KFT) failed to gain market share with their Tassimo coffee maker and while we can speculate on Starbuck's (NASDAQ:SBUX) Versimo, the truth is they are yet to prove their dominance (my personal opinion is they will not gain significant market share due to the lack of coffee selection, i.e.: only Starbucks coffee).
According to Green Mountain's recent speech at the Canaccord Genuity Annual Growth Conference, the total percentage dollar share of single serve coffee makers has grown from 11% in 2007 to 50.1% in 2011. Said another way, traditional drip coffee makers have seen their total dollar share percentage slip from 89% in 2007 to 49.9% in 2011. Keurig (owned by GMCR) dominates the single serve coffee maker space, in the second quarter of 2012 24.7% of all coffee makers sold had the Keurig label.
This brings me to the most important growth driver for this company, K-Cup sales. Those little plastic cups are the only way to drink your cup of coffee, tea, hot chocolate, etc. when you wake up each morning. Green Mountain is going to face increased competition as their patents for K-Cup technology expire, but consider the distribution channel they have developed leading up to this expiration. No other competitor has as many corporate owned brands and licensing/manufacturing agreements with non-owned brands. No other competitor has a distribution channel set up through grocery, department stores, club stores, specialty stores, direct to consumer, and delivery/away from home channels. Green Mountain has established a major presence and this is not something competitors can take away over night.
Inventory
The biggest concern going for Green Mountain is the robust inventory growth (green bars in chart below). A large portion of this inventory is in finished goods (yellow bars in chart below), and roughly 70% of these finished goods consist of single serve brewers. With another $517,975,000 in inventory purchase commitments remaining in the final quarter of the companies fiscal year, you can expect these levels to rise significantly after fiscal Q4 earnings are released in a few weeks.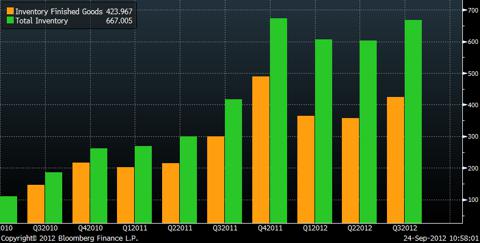 Source: Bloomberg
While this product buildup does concern me a bit, there is a positive scenario to this stockpile of inventory. Let's suppose the company was a bit ambitious on their growth and the single serve coffee brewer sales begin to slow. Management has the option to lower costs of the machines to consumers, thereby increasing component sales of the brewers, and reducing inventory. While this will certainly have an impact on margins, and the stock price will not be immune to these changes, the company has grown the consumer base that will now be purchasing K-Cups. With no competitors knocking at the door, it is safe to assume the Green Mountain will be earnings a fairly stable cash flow from K-Cup sales for the next few years.
While we are on the topic of rapid inventory growth, let's not get caught up in thought process of assuming inventory is set to follow the trend of 40+% growth for the next decade. Looking at the minimum future inventory purchase commitments for the next few years, you see a sharp drop off after 2012, and further purchase commitments from there. I think management is well aware they are making investors nervous and inventory reduction will be a theme for the next few fiscal years.
| | |
| --- | --- |
| As of Fiscal Q3 End (June 23, 2012) |   |
| Remainder of 2012 | $517,975,000 |
| 2013 | $254,012,000 |
| 2014 | $111,628,000 |
| 2015 | $111,351,000 |
| 2016 | $114,675,000 |
| Thereafter | $164,041,000 |
Source: Green Mountain Coffee Roasters 10-Q
Corporate Improvement
As investors look over the company's financial statements I would urge them to look at the improvement in efficiency. Accounts payable (orange bars below) and accounts receivable (green bars below) have both dropped significantly over the past few quarters. The company is becoming much more strict about extending credit to customers, and circling back to the revenue growth, this tightening of credit has certainly not reduced sales. There are many companies who will extend credit to lower-quality customers in order to boost the top line and meet quarterly expectations.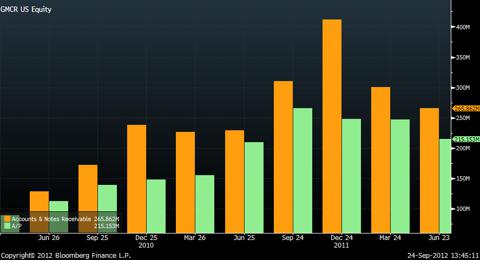 Source: Bloomberg
Cash Flow from Operations has also rebounded nicely. Last fiscal quarter the company produced $488 million in cash flow from operations. While I expect the inventory over this current quarter to greatly reduce cash flow during the quarter, the company has turned a corner and cash flow generation is now a reality. The balance sheet is also improving as cash grew to just under $139 million last quarter, this is up from $13 million at the end of fiscal year 2011 and $4.4 million at the end of fiscal year 2010.
Valuation
Shares of Green Mountain have been beaten down and valuations have followed. As the chart below depicts (left hand scale dotted line Price/Earnings, right hand scale solid line Price/Sales), one year ago you were pay 120x earnings for shares of GMCR and over 5x sales! Shares have fallen back to historic lows and will now cost you roughly 12x earnings and .94x sales. Very inexpensive given the growth that Green Mountain can still achieve.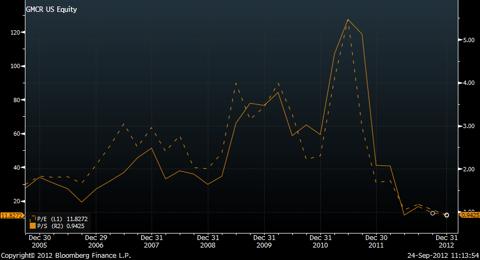 Source: Bloomberg
Conclusion
Before you back the truck up and invest your entire IRA in one stock, remember the risks this company faces. They are still undergoing and SEC inquiry, and no one knows what the results of this may be. The inventory issue needs to be dealt with, and until management gives us more clues as to how they will handle this balloon, it remains cautionary. Any more large stock liquidation from insiders is a big red flag, so keep your eye on "Form 4" SEC filings.
But as I mentioned earlier, if the company is able to overcome these problems and continue growing, you are looking at a stock that trades at very reasonable levels. Management's recent announcement of a $500 million share buyback over the next two years is promising as well. Long term shareholders may be wise to scale into positions as more positive news transpires.
*Note: All data reported and graphed is pulled directly from Green Mountain Coffee Roasters SEC filings and press releases.
Disclosure: I have no positions in any stocks mentioned, and no plans to initiate any positions within the next 72 hours. I wrote this article myself, and it expresses my own opinions. I am not receiving compensation for it (other than from Seeking Alpha). I have no business relationship with any company whose stock is mentioned in this article.