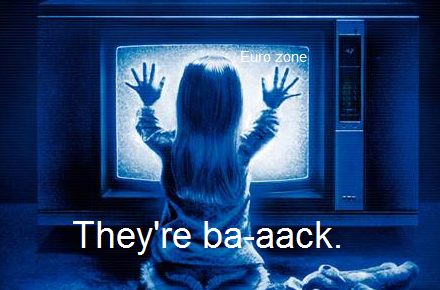 Sure, we're back from a brief trip, but we're not a big deal. No, it's the rascals in the eurozone who return to annoy us like a bad habit. Spain is front and center now, even as rioters are also out in full force in Greece. The issue in Spain is quite simple. Spain needs a bailout, but in order to qualify, it must meet "conditions" and that's politically toxic to the public. More austerity is something leaders just can't sell, although it's said to be working on this behind closed doors. Even the old province of Catalonia is threatening to hold a referendum to secede from Spain.
To make matters worse, it isn't just the eurozone making things worse, but China as well. Shanghai indexes fell to levels not seen since 2009, and are down nearly 10% on the quarter. This is the poor result even as the PBOC cut bank reserve requirements and borrowing costs twice this year.
In the U.S., the Fed is underwriting the U.S. budget deficit through its QE operations. This is like having economic policies in the I.C.U. and on a feeding tube. When the ink runs dry, the patient hits the "fiscal cliff" a la Thelma & Louise.
There was some excitement over New Home Sales data released Wednesday. Homes sold disappointed, dropping (373K vs. 380K expected), but prices paid rose 11.2%, which was a surprise. Nevertheless, the chart from the Fed shows things still trolling along the bottom.
(click image to enlarge)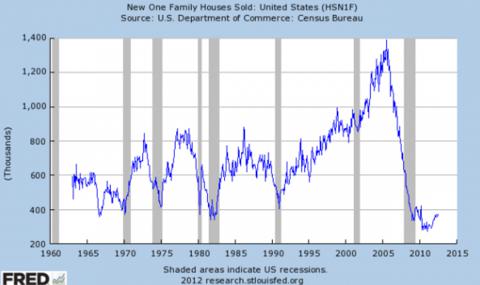 The big market boost from ECB and Fed QE may have run its course for now. Perhaps the best we can hope for now is to just churn about here barring more poor results. The Draghi and Bernanke Puts should underpin markets, but sometimes you just can't overcome the bad news with money printing. Even Bernanke said the Fed has done all it can, and now we await the election and the path forward with whomever wins. Whomever wins won't have an easy job, given a lack of political consensus.
After a large rally, it's logical to see some profit-taking and a more cautious wait and see approach. In this regard, we've seen reversals with the dollar (NYSEARCA:UUP), gold (NYSEARCA:GLD), equities (NYSEARCA:SPY), commodities (NYSEARCA:DBC), energy (NYSEARCA:USO), bonds (NYSEARCA:TLT), emerging markets (NYSEARCA:EEM), and certainly in the eurozone (BATS:EZU). Domestic U.S. sector ETFs, such as homebuilders (BATS:ITB), saw serious selling, along with energy (NYSEARCA:XLE).
Volume has picked up, with selling these past two days. This is a typical pattern. Breadth per the WSJ was negative overall.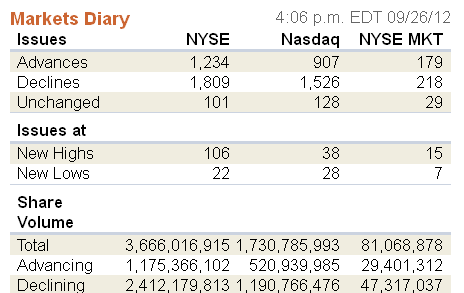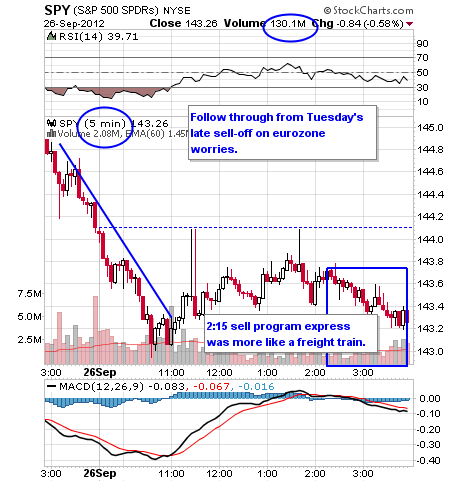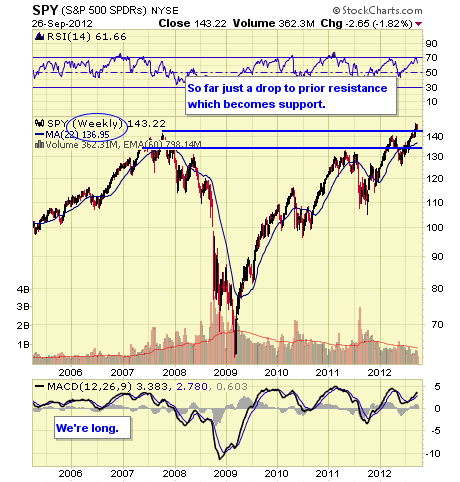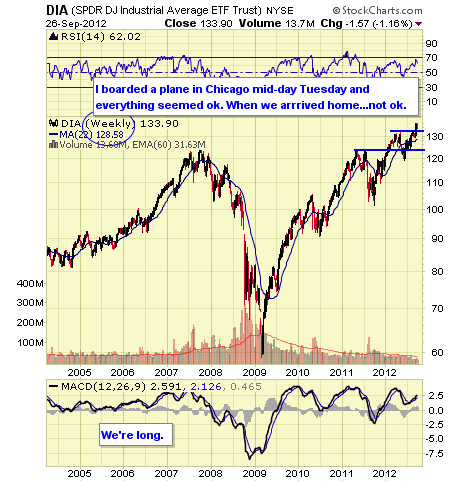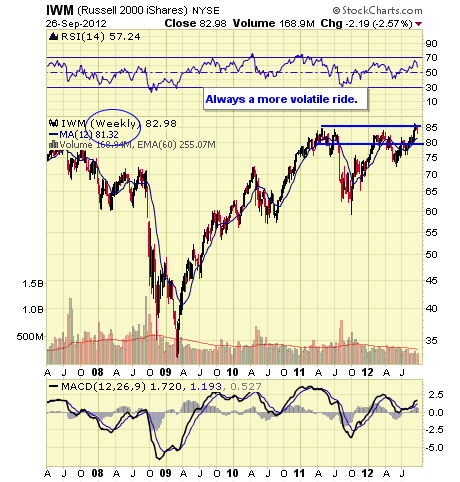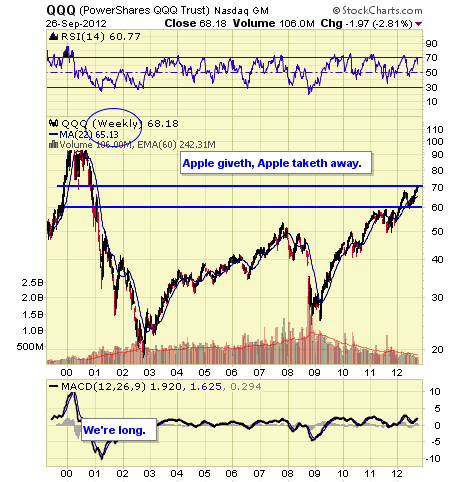 Continue to U.S. Sector, Stocks & Bond ETFs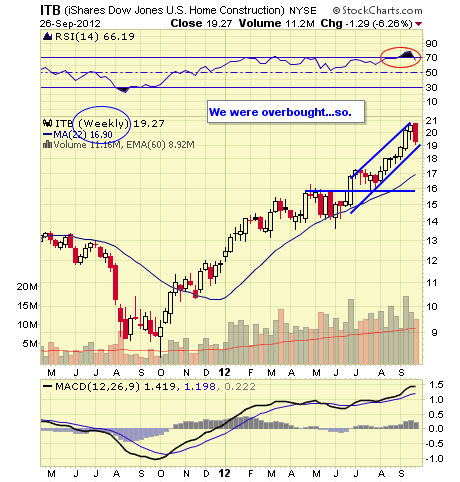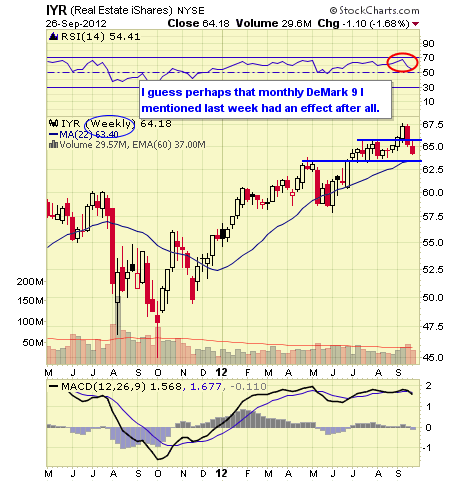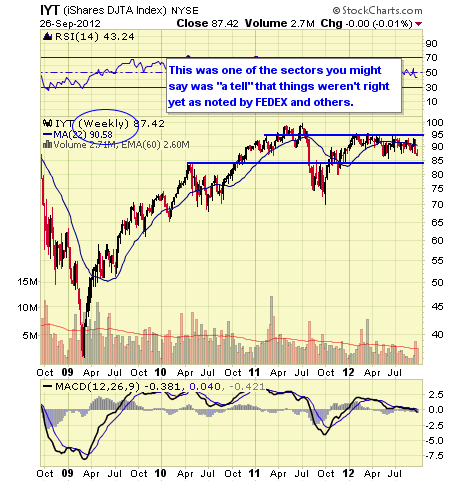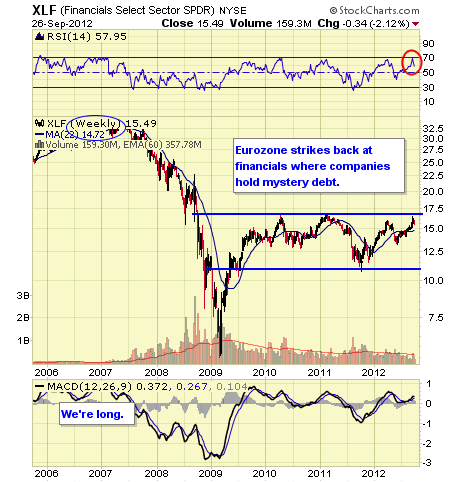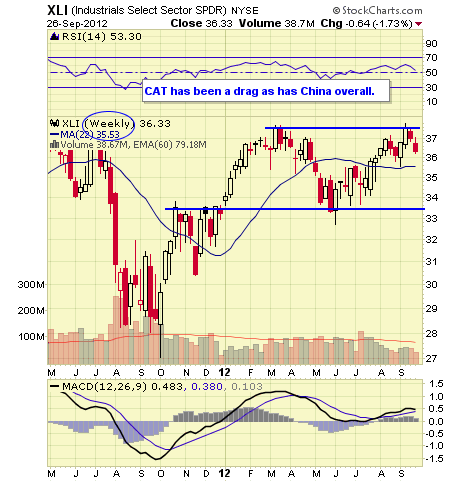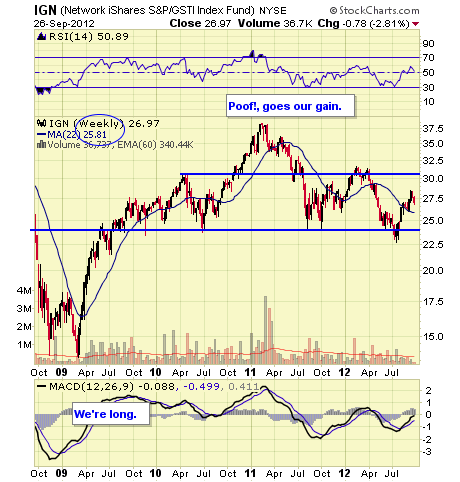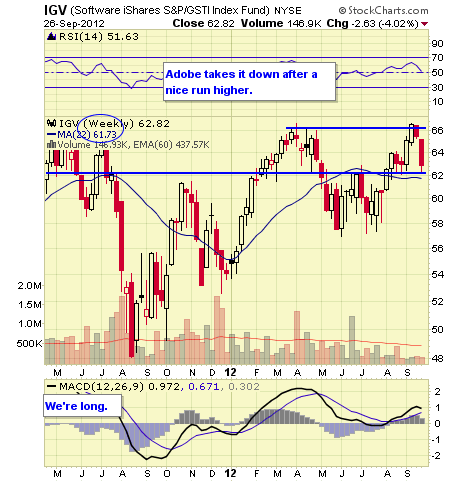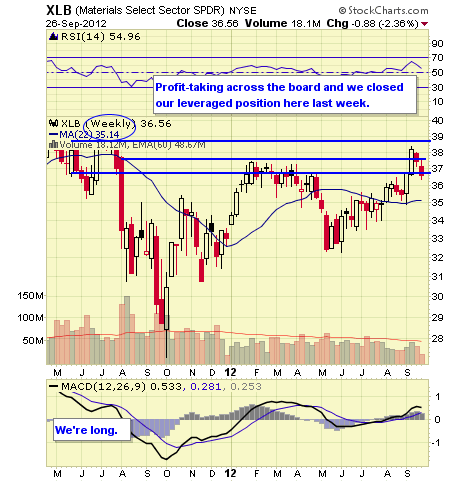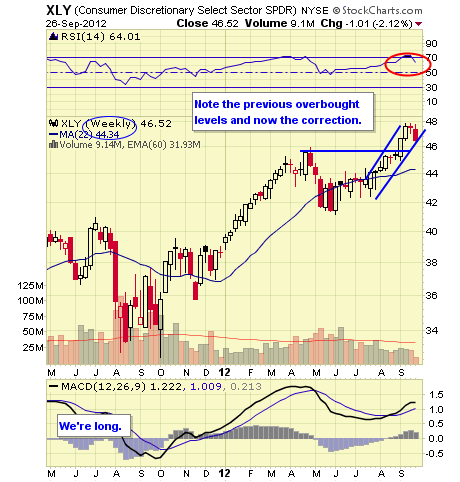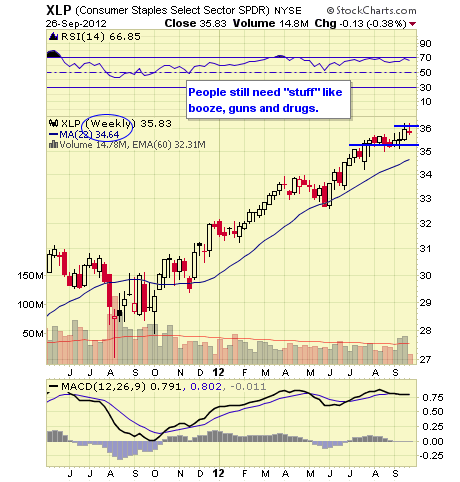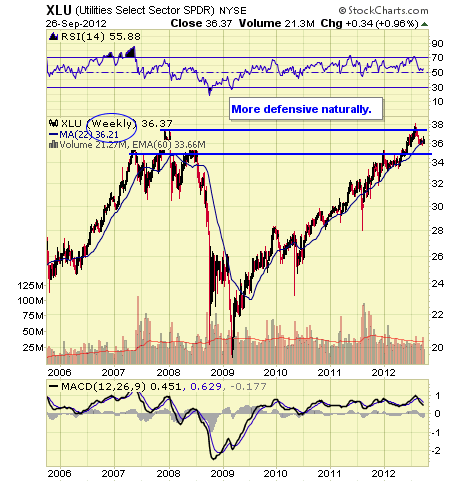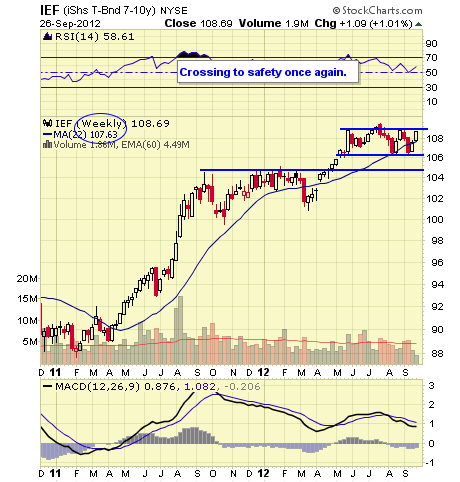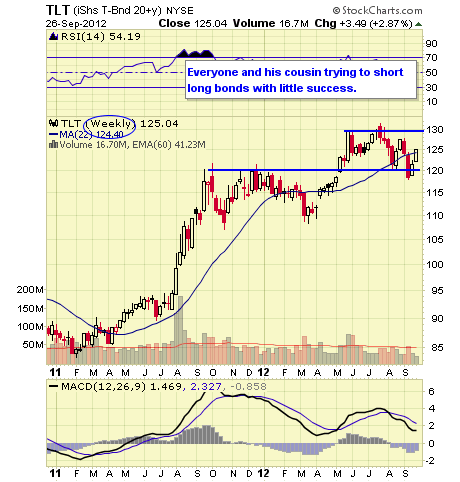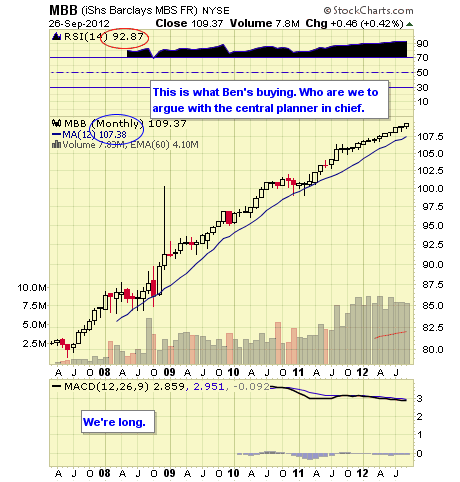 Continue to Currency & Commodity Market ETFs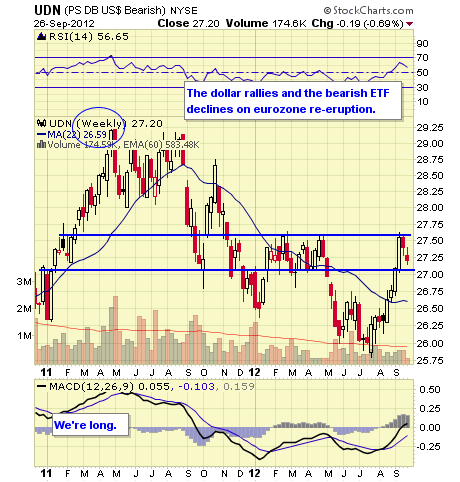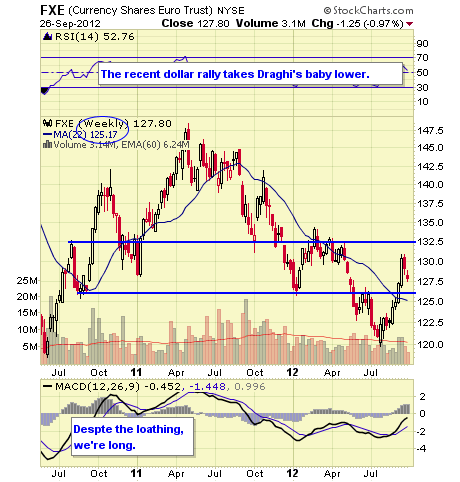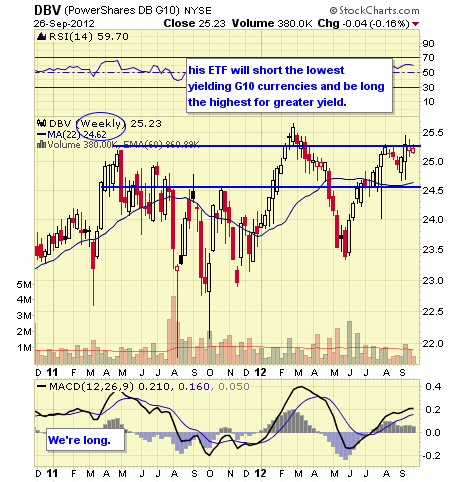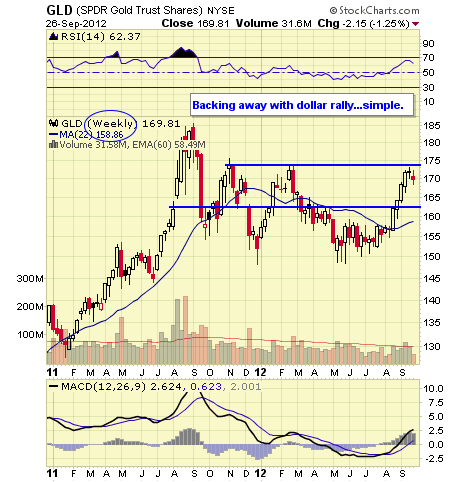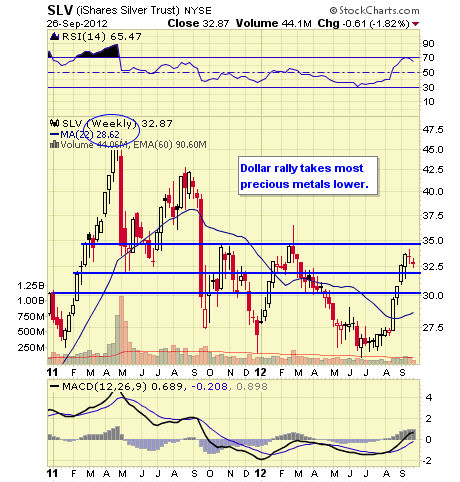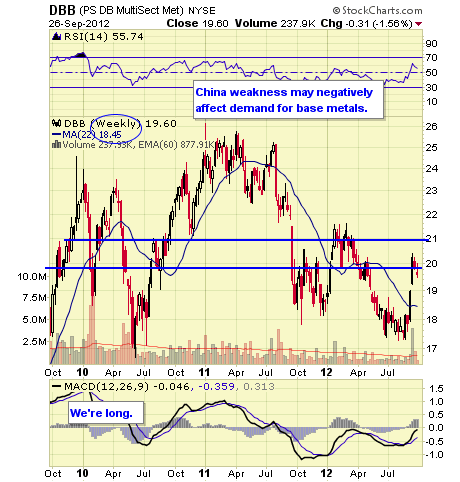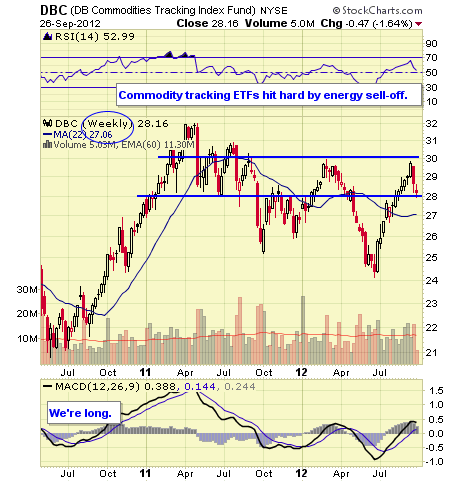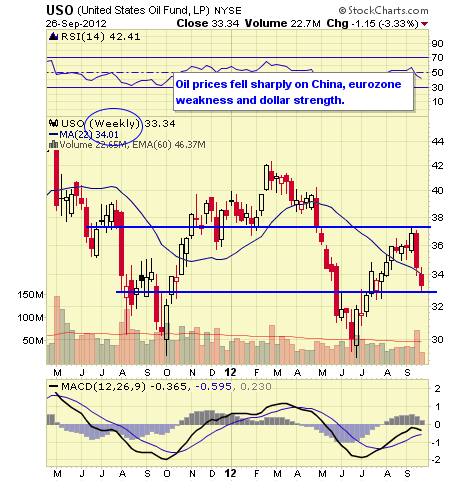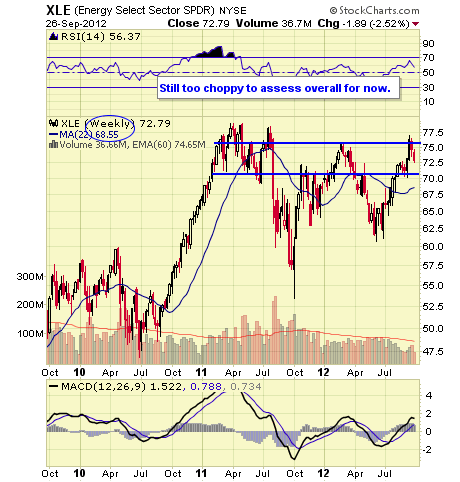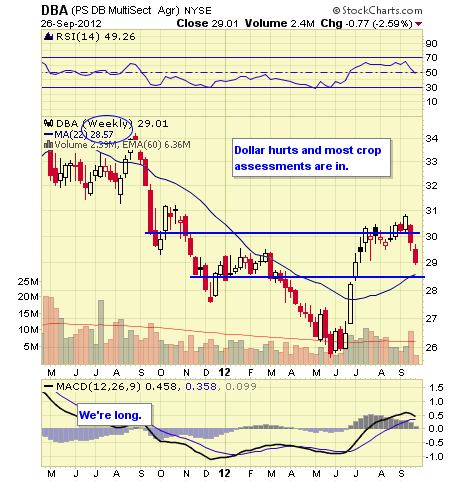 Continue to Overseas Sectors & ETFs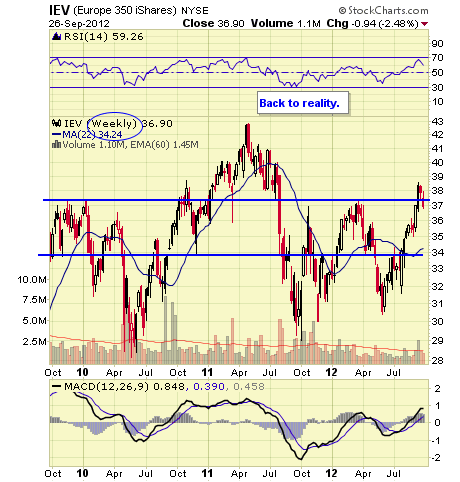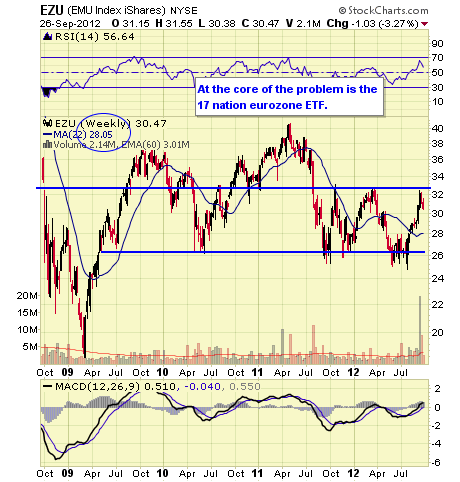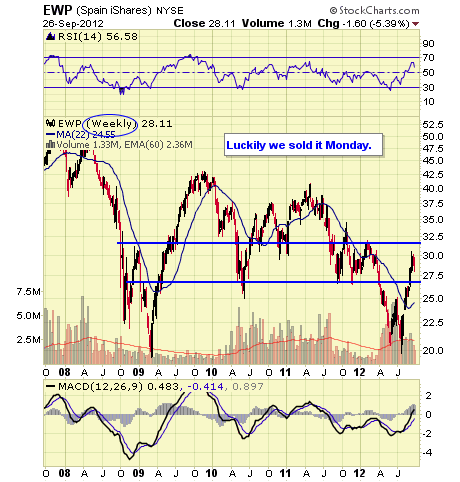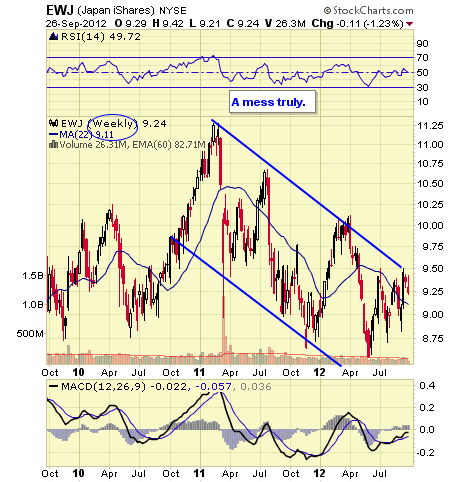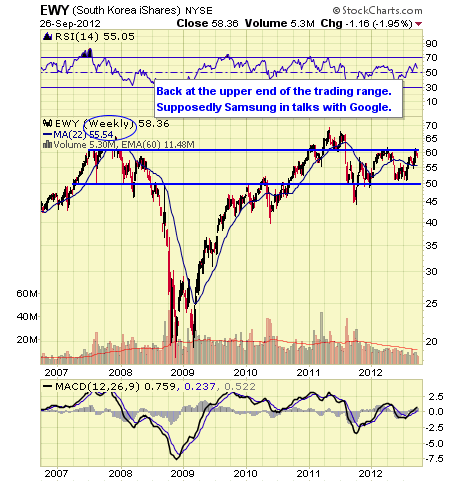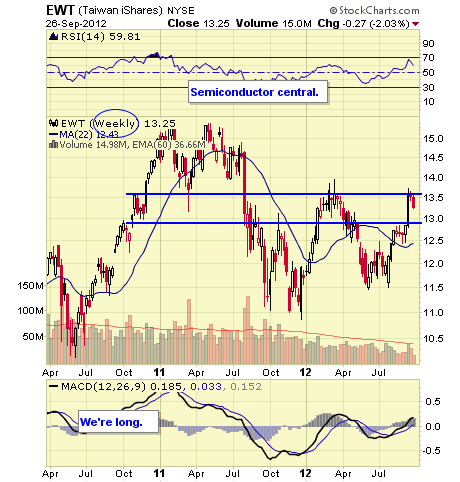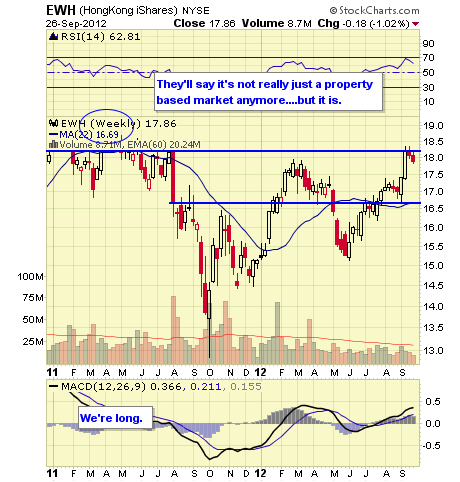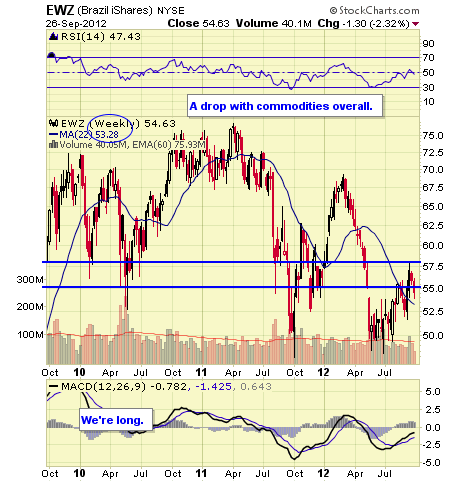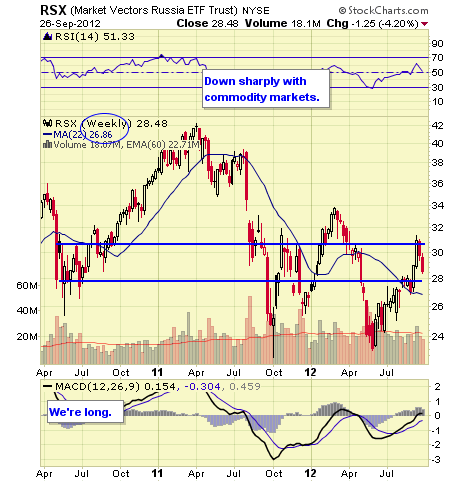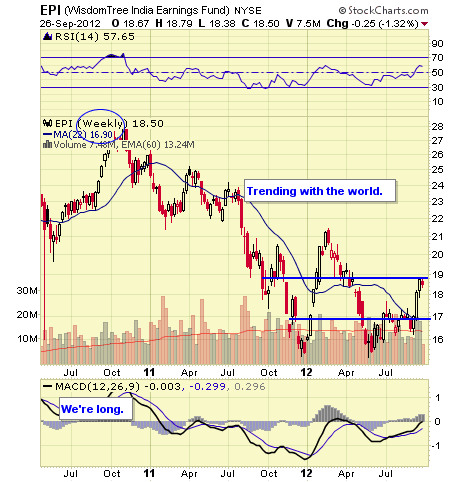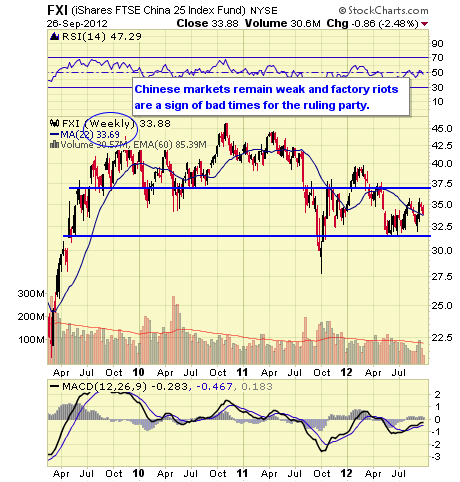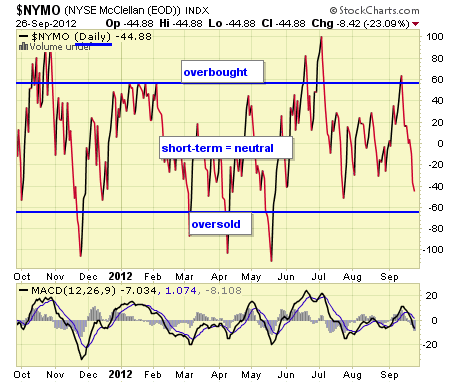 The NYMO is a market breadth indicator that is based on the difference between the number of advancing and declining issues on the NYSE. When readings are +60/-60, markets are extended short-term.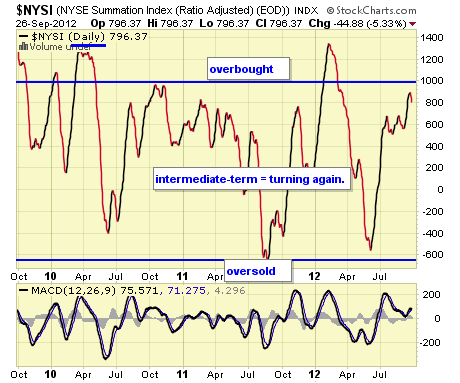 The McClellan Summation Index is a long-term version of the McClellan Oscillator. It is a market breadth indicator, and interpretation is similar to that of the McClellan Oscillator, except that it is more suited to major trends. I believe readings of +1000/-1000 reveal markets as much extended.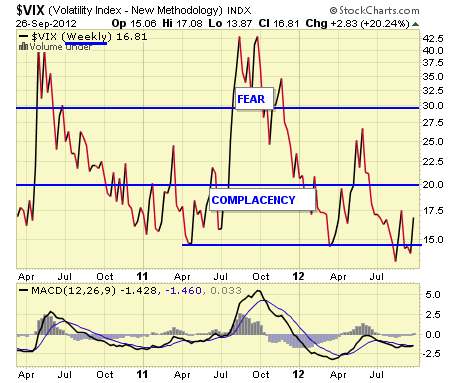 The VIX is a widely used measure of market risk and is often referred to as the "investor fear gauge." Our own interpretation is highlighted in the chart above. The VIX measures the level of put option activity over a 30-day period. Greater buying of put options (protection) causes the index to rise.
Concluding Remarks
The eurozone keeps coming back to haunt bulls. Clearly, the populace in most southern eurozone countries is in no mood for austerity or any give-backs. To get the needed bailout, countries must accept what is perceived as harsh conditions. In fact, just getting people to work as many hours as most people in developed countries while paying their taxes seems too much to ask. The leadership in these countries hasn't done an effective job of explaining the facts to the people. Some things just can't be done if there isn't any money to do it. In Spain, they'll just have to give up siesta and work a little harder. When the eurozone was created years ago, many stated how difficult it would be to get Germans to speak with Spanish workers when they weren't working. Now, the Germans are dictating more severed terms than just tapas.
There's plenty of economic data on tap for Friday, including Personal Income and Outlays, Chicago PMI and Consumer Sentiment.
And, yes, we've been out of the turret the past week, but that's over.
Disclaimer: The ETF Digest maintains an active ETF trading portfolio and a wide selection of ETFs away from portfolios in an independent listing. Current "trading" positions in active portfolios, if any, are embedded within charts: Lazy & Hedged Lazy Portfolios maintain the follow positions: VT, MGV, BND, BSV, VGT, VWO, VNO, IAU, DJCI, DJP, VMBS, VIG, ILF, EWA, IEV, EWC, EWJ, EWG, & EWU.
The charts and comments are only the author's view of market activity, and aren't recommendations to buy or sell any security. Market sectors and related ETFs are selected based on his opinion as to their importance in providing the viewer a comprehensive summary of market conditions for the featured period. Chart annotations aren't predictive of any future market action; rather, they only demonstrate the author's opinion as to a range of possibilities going forward.
Disclosure: I have no positions in any stocks mentioned, and no plans to initiate any positions within the next 72 hours. I wrote this article myself, and it expresses my own opinions. I am not receiving compensation for it. I have no business relationship with any company whose stock is mentioned in this article.