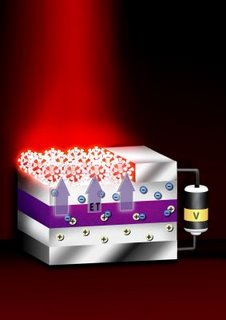 Nano means extremely small, and mathematically means one billionth. Nanotechnology is the science of manufacturing and utilizing extremely small particles and devices, sometimes as small as single atoms and molecules. A nanometer is one-billionth of a meter, which is approximately 80,000 times thinner than a human hair. Nanomaterials include carbon nanotubes used in electronics, body armor and cancer treatments, nanoclays which are used in composite materials, and nanoscale metals, alloys, and oxides, used in the energy and renewable energy industries.
The following are the top stocks ranked by the PEG ratio, and all have market caps over $1 billion that are involved in the nanotechnology field:
Amkor Technology Inc. (NASDAQ:AMKR) is in the business of microelectromechanical systems, microelectronic assembly and testing. The stock has a P/E of 6 and a PEG of 0.74.
ABB (NYSE:ABB) has a nanotechnology research relating to surface structures and material parameters. The stock has a P/E of 14 and a PEG of 0.76.
Taiwan Semiconductor Manufacturing (NYSE:TSM) manufactures microprocessors and microcontrollers. The stock has a P/E of 14 and a PEG of 0.76.
Boeing Company (NYSE:BA) along with Ford Motor Company (NYSE:F) and Northwestern University formed an alliance to conduct nanotechnology research. The companyy has also produced nanotech electromagnetic oscillatory jet actuators. The stock has a P/E of 11 and a PEG of 0.82.
Eaton Corp. (NYSE:ETN) makes micro and nano connectors. The stock has a P/E of 12 and a PEG of 0.85 .
JDS Uniphase Corp. (JDSU) produces a power delivery system can be used to drive sensors, gauges, actuators, nanotechnology, and micro-electromechanical systems. The stock has a P/E of N/A and a PEG of 0.86.
Hewlett-Packard Co.'s (NYSE:HPQ) QSR group at HP Labs researches the fabrication of nanometer-scale structures. The stock has a P/E of 13 and a PEG of 0.88 .
RF Micro Devices Inc. (RFMD) makes and sells radio frequency components and system solutions for the mobile communications industry. The stock has a P/E of 122 and a PEG of 0.93.
Analog Devices Inc. (NASDAQ:ADI) is involved in nanotechnology and MEMS technology with its 3-axis accelerometer, a motion signal processing product, and consumer applications of nanotechnology. The stock has a P/E of 13 and a PEG of 0.98.
Cabot Microelectronics Corp. (NASDAQ:CCMP) develops proprietary Advanced Nanoscale Surface Technology is designed to deliver Angstrom level finishes. The stock has a P/E of 19 and a PEG of 0.99.
An Excel list of 49 nanotechnology stocks along with a description of their connections to nanotechnology, which can be downloaded, sorted, changed, and added to can be found at WallStreetNewsNetwork.com.
Disclosure: The author does not own any of the above.