Duke Energy Corporation (NYSE:DUK) improves the lives of people each and every day by supplying electric and gas services in a sustainable way.
Duke Energy is the largest electric power corporation in the United States. It is currently providing and supplying energy to about seven million U.S consumers. Duke Energy has nearly 58,000 megawatts of electric generating potential throughout the Carolinas, the Midwest, and Florida. Duke Energy also manages natural gas supply services in Ohio and Kentucky.
The recent merger of Duke Energy and Progress Energy is now complete. This creates the merged Duke Energy Corporation, which is now the largest utility in the US with 7.1 million consumers over six states. What's important for investors is that the earnings-per-share direction of Duke Energy before the merger has been reiterating. In other words, the earnings per share estimate for 2012 is now $4.28. This is similar to the $1.40 to $1.45 guideline range set prior to the reverse three for one stocks. The newly merged corporation is still predicting four to six percent yearly growth in EPS.
Earnings Per Share

Year ending

Q1 Mar

Q2 Jun

Q3 sep

Q4 Dec

Annual

2014

1.21

1.07

1.51

0.87

4.65

2013

1.12

0.98

1.49

0.79

4.43

2012

1.14A

1.02A

1.43

0.66

4.28

2011

1.17A

0.99A

1.50A

0.72A

1.46

2010

0.84A

0.78A

1.20A

0.84A

1.22
(Table is sourced from Company website)
We can now determine Duke's current standing, as well as whether or not this company has the potential to reach $4.28 per share. Duke has three main revenue generating sectors, including U.S. Franchised Electric and Gas, International Energy, and Commercial Power. In the second quarter of 2012, U.S. Franchised Electric and Gas produced revenues amounting to $297 million. Meanwhile, International Energy produced $105 million, while Commercial Power produced $32 million during the same period.
On a standalone basis, Duke Energy has forecast for 2012 an adjusted diluted earnings-per-share [EPS] range between $1.40 and $1.45. Because of the effect of the 1-for-3 reverse stock split, Duke Energy's forecasted range is equivalent of $4.28 per share. I believe that Duke Energy will exceed analyst expectations, to produce a value of $4.35 per share by the end of 2012. I further believe that Duke will produce shares valued at $4.50 in 2013. In the following sections, I will explain and justify these predictions. Since the merger, Progress Energy has become a fully-owned direct subsidiary of Duke Energy.
We can now examine the basic financial details of this massive company which, with $100 billion in total assets, constitutes the country's largest electric power holding corporation. The following table will help analyze Duke Energy's prospects and will help justify my earlier predictions.

(Graph is sourced from Company Website)
Stock and dividend
Duke Energy has a market capitalization of $45 billion. Furthermore, its current dividend yield of 4.8 percent is higher than that of its opponents and the industry average. Dividends have been growing at a rate of three percent on a yearly basis over the last five years. In addition, Duke dividends are backed by a strongly regulated income base. Duke has an 86-year history of quarterly cash dividends. I am expecting a strong increase in dividend yields within the next two years because EPS levels are increasing at a rapid rate.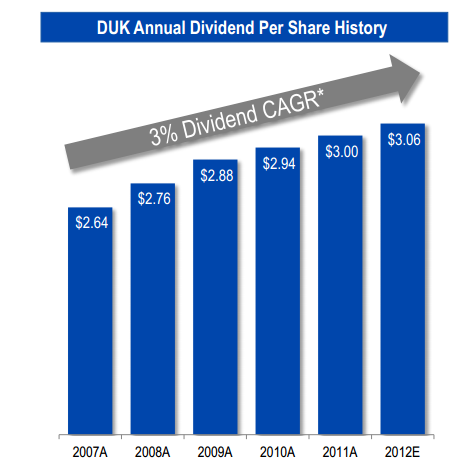 (Graph is sourced from Company website)
DUK trades at a P/E of 18.95 and an FPE of 14.95. It has a Beta of 0.19 and a dividend of 4.57 percent. All these figures are appealing, especially in this period of general economic trouble. However, there are a couple of complications ahead. Even so, the likely synergies are true, and the company should generate real EPS gains.
Competitors Analysis
 

Duke Energy

Southern Co

Exelon

Market Cap
$Mil

44,662

39,514

30,259

P/S

1.9

2.3

1.3

P/B

2.0

2.2

1.4

P/E

18.9

18.2

15.2

Dividend Yield %

4.8

4.3

5.92

D/E

0.8

1.1

0.8
(Table is sourced from Morningstar.com)
Duke Energy's main competitors are Southern Co (SO) and the Exelon Corporation (EXC). Duke Energy has a market capitalization of $44.662 billion, which shows an increase since the merger. Meanwhile, Southern Co and Exelon have market capitalizations of $39.514 billion and $30.259 billion, respectively. Duke Energy has a dividend yield of 4.8 percent, and its dividend is growing at three percent annually, while Exelon has a divided yield of 5.92 percent. Exelon is paying a dividend of $2.92. Exelon dividends have been quite constant over the previous four years, with one dividend split during the second quarter of 2012. Southern Co is also paying a healthy annual dividend of $1.96 with dividend yield of 4.3 percent.
Summary
Duke Energy is now the biggest regulated utility in the U.S, after its merger with Progress Energy. Duke Energy struggled with regulators over the past 18 months, and need to focus on the challenging task of merging operations and providing stated benefits to consumers and shareholders. I believe that Duke Energy is on track and will easily reach its predicted 2012 adjusted earnings of $4.28 per share for the combined company. I am expecting earnings to increase from $4.28 this year to $4.45 in 2013. This should, in turn, bring further benefits since, as we all know, earnings growth often leads to dividend growth.
This merger will benefit Duke Energy greatly. The company will save money by laying off nearly 1800 people. In addition, it will achieve synergy through savings in three major areas: joint dispatch (transmission assets, additional services, hedging, etc.), fuel, and O&M (Optimization & Management solutions). Duke Energy is expecting to see considerable fuel and joint dispatch saving. Furthermore, it expects five to seven percent savings on non-fuel O&M. The utility industry is one of the most consistent and best yielding industries in the stock market.
Disclosure: I have no positions in any stocks mentioned, and no plans to initiate any positions within the next 72 hours. I wrote this article myself, and it expresses my own opinions. I am not receiving compensation for it (other than from Seeking Alpha). I have no business relationship with any company whose stock is mentioned in this article.