Despite economic headwinds and a decrease in natural gas prices, Chesapeake (NYSE:CHK) has shown impressive growth of 39% in profit margins in the last quarter. The company has witnessed increased insider buying due to its attractive valuations; CHK is traded at forward P/E of 14.7x, at a discount when compared with Anadarko Petroleum (NYSE:APC)'s 16.5x, EV Energy Partners LP (NASDAQ:EVEP)'s 52.5x, and PetroQuest Energy (NYSE:PQ)'s 19.2x. Selling its E&P assets to Chevron, as well as the bulk of its assets in the Permian basin, will enable CHK to reduce its funding gap and maintain the necessary capex. Although the company has debt issues, it is still on track to reduce its debt levels through the sale of its assets. In our opinion, the company's liquid production operational efficiencies, a reduction in debt, drilling activities, and better economic prospects, will help it regain its profitable position. Therefore, we recommend taking a long position in the stock.
Industry Overview
Increasing energy needs have triggered an increase in oil and gas exploration and production. Globally, total rig counts have risen by 3.5% annually.
Rig count in the United States decreased from 1,985 to 1,864 in the last one year, primarily because of a 50% decrease in natural gas rig counts. The excess supply of gas could not match demand. With this development, gas prices witnessed a downward spiral of 27%, from $3.9/mmbtu to $2.8/mmbtu, over the last one year. On the other side, oil rig counts have shown an upside of 33% due to the continuously increasing demand. Oil prices rose to $97.2 per barrel from $88.9 per barrel in the last one year. Though they have fallen back to $90 level in last few days.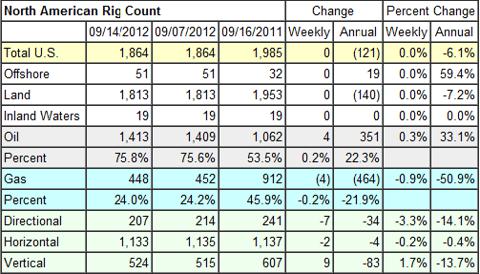 Source: WTRG Economics
Going forward, the United States Energy Information Administration estimates that global oil consumption will increase up to 0.9 million barrels per day in 2013, from the current consumption of 0.8 barrels per day. The rise in oil prices represents market expectations about economic initiatives taken by the United States, China and the European Union.
Company Overview
Chesapeake Energy Corporation is the second largest gas and oil producing company, after Exxon Mobil (NYSE:XOM), in the United States. It engages in the production, development, and exploration of natural gas and oil. The company has expanded its services to drilling, marketing and other oilfield services. The company's business is located in the onshore continental United States.
Insider Buying
The table given below reflects that from June to September, there has been an increase in insider buying. Insiders have bought 125,560 shares in the last four months, worth $2.4 million.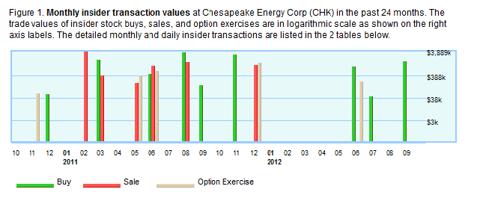 Source: Insider-monitor
CHK Director Dunham Archie has bought 68,100 shares at a price of $20, and 6,900 shares at $19.98. Davidson Richard has purchased 2,000 additional shares to increase his CHK share portfolio to 72,000 shares. Moreover, several other directors, along with the COO and Senior Vice President, bought the company's shares, as reflected in the table given below. This insider buying reflects the company's strong growth prospects and the improved macroeconomic situation to come.

Source: Insider-monitor
Asset Sales
In the third quarter, the company expects to sell three assets in the Permian basin field to improve its balance sheet. CHK has targeted to decrease its debt to $9.5 billion by the end of 2012, from $14.3 billion by the end of the last quarter.
Its increasing debt has put it in a precarious position. Chesapeake's agreement of $7 billion in asset monetization helps the company reduce its going concern risk. This liquidity will enable the company to trim its debts, and finance the current year drilling plans. It is on track to achieve its divestment target of $13-$14 billion by the end of this fiscal year.
Financial Analysis
Direct Competitor Comparison

 

Chesapeake Energy

Anadarko Petroleum

EV Energy Partners LP

PetroQuest Energy

Market Cap

12.64B

36.25B

2.66B

408.61M

Qtrly Rev Growth (yoy):

2%

-14%

-9%

-20%

Revenue (NYSE:TTM):

12.51B

13.54B

272.51M

146.58M

Gross Margin :

46%

80%

61%

73%

EBITDA :

5.14B

7.95B

296.70M

84.26M

Operating Margin :

22%

11%

66%

14%

Net Income :

2.17B

-1.35B

135.24M

-66.72M
Source: Yahoo finance
The company's revenue has squeezed 4% QoQ and 19% YoY, due to the crunch in gas prices. It has spent heavily on oil production to offset the impact of decreased natural gas prices. CHK's total gas production reached 3.8 billion Cubic Feet Equivalent in the second quarter, showing an increase of 25% YoY and 4% QoQ. Due to the excess supply of gas, the company has decided to cut its natural gas production by 7% in 2013. But the growth is expected to come from liquids, as the management revealed that liquid production growth will increase up to 32% in fiscal year 2013. The company's gross and operating margins of 46% and 22% are relatively lower than its competitors, as reflected in the table given above. Rising liquid margins enable the company to bring further improvements in its margins. The lower gas margins are also expected to expand, with rising natural gas demand. Its dividend yield of 1.8% and low payout ratio of 10.6% are below the industry averages.
Valuations
| | | | | |
| --- | --- | --- | --- | --- |
|   | Chesapeake Energy | Anadarko Petroleum | EV Energy Partners LP | PetroQuest Energy |
| PEG (5 yr expected): | 5.1 | 3.51 | 11.07 | -18.8 |
| P/S : | 1.01 | 2.68 | 9.78 | 2.82 |
| Forward P/E (Dec 2013) | 14.7 | 16.5 | 52.57 | 19.2 |
| EV/EBITDA | 5.28 | 6.08 | 11.37 | 6.78 |
Source: Yahoo finance
CHK is trading at low valuations of 1x to its sales, at a discount when compared to Anadarko Petroleum 's 2.6x, EV Energy Partners LP 's 9.7x, and PetroQuest Energy 's 2.8x. Its Enterprise Value to EBITDA is 5.2x, in contrast to Anadarko Petroleum's 6x, EV Energy Partners' 11x, and PetroQuest Energy's 6.7x.
The company will derive benefit from the upcoming demand through its operational efficiencies and rising gas prices.
Disclosure: I have no positions in any stocks mentioned, and no plans to initiate any positions within the next 72 hours.
Business relationship disclosure: The article has been written by Qineqt's Energy Analyst. Qineqt is not receiving compensation for it (other than from Seeking Alpha). Qineqt has no business relationship with any company whose stock is mentioned in this article.