No Attention Span Summary: A gathering & processing Master Limited Partnership ("MLP") that is a compelling MLP investment at the mid-point price of $20 per unit.
Summit Midstream Partners, LP (NYSE:SMLP)
SMLP is currently on the road looking to price its IPO on the evening of September 27, 2012. The Company is looking to sell 12.5 million common units at a mid-point price of $20 per unit raising approximately $250 million of gross proceeds. I am going to assume readers are familiar with Master Limited Partnerships ("MLPs"); energy related concepts and some general investment and valuation concepts and focus more on key Pros and Cons for SMLP and how it compares to its MLP peer group. Additionally this article uses some unique terms and ratios that are explained in an earlier article, A Ranking Protocol for the MLP Space.
SMLP's Business
We are a growth-oriented limited partnership focused on owning and operating midstream energy infrastructure that is strategically located in the core producing areas of unconventional resource basins, primarily shale formations, in North America. We currently provide fee-based natural gas gathering and compression services in two unconventional resource basins: (NYSE:I) the Piceance Basin, which includes the Mesaverde, Mancos and Niobrara Shale formations in western Colorado; and (ii) the Fort Worth Basin, which includes the Barnett Shale formation in north-central Texas. As of June 30, 2012, our gathering systems had approximately 385 miles of pipeline and 147,600 horsepower of compression. During the first half of 2012, our systems gathered an average of approximately 909 MMcf/d of natural gas, of which approximately 64% contained natural gas liquids, or NGLs, that were extracted by a third party processor. We believe that we are positioned to grow through the increased utilization and further development of our existing assets. In addition, we intend to grow our business through strategic partnerships with large producers to provide midstream services for their upstream development projects, as well as through acquisitions in our existing areas of operation and in new areas.

We generate a substantial majority of our revenue under long-term, fee-based natural gas gathering agreements. Our customers include some of the largest natural gas producers in North America, such as Encana Corporation, Chesapeake Energy Corporation, TOTAL, S.A., Carrizo Oil & Gas, Inc., WPX Energy, Inc., Bill Barrett Corporation, Exxon Mobil Corporation and EOG Resources, Inc.
Asset Map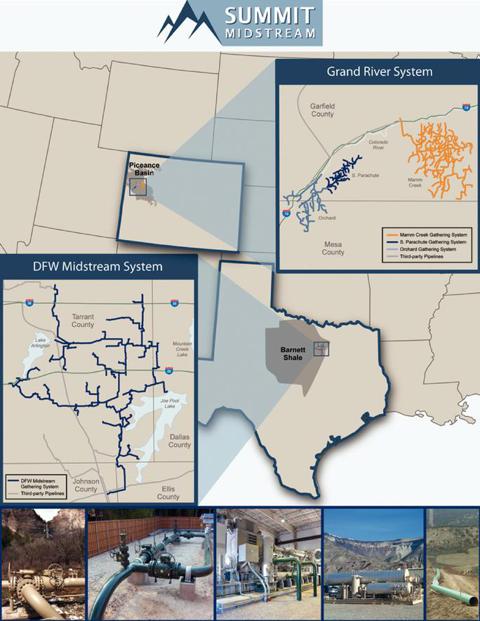 Organization / Pro Forma Ownership Structure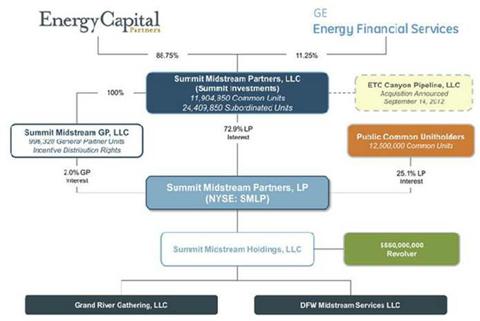 Source: Roadshow slides.
General Partner Economic Interest and Incentive Distribution Rights
The General Partner of SMLP will have the standard 2% economic interest in SMLP along with traditionally structured Incentive Distribution Rights.

Gathering & Processing ("G&P") Peer Group
The Gathering & Processing MLP segment includes the following partnerships: Access Midstream Partners, L.P. (NYSE:ACMP), American Midstream Partners, L.P. (NYSE:AMID), Atlas Pipeline Partners, L.P. (NYSE:APL), Crestwood Midstream Partners, L.P. (NYSE:CMLP), Copano Energy LLC (NASDAQ:CPNO), DCP Midstream Partners, L.P. (DPM), EQT Midstream Partners, L.P. (NYSE:EQM), Exterran Partners, L.P. (EXLP), Compressco Partners, L.P. (GSJK), MarkWest Energy Partners, L.P. (NYSE:MWE), Targa Resources Partners, L.P. (NYSE:NGLS), Penn Virginia Resource Partners, L.P. (NYSE:PVR), Regency Energy Partners, L.P. (NYSE:RGP), Western Gas Partners, L.P. (NYSE:WES), and Crosstex Energy, L.P. (XTEX).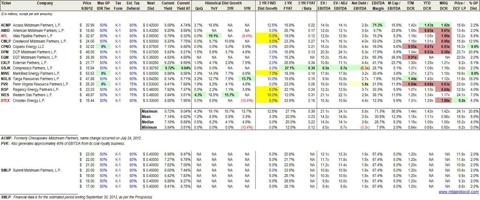 The closest peer to SMLP in the Gathering & Processing segment based on EBITDA is Crestwood Midstream Partners, L.P. . CMLP's guidance for 2012 EBITDA is in the $125 to $130 million range, which they recently guided down slightly from a range of $125 to $135 million, compared to SMLP's projected EBITDA of $109.6 million. CMLP has operations in six areas/basins (Avalon Shale, Granite Wash, Barnett Shale, Fayetteville Shale, Haynesville Shale, Marcellus Shale) in comparison to SMLP's two initial areas/basins (Barnett Shale, Piceance Basin). Also of note, SMLP's Senior Vice President and Head of Corporate Development joined SMLP from Crestwood Midstream Partners.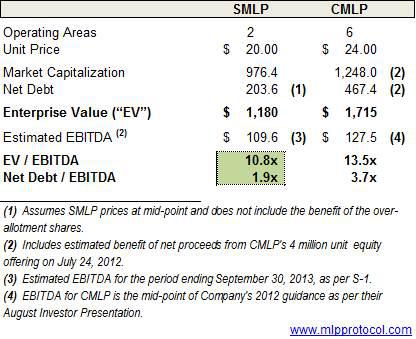 At the mid-point IPO price of $20 per unit, SMLP compares favorably to its closest peer CMLP. SMLP's Enterprise Value to EBITDA multiple will be 10.8x which is lower/better than CMLP's estimated multiple of 13.5x. SMLP will also have a stronger balance sheet post IPO with Net Debt to EBITDA of 1.9x, which is also compares favorably to CMLP's Net Debt to EBITDA of 3.7x.
Sensitivity Tables
Yield and Valuation vs G&P Segment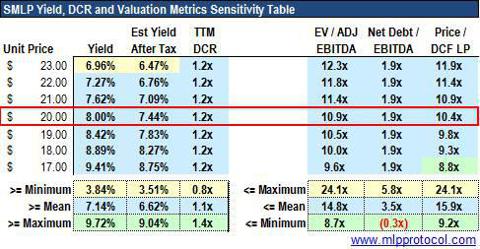 3 Year Forward Yield After Tax

3 Year Forward Yield After Tax / Valuation Coverage Ratio

Pros
Strategically Located Assets Supported by Existing Gathering Agreements with Large Producers: SMLP's midstream energy infrastructure assets are strategically positioned within the core areas of two prolific plays. The DFW Midstream system is located within the most prolific acreage of the Barnet Shale. The system gathers production from 4 of the top 10 wells including the two biggest wells ever drilled in the basin. In addition, SMLP's Piceance Basin customers are exploring new plays covered by their Areas of Mutual Interest ("AMIs") that, if successful, will offer opportunities for further organic growth. SMLP's assets are also located in areas weighted roughly 64% towards liquids rich gas production (so generally more favored in a low natural gas price environment).
Approximately 97% Fee-Based Revenues under Favorable Minimum Volume Commitment ("MVC") Long-Term Contracts: SMLP's gas gathering agreements ("GGAs") with its Piceance Basin customers have AMIs covering approximately 230,000 acres and minimum volume commitments of approximately 2.1 Tcf through 2026. SMLP's gas gathering agreements with its Barnett Shale customers have AMIs covering approximately 100,000 acres and minimum volume commitments of approximately 429 Bcf through 2020. The GGAs are such that any production from any natural gas wells in the acreage covered by the AMI will be shipped on SMLP's system. The contracts provide for escalating fees over time and have a weighted average remaining life of 11.4 years with minimum volume commitments at an average 639 MMcf/day through 2020, which is equal to roughly 70% of first half average volumes of 909 MMcf/day.
Strong Balance Sheet with Substantial Liquidity Post IPO: Pro forma for the IPO, SMLP will have approximately $346 million of borrowing capacity available under its revolving credit facility. The balance sheet will have low leverage of approximately 1.9x Net Debt to estimated EBITDA, providing SMLP with substantial capacity for growth.
Experienced Management Team: SMLP's executive management team has an average of 16 years of energy experience and a proven track record of identifying and consummating significant acquisitions in addition to partnering with major producers to construct and develop midstream infrastructure. The majority of the management team has significant prior experience at publicly traded G&P MLPs.
Strong General Partner / Sponsors: Both Energy Capital Partners and GE Energy Financial Services are experienced energy investors with proven track records of making substantial, long-term investments in high-quality midstream energy assets. Energy Capital Partners has indicated that it intends to use SMLP as its primary platform for growing midstream infrastructure assets; however, it is not obligated to do so. For example, Summit Investments (see org chart, SMLP's GP owner and holder of ~73% LP interest) recently entered into an agreement to acquire a natural gas gathering and processing system in the Piceance and Uinta basins in Colorado and Utah for a purchase price of approximately $207 million. The system consists of over 1,600 miles of gathering pipelines, 44,200 horsepower of compression, five propane refrigeration plants, two amine treating plants and two NGL injection stations. These assets will not be part of the assets that Summit Investments will contribute to SMLP in connection with the closing of this offering, and Summit Investments has no obligation to offer these assets to SMLP in the future; however, these assets are a likely candidate for a drop-down sale to the MLP at some point.
Good Projected Distribution Coverage Ratio: SMLP projects a Distribution Coverage Ratio ("DCR") of 1.20x over the next twelve months, which is slightly above the G&P average trailing twelve month DCR of 1.15x and compares favorably to the most recent quarter average DCR of 0.98x for the group. The Common Unit owners will also benefit from the Subordinated Units in the structure, which effectively double the Distribution Coverage Ratio for the Common Units to 2.40x since the Subordinated Units' distributions would be cut to zero before any reduction in Common Unit distributions.
Expected Tax Deferral of 80% of Distributions: SMLP estimates that approximately 80% or more of the estimated distributions through December 31, 2015 will be tax deferred with respect to federal income taxes.
Cons
Lack of Geographic Diversity: Initially SMLP will only have operations in 2 areas so will lack geographic diversity when compared to other G&P MLPs. Any substantive problem within either of its two operating areas could impair it ability to pay distributions.
Customer Concentration: Encana, Carrizo and Chesapeake accounted for approximately 29%, 16% and 16%, respectively, of SMLP's revenue for the first half of 2012. Any substantive problem for one of its large customers could be disruptive to SMLP's operations and could impair its ability to pay distributions.
MLP Tax Considerations and IRA Disclaimer: Additionally SMLP is an MLP that sends a K-1 tax form instead of a 1099-DIV, so additional tax considerations and effort at tax time are required for investors, please consult with your tax advisor before making any investments into any asset class that you do not currently own. If you are your own tax advisor, nothing prevents you from investing in MLPs using IRA money; however, I recommend that you do not due to future UBIT issues. Any investment that I own that generates a K-1 is held in a taxable account. Please do not let me stop you though, it is after all, your money and your choice and nobody is more concerned about your money than you (with your Uncle Sam coming in a close second though).
Some background on MLP tax considerations can be found here:
Basic Tax Principles for MLP Investors
MLPs and Taxes: What Investors Should Know
MLP Tax Issues Every Investor Must Know
Conclusion
SMLP is right in the middle of the fairway for a Gathering & Processing focused MLP. While it will initially be a smaller competitor in the group, it will be well positioned to grow going forwards. At the mid-point price of $20 per unit the valuation and expected yield look attractive. I would not be surprised to see the underwriters try and push up the IPO price for SMLP above $20. I am basing that view on the recent performance of Susser Petroleum Partners, L.P. (SUSP) which priced last week at $20.50 (2.5% above the mid-point price) and opened at $23.40 (17% above the mid-point price) and closed on 9/26/12 at $23.31. I may have varying open limit orders when SMLP begins trading and while I would prefer to buy units at $20 or less, I will be watching very closely to try and gauge market reception and may change my possible limit orders at any time (especially during the first 60 seconds of trading).
Sources
SMLP Roadshow <<The SMLP roadshow presentation will be removed on the night of September 27th, but the website is great to bookmark for future IPOs.
Pro Tip: When considering any IPO as an investor you should at a minimum read through and understand everything from the front cover through the end of the "box pages" of the S-1/Prospectus. They are called the box pages simply because the pages are outlined with a simple rectangle. The box pages are intended to serve as a summary of the rest of the document. For SMLP the box pages are pages 1-19 of the S-1 in the link above.
Disclosure: I am long EXLP, GSJK. I wrote this article myself, and it expresses my own opinions. I am not receiving compensation for it (other than from Seeking Alpha). I have no business relationship with any company whose stock is mentioned in this article.
Additional disclosure: I may initiate a position in SMLP within the next 72 hours. I may add, change or adjust any positions at any time and my ownership should not in any way be construed as a recommendation for anyone else to own the particular security discussed.