We entered into a long position in General Growth Properties (NYSE:GGP) in 2009 when it was trading at ~$2/share and it was facing a technical bankruptcy due to its overleveraged position. Since then, the company was able to exchange $7B of its debt for fresh equity capital. While this diluted shareholders by over two-thirds due to the number of shares issued in the bankruptcy reorganization, at least it didn't wipe out the shareholders. We were also pleased to see that the reorganization reduced annual interest expense from $1.4B in 2010 to $958M in 2011 and we were also pleased to see the company spin-off its master planned communities business as The Howard Hughes Corporation (NYSE:HHC). We also thought that it was a good idea for the company to spin off 30 of its lower performance, second-tier Class B malls to Rouse Properties Inc. (NYSE:RSE) as it served to prune the company's mall portfolio of weaker performers as well as rid itself of $1B of mortgages and other debts. Despite the fact that Brookfield Asset Management (NYSE:BAM) and General Growth Properties have rejected calls from Bill Ackman of Pershing Square Capital to sell itself to Simon Properties Group (NYSE:SPG), we believe that there is value in GGP and we are looking at reentering a "speculative long position" in GGP.
Despite the fact that we had steadily liquidated our position last year in GGP, we had kept a fairly close watch on the company's performance, as well as its former subsidiary Rouse Properties. Based on the pathetic performance of Rouse in its first six months as an independent company, we can see why its shares declined by nearly 20% when it was in when-issued trading. Even though Brookfield agreed to backstop a $200M shareholder rights offering for the company in Q1 2012, we were perplexed as to why Rouse's share price increased by 28.5% since its January 12th separation from GGP.
We find it amusing that when we ran a Google search for Rouse Properties, its website said "Rouse Properties, We See Opportunity". We see James Rouse, his brother Willard Rouse II and his nephew Willard Rouse III spinning in their graves as to what GGP has done to their company (even though Willard III had his own company apart from The Rouse Company). We see that GGP bought The Rouse Company in 2004 in a risky, $14B debt financed transaction, took the combined company into bankruptcy and diluted the company's shareholders by 67% in order to reduce debt. We also see that GGP added insult to injury by sullying the Rouse name through the spin-off of 30 Class B dirt malls into a new heavily leveraged company called Rouse Properties Inc. We can also see that Rouse Properties only generated $4M in free cash flows in H1 2012 and that represents an annualized free cash flow/equity ratio of ~1.5% in 2012.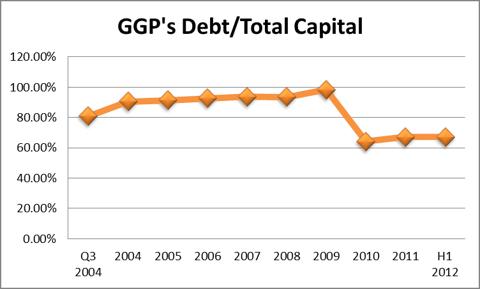 Sources: Annual Reports from GGP Inc and General Growth Properties (2004-2012)
Brookfield Asset Management, Pershing Square Capital and Blackstone collectively owned about 55% of the company's shares as of Q1 2012 and led the restructuring of GGP. Blackstone previously held 5.8% of GGP's shares and reduced it to ~4.5% over the last 6 months. Despite the fact that Ackman's original investment in GGP has increased from $1.29/share in 2008 to $18.5 in August 2012, he wasn't satisfied this return and on August 23rd, GGP's stock jumped by nearly 10% when Bill Ackman of Pershing Square issued his demand for GGP to sell itself to Simon Properties Group.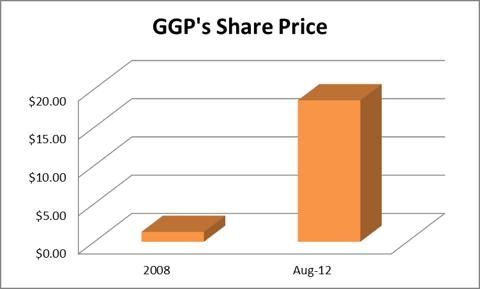 Source: Bloomberg LP
When we saw the news about Ackman's demands, we made it a point to carefully evaluate everything we saw. We could see that GGP was making incremental progress with regards to reducing cash operating expenses and its operating income enjoyed a boost from reduced depreciation and amortization expenses. We also liked that the recently acquired Sears (NASDAQ:SHLD) stores were providing incremental revenue growth. We were not pressured into reentering our position even though GGP's share price reached a peak of $21.25 on September 7th, we did not "buy in a panic" because we were jealous of the 16% increase achieved from the lows of August 23rd to the highs on September 7th. We calmly, coolly and dispassionately saw that this corporate action was in the early stages at best. We saw that if Ackman's proposed transaction had taken place, it would have resulted in a nearly 60% increase in GGP's share relative to its August 23rd share price. However there was a long way to go before that transaction would take place and it had to go through the gauntlet of Brookfield's ego, GGP management's ego and if Simon Property was still interested in doing the deal.
In conclusion, we are looking at reentering into a speculative long position in GGP. We are glad that Brookfield and GGP declined Bill Ackman's demands that GGP put itself up for sale. We believe that it isn't the right time for GGP to sell itself to Simon Property Group and we are glad to see a shakeout in GGP's share price as people are seeing that a deal isn't going to happen soon. We believe that Brookfield knows what it is doing with regards to where it wants to take GGP. GGP is most certainly not at the same level of Simon Property Group with regards to performance. However we believe that GGP is making progress in catching up to Simon. In H1 2012 GGP's operating cash flows were more than double what was achieved in H1 2011. We also like the fact that GGP has been able to reduce its interest expenses by over 20% in Q2 2012 versus Q2 2011 and will have completed the refinancing of $5.3B of its mortgages this year. These deals will reduce the average rate on GGP's borrowings from 5.6% to 4.5% on these refinanced mortgages and will enable it to ensure that its operating income begins to exceed its net interest expense.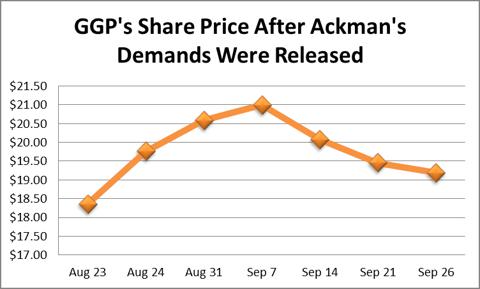 Source: Morningstar Direct
Disclosure: I am long HHC. I wrote this article myself, and it expresses my own opinions. I am not receiving compensation for it (other than from Seeking Alpha). I have no business relationship with any company whose stock is mentioned in this article.
Additional disclosure: This article was written by an analyst at Saibus Research. Saibus Research has not received compensation directly or indirectly for expressing the recommendation in this article. We have no business relationship with any company whose stock is mentioned in this article. Under no circumstances must this report be considered an offer to buy, sell, subscribe for or trade securities or other instruments.