Cisco Systems, Inc. (NASDAQ:CSCO) is one of the world's largest suppliers of Internet Protocol (IP)-based networking products. The company's routers and switches move information from office to office, classroom to classroom, and around the world. In addition to manufacturing the equipment that makes the Internet and corporate intranets possible the company also provides a range of services related to the implementation and on-site usage of its equipment.
One of the company's latest products, the Nexus 1100 series, offers some serious security enhancements for the business enterprise market. Picking up where the Nexus 1010 generation left off, the new 1100 series of virtual service appliances is being deployed as the foundation of its customers' virtual networks. Nexus equipment makes it possible for network management teams to control service policies from a single location.
Also aimed at the business enterprise market is the Nexus 3548 with Algorithm Boost technology. This new networking innovation should boost overall network performance significantly for Cisco's customers. The 3548 one-rack-unit 10 GB Ethernet switch is capable of latencies as low as 190 nanoseconds, or 190 millionths of a second. High frequency stock market traders will be climbing over each other to get their hands on these machines. The Hitless Network Address Translation (NAT) feature will make it possible for algorithmic traders to connect to any trading venue they like without increased latency.
Despite the saturation in western markets, worldwide sales of 10 Gigabit Ethernet switching equipment is on fire, and Cisco is mopping the floor with the competition in that area. According to the IDC Worldwide Quarterly Enterprise Networks Tracker, Layer 2 and 3 Ethernet switch sales are up 7.4% year on year. In the second quarter of 2012 Cisco had a 66.8 percent share of the 10GbE switch market worldwide, and a slightly smaller share of 1GB switches.
Click to enlarge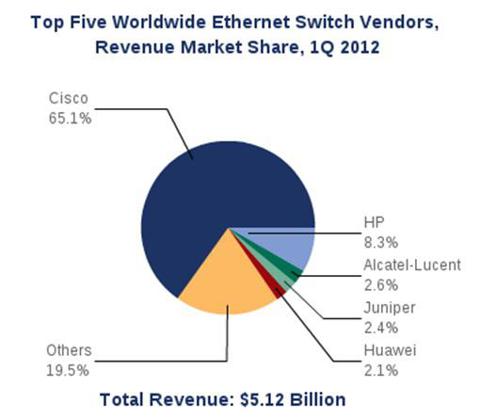 Cisco dominates the worldwide Ethernet Switch market
In the switch market, Cisco faces its toughest competition from Hewlett-Packard (NYSE:HPQ). The embattled personal computer maker had an 8.3% share of the Ethernet switch market in the first quarter of 2012. When you consider that Cisco sells about 8 Ethernet switches for every 1 that its nearest competitor does, its place at the top seems very stable.
Cisco might be king of routers and switches, but its future is in cloud. Although the market for Internet switches is growing, the market for routers is more or less stagnant. The global enterprise router market fell 1% year on year to only $852 million in Q2 2012. Add that figure to the $5.5 billion available for switches and you begin to see why Cisco's share prices can't seem to achieve lift off.
Where Cisco sees its best chances for future profit growth is in building data centers. According to the Gartner Research firm, the public cloud computing services market is expected to grow nearly 20% this year to $109 billion. Unfortunately for Cisco, this field is crowded with competitors like salesforce.com, inc. (NYSE:CRM) that provides both enterprise and individual cloud computing solutions, and Oracle (NYSE:ORCL) that, like Hewlett-Packard, is struggling to adapt and evolve into a cloud equipment and services provider.
Hewlett-Packard, after struggling as a maker of personal computers is sharpening its focus on building enterprise cloud solutions for corporate clients. Meg Whitman is attempting a new product lineup that will include machines combining storage, processing power and networking all in one box. The cloud software running on these all-in-one boxes will then most likely be integrated with HP tablets. The machines to be further discussed by Whitman early next month are intended to compete with Cisco's UCS servers.
Although the market for cloud computing services is currently growing and appears to be gaining momentum, the field is crowded. Cisco might have the edge in the routers and switches market, but the enterprise cloud based services market is hardly sewn up. Salesforce.com is enjoying significant penetration into this market, but its model of Software-as-a-Service doesn't directly compete with Cisco, which intends to provide the actual hardware for private company clouds.
Equinix (NASDAQ:EQIX) on the other hand has seen some tremendous growth in the past year, with much of that among financial market service providers. It recently finished the third phase of its London LD5 International Business Exchange data center. The facility will, upon completion of the fourth and final phase, cover 16,000 square meters of customer space with capacity for 5,600 cabinets. The Business Dedicated Continuity Trading desks will be wired into Central London by 1,000 diverse dark fibre links. Once those traders see the new Cisco Nexus 3548 Algorithm Boost technology in action, Equinix's trading center might lose some of its luster.

Cisco's stock price has remained nearly flat for the last two years, while Equinix's has exploded
After looking at its competition, I think that Cisco's transition into the enterprise private cloud market should be a relatively smooth one. There is lots of room to grow in cloud. Cisco might never dominate the enterprise cloud services market the way it does routers and switches, but given the current competition, I'm certain it'll find the revenue growth that it needs to see its stock price soar again.
Cisco is currently trading at only 12.65 times earnings. Even if it continues to trade in the $15-20 range it has been stuck in for over a year, the recently increased 2.98% dividend yield makes Cisco a good buy and hold with very little risk.
Disclosure: I have no positions in any stocks mentioned, and no plans to initiate any positions within the next 72 hours. I wrote this article myself, and it expresses my own opinions. I am not receiving compensation for it (other than from Seeking Alpha). I have no business relationship with any company whose stock is mentioned in this article.