There is no lack of debate over whether QE-3 stimulus will offset eroding fundamentals; however, there could be a silver lining for REIT investors. The positively promising low interest rates should continue to keep cap rates down for the near term while also providing investors with the confidence to stay in the game.
SNL Financial writer Jake Mooney wrote last week that "the Federal Reserve's latest round of money stimulus and extended low interest rates should bolster real estate valuations and provide a tailwind for REITs amid gradually improving fundamentals." Mooney (citing REIT analyst Jordan Sadler with KeyBanc) further explained the "prediction for a gradual recovery in jobs, housing, and general optimism" that the broader economy deems "poised for more slow growth."
KeyBanc's Sadler explained that "the reason we're getting QE3 is that we're in an environment with deflationary type conditions, where net demand is sparse, job growth is waning, macro data is softening, and we have continued uncertainty ahead." Sadler went on to explain to SNL's Money that "the conditions are such that it's … inspired the Fed to step up with QE3. Conditions are clearly not robust."
To add to the prospectus for "poised growth", REITs will also benefit with earnings (AFFO) growth as maturing debt can be refinanced at lower rates that leads to higher predictability of dividend growth. Accordingly, as a yield instrument, the dividend yield spread over 10 years still looks attractive, and that benefits both common and preferred equity holders. As explained by Matt Werner, CFA, with Chilton Capital Management:
As we look at QE3, we are not as enthusiastic about the risk-on trade. We are incrementally confident in our thesis of slow growth and low rates for the next 3-5 years, but this is something that is not necessarily going to drive NOI. Cap rates (multiples) are something that are out of our (and the REIT's) control. We are constantly looking for advantages that REITs can have over peers or as beneficiaries of other macroeconomic trends that will allow them to create value for shareholders. We do feel like REITs are going to be able to grow same store NOI for the next 3-5 years due to where we are in the cycle and the supply and demand dynamics we see in the market (varying by property type and geography).

This will translate to bottom line AFFO growth from accretive refinancing G&A expense controls. AFFO growth for the next two years should average close to double digits, and we can feel pretty good about that. Let's assume it's 10 percent per year. Add on a 3.2 percent dividend yield, and you come to a 13.2 percent annualized return. But REITs are trading at 21.3x 2013 AFFO, a number that is far above historical averages and one that we don't believe is sustainable. We have to factor in some multiple contraction that will revert back to the historical average. Even if interest rates are still <2 percent in two years, the markets will discount a rise in rates. We assume there will be multiple contraction so that total returns will be in the 6-8 percent range for the next 3-5 years. The most logical news that would cause us to increase our estimates on total return expectations would be a significant increase in employment and real wages.
Are REITs Benefiting from Slow Growth?
KeyBanc's Sadler explained that "it's kind of a good spot for REITs, a slow growth environment with very low and falling interest rates and a gradual improvement in capital markets." Why?
Slow growth is good for REITs. It ultimately contributes to low interest rates and cheaper capital. Furthermore, as Sadler explains:
This gradual recovery in demand, slow recovery in demand, is good for real estate because you're soaking up space, and it's not yet robust enough to translate into new supply. Real estate landlords and owners are not yet at a point, because the economy's prospects are so muted, where they're looking to speculate in any significant way and looking to go out and build excess capacity. So the risks of oversupply are very low, by and large, throughout the space.
The Fed's earlier stimulus actions, along with prevailing economic conditions and unfettered access to capital markets among REITs, have also driven down required returns for real estate and, in turn, pushed down cap rates - which equates to higher property valuations.
KeyBanc's Sadler explains that the firm is "an advocate of the 'risk on' trade". He adds that the firm "likes the shopping centers … and the industrial REITs all year long." And he "thinks we're in an environment where the economy is gradually recovering, and you don't need to pay a premium for quality, and lower leverage, and things that are just going to be safer."
What REITs Are Worth Considering?
In the retail sector, KeyBanc believes that new supply remains limited, while the health of retailers has steadily improved, supporting fundamentals are in favor among existing centers. KeyBanc upgraded its rating of Taubman Centers Inc. (NYSE:TCO) to "hold" from "underweight" and its rating of Kite Realty Group Trust (NYSE:KRG) to "buy" from "hold." I also like Kimco Realty (NYSE:KIM) - I published this article here yesterday - as well as Regency Centers (NYSE:REG), Weingarten Realty Investors (NYSE:WRI), Excel Trust (NYSE:EXL), and Retail Opportunity Investment Corp. (NASDAQ:ROIC).
Sadler said the firm is more positive recently on the industrial sector, where he said supply has been muted in recent years. While development has started to increase in many top-tier markets, the report said, demand remains high. The bank upgraded its rating of First Industrial Realty Trust (NYSE:FR) to "buy" from "hold." Other industrial sector REITs that I consider good picks include STAG Industrial (NYSE:STAG) and Monmouth REIT (NYSE:MNR).
Slow but steady job growth and very limited new construction are supporting fundamentals in select office markets, the report said, though several markets are constrained by high vacancies and weak demand. The bank upgraded its rating of Boston Properties Inc. (NYSE:BXP) to "hold" from "underweight." It downgraded American Assets Trust Inc. (NYSE:AAT) to "hold" from "buy."
The specialty office and industrial sector should continue to benefit from strong fundamentals, led by growing demand for data center space, the report said. KeyBanc upgraded its rating of BioMed Realty Trust Inc. (NYSE:BMR) to "hold" from "underweight." I also like the performance of Digital Realty Trust (NYSE:DLR).
The firm is incrementally negative on apartment REITs relative to other REIT subsectors, because it expects new supply and a recovering housing market to present challenges (as KeyBanc noted). There is less fundamental risk ahead in the student housing sector and that offers good opportunity with American Campus Communities (NYSE:ACC) and Campus Crest Communities (NYSE:CCG).
In health care, positive signs for the sector heading into 2013 include the increasing likelihood that President Obama will be re-elected, which could increase health care spending and reduce reimbursement risk, the report said. KeyBanc upgraded its rating of Health Care REIT Inc. (HCN) to "buy" from "hold," based partly on its positive view of the company's acquisition of Sunrise Senior Living, Inc. (SRZ). It also upgraded Healthcare Realty Trust Inc. (NYSE:HR) to "buy" from "hold." (See my recent article on health care REITs here). I also like Healthcare Trust of America (NYSE:HTA) and Omega Healthcare Investors (NYSE:OHI).
Triple-net REITs, which have a longer-term lease structure, will likely see a greater benefit from the Fed's quantitative easing policies, the report said. KeyBanc upgraded its rating of CapLease Inc. (NYSE:LSE) to "buy" from "hold." (See my article on Cap Lease here). I also like Realty Income (NYSE:O) and National Retail Properties (NYSE:NNN). W.P. Carey (NYSE:WPC), recognized for its globally diverse sale-leaseback platform, is also set to concert to a REIT in a few days.
Separating the Best from the Rest
Dividend Income (especially equity REIT dividends) makes for a disciplined approach that enables an investor to balance his or her portfolio for the long haul. By owning shares in REITs, an investor can lower portfolio volatility and provide meaningful dividends that enhance overall total returns. The most outstanding investors are able to recognize portfolio risks and distinguish the ability of controlling those risks while also generating sound returns. Remember that it is the investor's job to intelligently bear risk for profit and doing that well is what separates the best from the rest.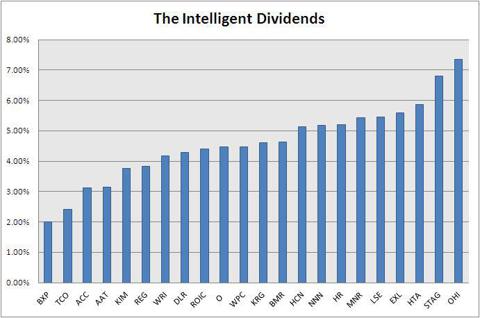 Source: SNL Financial, KeyBanc, Chilton Capital Management
Disclosure: I have no positions in any stocks mentioned, and no plans to initiate any positions within the next 72 hours. I wrote this article myself, and it expresses my own opinions. I am not receiving compensation for it (other than from Seeking Alpha). I have no business relationship with any company whose stock is mentioned in this article.