Quite a crazy couple of days last week. This market continues to search for some sort of direction. News from Merrill Lynch (MER) saying that they had liquidated the last of their mortgage linked securities for 22 cents on the dollar (yes, 1/5 of their actual value) sparked a flurry of buying in the financials. Jim Cramer even called the bottom in financials on one of his shows last week, leaving CNBC in nothing but party mode. We are much more cautious though.  
To start, let's recap what Merrill Lynch's CEO, John Thain, has had to say regarding their position in the markets over the past six months:  
January 30th: "We're very comfortable with our position. We could have raised substantially more money. We turned people away."
July 17th: "We believe that we are in a very comfortable spot in terms of our capital."
Last week: "Our consistent focus has been to opportunistically reduce risk, and in order to take advantage of this sizeable sale on an accelerated basis, we have decided to further enhance our capital position."  
Coming from the CEO of one of the largest financial institutions in the world, his statements have been far from honest. That in and of itself should make investors cautious of calling bottoms in any sector. Furthermore, for this to happen just two weeks after the companies last quarterly earnings conference call is really "surprising." Let's just say that we would not be "surprised" to see even more write-downs as we continue into the second half of this year.  
The fact of the matter is that the economic data that we saw last week was far from encouraging. The US economy shed another 51,000 jobs last July, leaving us at a current unemployment rate of 5.7%. GDP came in at 1.9% annualized growth. Analysts were expecting something closer to 2.4%. Auto sales were pretty much terrible and Greenspan stated last week on CNBC that US home prices are "nowhere near a bottom." Simply put, this economy continues to struggle.  
On a chart, the picture is clear and the trend continues to be down:  
click to enlarge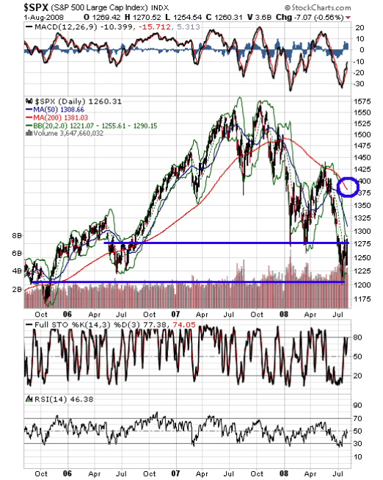 The S&P500 continues to have very strong resistance at the 1275 area. Until we break that level, we will continue to be strongly bearish on this market. For the time being, however, we believe that this market will be range bound between the 1200 and 1275 area for the next few weeks.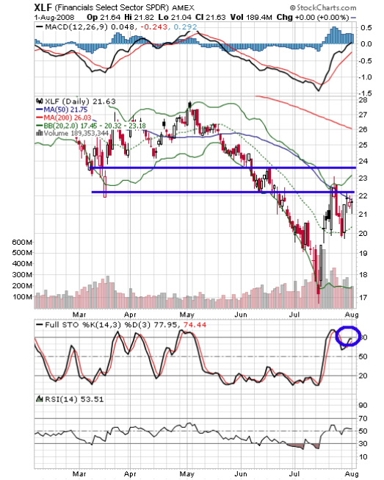 The financial sector has been nothing short of a trader's dream as of late. However, before we start calling bottoms on this sector, we'd like to see a break above $23.5 on strong volume. Until that happens, in our view, this is nothing but a short-covering, bear market rally.  
Good luck and happy trading.