The old saying that "there has to be a bull market somewhere" rings true. There's about $50 trillion swashing around in the global financial system…and it has to go somewhere.
The way things are looking right now, one of those "somewheres" will be the Middle East. High energy prices have been a boon to many countries in the Middle East. Countries like Kuwait, Bahrain, Qatar, and UAE have become some of the wealthiest countries in the world.
In the UAE the number of millionaires grew by 15% last year. In Saudi Arabia a new millionaire is minted every 46 minutes. Most importantly, the Middle Eastern economies are showing strength when most of the world is fearing financial ruin.
Getting in now is far from early, but there's still some money to made in the region. The Middle East still isn't perfect. There many rules restricting foreign investment, the local markets are poorly regulated, and there is a severe lack of transparency.
But if that's where the big money is going next, all that doesn't matter. Still, it's probably best to let a financial institution put your money to work in this region.
I've got to warn you though; there are only a few options available to invest in this fast-growing region. And they can be very, very different. Knowing those differences is the first step.
ETF vs. Mutual Fund
I'll be honest, I want to be invested in the Middle East. I want direct exposure to Qatar, Kuwait, Bahrain and other oil-rich countries. That kind of direct exposure tough to find. The problem is the Middle East is normally lumped together with North Africa. In some cases, the Middle East is linked to all of Africa.
Recently there have been a slew of Middle East and North Africa [MENA] funds made available to the public. T. Rowe Price Africa and Middle East Fund [TRAMX] and SPDR S&P Emerging Middle East & Africa (AMEX:GAF) caught my attention. They are two quick and easy ways to get some exposure to the ongoing growth of the Middle East.
The SPDR ETF trades like a stock, has low expenses, and certain tax advantages. It is an ETF after all.
The T. Rowe Price fund has higher expenses and you have to buy and sell at the close of trading just like most other mutual funds.
Initially, I leaned towards the ETF for all the benefits listed. I wanted exposure to the Middle East and didn't want to pay much for it. In this case, however, a bit of extra cost may go a long way. It all has to do with the focus of the funds.
A Tale of Two Funds
As an investor, I want exposure to the Middle East…not Africa. The Middle East is booming. Africa, frankly, is still a very tough place to make money.
For instance, some of the world's most lucrative mines could be built in the Democratic Republic of Congo. But due to political instability, they may never go into production. China has had success developing mines in Africa. In most cases though, they bring at least 500 troops (literally).
Africa is not a place I want to be invested in too deeply yet. There are some opportunities there, but they are limited. I much prefer the Middle East and want the fund that is truly focused on the Middle East.
Take a look at the table below. GAF is heavily focused on Africa. Six of its ten largest holdings are in South Africa. None are in the oil rich high growth countries of the Middle East.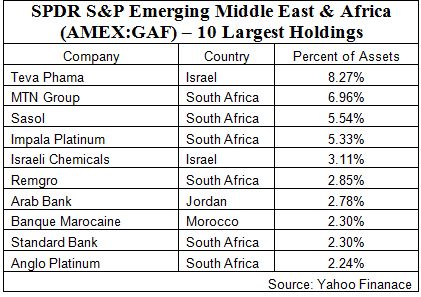 That's not the case with TRAMX. As you'll see in the table below, TRAMX has the high degree of exposure to the Middle East. Three of its largest 10 holdings are in the UAE, two in Qatar, and two in Oman.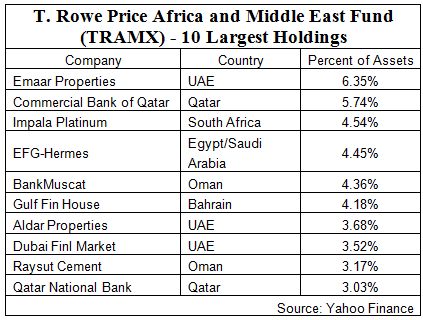 If you're looking to invest in the Middle East, it's imperative to do your research. This is not like the energy sector where most of the ETFs and funds are all investing in the same stocks.
The Middle East is still not a perfect place to invest. But the region is making big strides. Dubai, Abu Dhabi, and Qatar are becoming global financial centers. The region is growing and maturing.
The Middle East has learned that high oil prices probably won't be here forever and are already diversifying. They're attracting foreign investment and the local markets are sure to do well over the coming years.
GAF and TRAMX, as ways to get in on the booming Middle East economies, are very different. If you want to invest in the Middle East, TRAMX is probably one of the best ways to do so.
The Race is On
Of course, there are still yet a few more ways to capitalize on the Middle East, but they are brand new. Two new ETFs have been launched in the past few weeks. But again, you have to look at the amount of direct exposure each has to the Middle East.
The Gulf States Index ETF (NYSE:MES), Wisdom Tree Middle East Dividend Fund (NASDAQ:GULF), and Powershares MENA Frontier Countries Portfolio [PNMA] all have varying degrees of exposure to the Middle East.
But, as we can see from the amount of newly opened ETFs and the funds focused on the Middle East and North Africa, there's a lot of money flowing into the region. This could be a big wave of money flowing into a small area and profits would surely follow for those that move in now.
Disclosure: I do not own shares in anything mentioned in the article.