Very few will doubt that in the equity markets, the big story of the last 10 years has been the record-breaking rise of Apple (NASDAQ:AAPL) from a tiny $7 billion company to a $650 billion giant. Today, it is the biggest listed company in the world, accounts for more than 4% of the total capitalization of the S&P500, and is considered a "buy" by 85% of the accredited analysts who follow it (52 out of 64, according to Bloomberg).
Despite being propelled by rising earnings and the development of innovative products, I consider the recent parabolic performance (+64% YTD) as the final leg of a wonderful uptrend more than the base for future price increases. In the next paragraphs, I will try to explain why, and in a future article, I will analyze why Microsoft (NASDAQ:MSFT) might be a better bet for those who want to retain exposure to the IT sector
In the past 10 years, Apple has been able to grow sales from $5.7 billion in 2002 to $108 billion in fiscal year 2011. At the same time, earning per shares rose from $0.10 to $28.8, also thanks to an impressive expansion in margins (now at 23.9% from 1.1% in 2002).
Apple was able to achieve these remarkable results thanks to the introduction of new products which created new markets and represented disruptive innovations. We talk about the iPod, iTunes, the iPad and the iPhone, leader products in expanding markets, able to match technical specifications with design and consumer taste.
But those markets are now maturing; more and more people have already switched to smartphones or tablets, and the high profit margins have attracted fierce competition. To stay ahead and keep such an high level of revenues, Apple has very little room for error in product development. We fear that the actual investments in R&D [1] may be too small to grant technology and design leadership in the medium run:

Apple accounts for little more than 4% of the total R&D spending of this group (which stands at $56 billion) which is in our view too little to prevent others to create the next killer application of technology. And this sample does not even include Samsung, probably the greatest threat in the smartphone arena, which invested in 2011 nearly $29 billion on its research projects and manufacturing upgrades.
Cupertino will certainly benefit from its legacy products and from a loyal user base, but growing revenues (or even keeping them at these high levels) will prove to be a real challenge. As shown in the next graph, EPS and net margins are both extremely correlated with sales: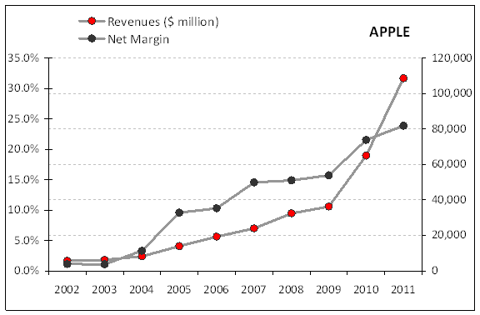 If Apple fails with a new product, it will suffer a double hit: from lower revenues and from shrinking profit margins, leading to a sharper EPS correction with a significant impact on the stock price.
Moreover, profit margins might be squeezed by other factors:
- the product mix is changing, with a higher percentage of total sales coming from the iPad, which has lower margins than the iPhone. This trend can be exacerbated by the likely introduction of the iPad mini, rumored to be priced very aggressively: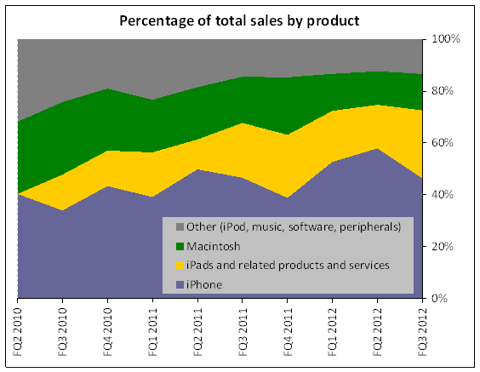 - loss of pricing power, given the increase in competition from low-end (Amazon Kindle Fire) and high-end (Samsung Galaxy III) products. The effect on average selling prices of iPad and iPhone is already showing up, as in the next graph provided by Bloomberg: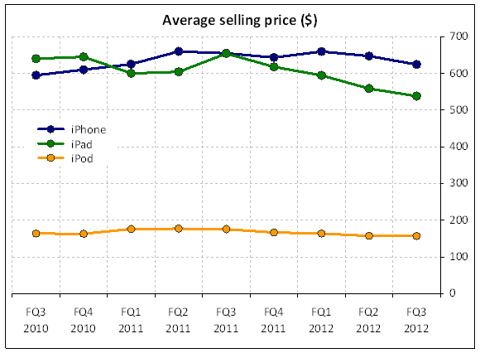 - increasing commodity prices, in particular Rare Earth Metals (NYSEARCA:REMX), which are now very low;
- increasing labor costs, not only in their assembly plants in China [2] but also from employees at their flagship stores [3]. A 10% increase in costs in their factories in China could impact margins by roughly 0.2% given the assembly costs of around $10 per handset. According to a recent statement from Foxconn president, salaries in its Chinese factories should rise on average by 80% by the end of 2013 [4];
- reduction in subsidies from telecom operators, which currently contribute a big part of Apple profits on the iPhones [5]. As consumers switch to new models, telecom operators suffer short-term cash outflows, which should be compensated by long-term subscription plans. Thus, Telecom operators earnings become more cyclical, and this might upset their investor base, pushing Telecom companies to negotiate better deals with Apple or to invest less in the marketing of new phone models;
- a switch of consumer preferences towards more open-infrastructure products. The recent removal of Google Maps and Youtube from iOS6 might disappoint some users and developers already complain about the high fees paid on the App-store. Very close infrastructure work well in the early stages of a new technology but if they don't become the standard, they can easily turn into a trap, as experienced for example by RIM with Blackbarry OS or by Hewlett-Packard with webOS;
- the rise in popularity of Android, which could benefit from the endorsement and the R&D spending of a wide range of software and hardware producers.
Our suggestion is to take profit from the recent price performance and reduce the exposure. Although the stock price is supported by reasonable valuations (Apple trades at a 15x P/E) which should prevent a sudden sell-off, competition and below-par R&D spending might cause some re-rating in the medium/long term.
REFERENCES:
[1]: R&D spending
[2]: China riots
[3]: Paris protests
[5]: Telecom subsidies
Disclosure: I have no positions in any stocks mentioned, and no plans to initiate any positions within the next 72 hours. I wrote this article myself, and it expresses my own opinions. I am not receiving compensation for it (other than from Seeking Alpha). I have no business relationship with any company whose stock is mentioned in this article.