The year 1978 marked the beginning of a new era for China. In 1978, the Chinese government introduced a long-term action plan for fundamental reforms. The primary purpose of this plan was to increase the role of market mechanisms within the domestic economic system. It is worth mentioning that, before the reforms began, the combined value of imports and exports was quite low. It accounted for 10 percent of the national income. In 1986, it reached about 35 percent.
Over the decades, and after the introduction of new reforms, the Chinese economy started to grow at a fast pace. This growth was mainly based on tight monetary policies that did not allow the country's currency to convert freely. This way, Chinese exports soared. Consequently, China attracted capital inflows and gained huge reserves. By 2010, it had become the second-largest economy in the world after the U.S. Today, the country owns over $3.3 trillion in reserves. That is a lot of money. Moreover, the China's share of world exports reached 10 percent in 2010. China overtook Germany and became the greatest exporter in the world.
Share of world exports, 1970-2014 forecast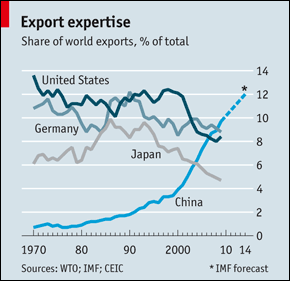 In addition, between 1995 and 2007 Chinese real GDP grew at an average annual rate of more than 10 percent. Over this period, the per capita real GDP rose by 250%. Currently, in the aftermath of the recent global financial turbulence, China has an annual growth rate of 7.6 percent. This rate might seem slow for China. However, most industrialized economies keep struggling with figures much lower than that.
One of the key drivers of China's growth is indisputably the IT industry. It is estimated that revenue from the technology industry will increase at an average annual rate of 24 percent by 2015. One could assume that Chinese technology stocks are the new "safe haven." Well, are they? China is famous for having a very restrictive internet censorship policy. Thousands of websites have been banned under this policy, including some of the most common social networking sites. This way, companies such as Sina, get to benefit. Do not forget that China has the biggest population in the world consequently a very large number of internet users. According to the Internet World Data, internet penetration in China accounts for 38.4 percent of the country's total population. This percentage translates into 513 million internet users. It is estimated that, over the next years, internet penetration in China will follow an accelerating trend. Therefore, profit opportunities for Chinese IT companies are numerous. Based on my analysis, I noticed 5 Chinese technology stocks that attract investors' interest in terms of average trade volume. Here is a short analysis of these stocks:
Baidu, Inc (NASDAQ:BIDU)
Baidu is one of the biggest internet search providers in China. It is to the Chinese what Google (NASDAQ:GOOG) is to Americans. This technology giant has a market cap of approximately $39.29 billion and controls about 80 percent of the Chinese economy.
The last few months BIDU stock did not perform as expected. In August 2012, BIDU reached the peak of $133.66, and since then it has started to walk on unstable paths. In mid-September 2012, Baidu was trading at $107, which was very close to the 52-week low of $99.71. Currently, the stock is trading at $112.80. At this level, I believe that it is undervalued. Even though, skeptics expect that increased competition within the industry will push BIDU stock to plummet. I disagree. There are sound reasons for investing in Baidu. For instance, the company reveals a strong financial performance. Current ratio stands at 4.69, and debt-to-equity ratio at just 0.112. The company holds an impressive sales record. Over the past 5 years, sales have grown at an average rate of 64.45 percent. The industry's same variable is only 16.81 percent. Moreover, gross profit margin reaches 72.17 percent. I believe that, at current levels, BIDU consists of an attractive investment. The mean analyst target price is $161.29, suggesting that Baidu has a long way to go.
Sina Corporation (NASDAQ:SINA)
Sina is a well-known Chinese provider of online media services, and mobile value-added services (MVAS). Sina Corporation was established in 1999, and it is based in Shanghai.
The last couple of months the stock has been performing quite satisfactorily. Currently, Sina is trading at $63.65. At current levels, the stock is trading at attractive valuations. With a price-to-sales ratio of 8.41, and a price-to-book value ratio of 3.68, the stock seems very appealing. Moreover, the profitability prospects of the company are remarkable. Sina has a 5-year average gross profit margin of 62 percent, which is way higher than the industry's standard of 51.90 percent. The mean analyst target price for the tech stock is $76.68, which suggests upside potential of at least 20 percent. Analysts' consensus opinion is that for the remainder of 2012 and for 2013 the stock will outperform.
NetEase, Ince (NASDAQ:NTES)
Another technology giant based in Beijing, is NetEase, Inc. NetEase engages in online gaming, Internet portal, and MVAS. The company has a market cap of approximately $6.920 billion and controls around 10 subsidiaries.
NTES stock is trading at $52.84, with a price-to-sales ratio of 5.41, and a price-to-book value ratio of 2.928. The company has a striking financial performance. Current ratio stands at 6.63, and quick ratio at 6.00. The company's management effectiveness is also worth mentioning. 5-year average net profit margin equals 46.40 percent. Return on assets and return on equity account for 22.86 percent and 26.91 percent, respectively. Overall, at current valuations, I believe NetEase provides an excellent investment opportunity.
QIHOO 360 Technology Co. Ltd (NYSE:QIHU)
Qihoo is one of the biggest internet and mobile security products provider in China. The company also offers internet platform products and engages in MVAS. As of January 2011, Qihoo had 328 million monthly active internet users. This number translates into the impressive user penetration rate of 83.9 percent of total Chinese users.
Qihoo is another example of a highly profitable Chinese technology company. Gross profit margin is 89.02 percent. In addition, current and quick ratio are 7.30 and 7, respectively. The price-to-earnings ratio is quite pricey but other than that QIHU attracts a great deal of interest. At the current price of $22.18, analysts consensus recommendation is "buy."
Spreadtrum Communications, Inc (NASDAQ:SPRD)
Spreadtrum Communications is one of China's leading mobile IC suppliers. The company designs, develops, and markets a series of baseband processor solutions that prevail in the Chinese wireless communications market.
Spreadtrum has a market cap of nearly $1 billion. The stock price is $19.41. At current valuations, analysts' suggest that SPRD is a "strong buy." Price-to-sales ratio is 1.33, and price-to-book ratio is 2.83. Earnings yield stands at 12.66 percent. The stock has a dividend yield of 1.90 percent with a payout ratio of 7.00. The company's gross profit margin stands at 37.08 percent. Also, with a 5-year average sales growth rate of 43.99 percent I strongly believe that SPRD should not be ignored.
Disclosure: I have no positions in any stocks mentioned, and no plans to initiate any positions within the next 72 hours. I wrote this article myself, and it expresses my own opinions. I am not receiving compensation for it (other than from Seeking Alpha). I have no business relationship with any company whose stock is mentioned in this article.