The share price of BYD (OTCPK:BYDDF) (OTCPK:BYDDY) plunged more than 10% and kept declining in Hong Kong stock market after a CLSA analyst brought down his target price for BYD to nearly nothing. CLSA, a Hong Kong investment firm, had a sell recommendation on BYD and lowered its price target to only HK$0.41 (US$0.05), only 3% of the current price.
BYD is a rechargeable battery and car manufacturer in China. In 2008, it received an investment from the most two successful investors in the world, Warren Buffett and Charlie Munger. Berkshire Hathaway (NYSE:BRK.A) (NYSE:BRK.B) purchased 9.9% stake in BYD for US$230 million via its controlled subsidiary, MidAmerican Energy. In addition, Charlie Munger once said that his family held a little more than half of the family fund with BYD investment. Munger commented that the founder, chairman and CEO of the company Wang ChuanFu is "a combination of Thomas Edison and Jack Welch - something like Edison in solving technical problems, and something like Welch in getting done what he needs to do."
CLSA thought the company would experience declining business in mobile phone components, rechargeable batteries and new energy. "BYD has talked about its EV (Electronic vehicle) and plug-in hybrid automobiles for years, but they only sell in small volumes in Shenzhen. This is a clear signal that even the company does not think its EV technology is ready for wide-range use."
For the six months ended June 2012, BYD had RMB 21 billion (US$3.33 billion) in revenue, similar to the same period last year. However, it had only RMB 0.01 (US$0.0016) in profit, only 8% of what it earned in the first 6 months in 2011, of RMB 0.12 (US$0.02). It was due to the increase in finance costs and the losses of jointly controlled entities and associates. For 2012 third quarter estimation, BYD wrote: "Following the increase in marketing efforts and appropriate cost-control initiatives adopted by the Group, it is expected that the loss will narrow in the third quarter as compared to the same period last year. However, the Group's overall results may still be dragged down to a large extent."
However, company spokesman Michael Austin is still bullish on BYD's future prospects: "BYD has been and continues to be profitable. Now it's not the same profit levels we have all been accustomed to, but we are on track to get back to that spot."
For a year, BYD stock has been quite volatile. The 52-week low share price was HK$12.1 (US$1.56) and the 52-week high was as high as HK$28.3 (US$3.65). At the time of writing, the share is trading at HK$13 (US$1.68) per share.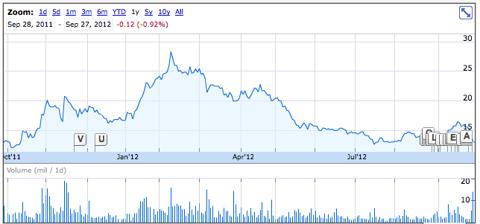 Personally, I think Warren Buffett and Charlie Munger will still feel confident for the long-term future of BYD. They bet large on the management and its founder, Wang ChuanFu. In 2010, Li Lu, a money manager for Charlie Munger, appraised BYD's founder's past achievements: "He got into battery manufacturing in that particular way because he really had no other option. He had no money, he only had $300,000 in venture capital funding before IPO and that was it. He raised money in an IPO and Buffett gave him $200M, now they have 160,000 employees. $6-7B in revenues, $500M in net profit. It is amazing. So he has this ability to adapt in a competitive environment. He has demonstrated that ability again and again. The way he does automation is far cheaper than anyone else and more reliable. He continues to surprise me with his ingenuity, to figure out ways to do something better than everyone else. What he is currently doing is very different than what everyone else has done. At the end of the day, you might look at what he has done."
Personally, I think the glitch for BYD is temporary, and history proves that the most important thing for a company going forward is to have great management. As Charlie Munger expressed his views with great companies: "My experience with great companies that have a little glitch is they come out stronger. "
Disclosure: I am long OTCPK:BYDDY. I wrote this article myself, and it expresses my own opinions. I am not receiving compensation for it (other than from Seeking Alpha). I have no business relationship with any company whose stock is mentioned in this article.
Additional disclosure: i am long byd in hong kong stock market