For dividend growth investors, value should always play a major role in determining when to make investments. Dividend growth investors always strive to buy high quality stocks and high quality companies when they are trading at or below fair value. On the heels of recent negative guidance, reduced expectations for economic growth, and general unease in the stock market, a number of fantastic dividend growth stocks can be bought at outstanding values.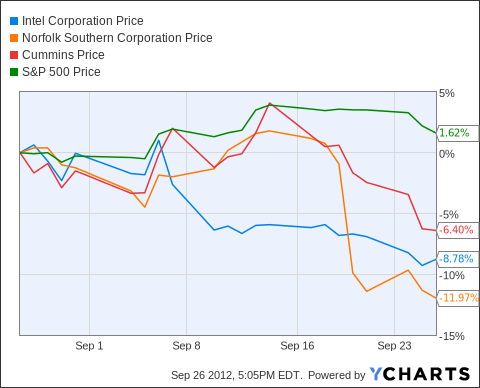 Intel (NASDAQ:INTC)
Intel is the world's largest semiconductor chip maker. With 2011 revenue of $54B, Intel is the undisputed industry leader. The company is most well-known for its stranglehold on the PC market, but in 2009, the company completed a reorganization to align with all of the major product groups including: PC, Data Center, Communications, and Mobility. INTC has exhibited some weakness in expanding beyond their high energy chips to support more mobile platforms such as smartphones and tablets.
Over the past month shares of INTC have declined 8.7%, and can be bought for $22.64, giving shares a TTM P/E of 9.55. This is well below the company's 5 year average of 17.7. The company has already issued guidance lowering full year earnings in the wake of soft PC demand, but over the next 5, years earnings are expected to grow by nearly 12%. With its size and scale, the margins INTC is able to produce cannot be matched by industry competitors, and the company has very little debt.
INTC currently pays out 34% of earnings in dividends. The current annual of $0.90 works out to an annual yield of 3.99% based upon today's prices. The company has shown a commitment to maintaining and growing the dividend and over the past 5 years, and has averaged nearly 15% dividend growth.
While shares of INTC face headwinds from reduced PC demand, with the revenue and R&D available to INTC, they should be able to gain market share in the smartphone and tablet world. While overall PC sales have decreased, as hiring worldwide picks up, INTC should benefit as PCs are still the ultimate business tool. With a low payout ratio, little debt, a low valuation, and expected double digit earnings growth, INTC should reward patient DGI investors in the years ahead.
Cummins (NYSE:CMI)
Cummins is the leading producer of diesel engine technology and peripherals. The company, headquartered in Columbus, Indiana, has seen shares decline 25.5% over the past six months. At its current price of $92.27 CMI shares currently trade with a TTM P/E ratio of 9.2, well below the 5 year average P/E ratio 16.0.
Over the past 12 months CMI has increased EPS by 31.8%, and with the expectation of 12.75% earnings growth over the next 5 years, CMI shares should continue to grow. Cummins has a current ratio just under 2, and total debt is equal to just over 6%. Cummins currently has a very low payout ratio below 16%. With a current streak of 7 annual dividend increases and such a low payout ratio, Cummins appears poised to continue growing their dividend. Over the past 5 years CMI has an average annual dividend increase of 31.9%, with the most recent increase coming in at 25%.
Earlier this week, Caterpillar (NYSE:CAT), another major machinery manufacturer, issued lower earnings estimates for this year and issued lower guidance for 2015. While machinery stocks have suffered in the time since this guidance, the low expectations created with this reduced guidance sets machinery stocks to beat on earnings in the years to come.
I believe Cummins offers dividend growth investors an opportunity to see great capital appreciation and outstanding growth. While the stock currently trades well below its 5 year average P/E ratio, I would hold out for a pullback to $90 before jumping in.
Norfolk Southern Corp.
(NYSE:NSC)
Norfolk Southern is one of the primary rail carriers on the eastern half of the United States, along with CSX (NYSE:CSX). On September 19th, NSC issued lower Q3 guidance due to declines in coal and other merchandise shipments. Since the announcement shares have declined 5.3%, and over the past 6 months Norfolk Southern shares have declined 2.33% versus a 1.2% gain for the S&P 500.
Shares of Norfolk Southern currently trade for $64.57, giving shares a TTM P/E ratio of 11.14, below the 5 year average of 14.1. NSC has grown EPS 23% over the past 12 months, and expects to grow EPS at 14.1% over the next 5 years. NSC has relatively low debt with total debt to assets of 27%. NSC has a payout ratio below 31% and an 11 year streak of annual dividend increases. Over the past 5 years, NSC has increased its dividend by an average of nearly 14%. With a low payout ratio, low debt, a history of increasing dividends, a low valuation, and double digit earnings growth shares of NSC appear to be positioned to return value to shareholders.
Norfolk Southern did just recently issue lowered guidance, and the rail industry as a whole does face headwinds from reduced coal shipments. Reduced coal shipments are not a new challenge for rail operators, and in fact the worst has been priced into shares.
The selloff of rail operators in the wake of the lowered NSC guidance has been overdone, and rail operators are undervalued across the board. A more complete analysis of rail operators can be found here.
Conclusion
Dividend growth investors looking to maximize long term returns can look at companies that have issued negative guidance or experienced other bad news to find stocks trading at attractive valuations. Investors must be cautious when analyzing these stocks to ensure that the underlying business has the strength to return value to shareholders. As long as the business fundamentals for the companies and stocks are in place these potential negatives can represent buying opportunities for long term investors.
Disclosure: I am long CSX. I wrote this article myself, and it expresses my own opinions. I am not receiving compensation for it (other than from Seeking Alpha). I have no business relationship with any company whose stock is mentioned in this article.