"Anyone who believes exponential growth can go on forever in a finite world is either a madman or an economist."
-Kenneth Boulding, Economist
Money managers have taken profits on many stock positions in the funds they manage. They've enjoyed a profitable third quarter through Friday the 21st. As I warned in my last article, the markets were due for a meaningful pullback, and that's what we're experiencing.
The process that the "Smart Money" follows isn't much different than ours when it comes to growing our investment assets. They want to buy low and sell high. They had a prosperous run for almost 2 months, and this is currently what managers refer to as a "timeout".
After closing close to record highs, the week of September 24th has been a typical downer after a "triple-witching week". As the chart below of the Nasdaq 100 Index in contrast to the Investors Intelligence Bullish Consensus indicates, big technology stocks like Apple Corp (NASDAQ:AAPL) and Cisco Systems (NASDAQ:CSCO) are in decline in this the last week of September.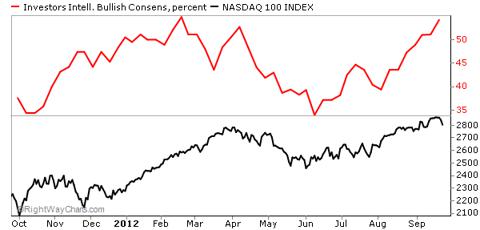 Notice that the Investors Intelligence Bullish Consensus is still going higher even as the Nasdaq 100 index dips lower. Investors are still bullish, but after the remarkable recent gains they're growing cautious.
The chart below shows us the advancing and declining issues over the past year in relationship to the S&P 500 index. It shouldn't surprise us that of late decliners are outnumbering advances by a significant amount. We'll most likely see some choppy stock market action in the weeks and months ahead which should lead to better entry points for initial positions or to add to your existing portfolios.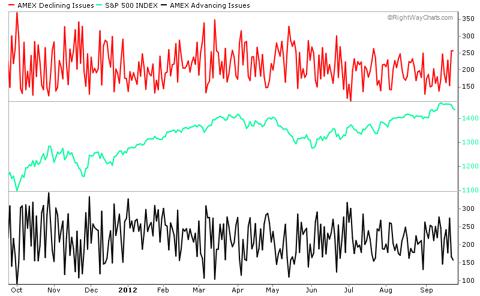 Friday September 21st the S&P 500 closed at 1,460 which year-to-date is a 16% increase. If we were to see a healthy correction of 10% it would bring that stock index back down to around 1,314.
This would mean a correction for the 30 companies that comprise the Dow Jones Industrial Average (DJIA) from Friday's high of 13,647 to somewhere close to 12,282.
I'm going to give you my best educated guess on both the DJIA and the S&P 500, and base it on their 200-day moving averages. For the DJIA I'd say close to the 12,700 level (about where it was on July 26, 2012 when this last amazing bull run started). The S&P 500 will, in my opinion, correct to between 1,350 and 1,360.These are only guesses.
What Should You Be Planning to Buy?
Let's look at our next chart for some perfect hindsight and some hints as to what we might expect to see move higher after this bull-market correction takes its course.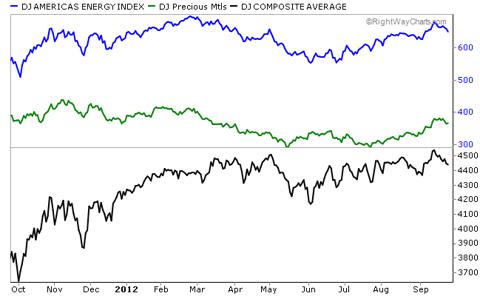 The Dow Jones Composite Index tracks the performance of 65 well-known, large cap companies. You can see the list by clicking here. The other two indices are self-explanatory, and as the chart above indicates, both the prominent energy companies and precious metals producers performed well since the beginning of August 2012.
Of the DJ Composite Index, I'd encourage you to consider companies such as a major diversified food company like Kraft Foods (KFT), especially if you can buy below $40-a-share.
Their efforts to enhance their shareholder's results by splitting into an international snack company and domestic food company makes sense. Both segments look attractive. Mondelez snacks division has growth potential and the Kraft Foods segment should be producing the revenues for decent dividends.
Intel (NASDAQ:INTC) is beginning to look undervalued with a PE of 10 and a PEG ratio (5-year expected) of only 0.89. Their share price is closing in on a dividend yield-to-price of 4%, which looks sustainable with the payout ratio at a modest 36%.
Look again at the list of the companies that comprise the DJ Composite Index. You'll see great growth names like Chevron (NYSE:CVX) and Coca-Cola (NYSE:KO). If you're fortunate during this correction we might see CVX below $110 (especially with oil prices subsiding) and KO at $37 or lower.
That would fetch close to a 3.3% dividend yield for CVX and nearly 3% for KO. Another name on the Composite Index worthy of consideration is cash-rich Microsoft (NASDAQ:MSFT), which may temporarily drop below $30 on one of those emotionally ugly days for the markets ahead.
MSFT has the Windows 8 update and the release of their Tablet coming out in the 4th quarter. This could set things up for some price volatility in anticipation of those releases. If you can snag shares closer to $29 you'd be capturing more than a 3% dividend yield.
Among the precious metals, two of the better performers over the last couple of months have been Yamana Gold (NYSE:AUY) and Pan American Silver (NASDAQ:PAAS). Speaking of silver, you should consider accumulating shares of Silver Wheaton (SLW), which operates as a silver streaming company with minimal costs of doing business.
SLW has almost no debt and sells at a PEG ratio of 0.96. With outstanding operating and profit margins (75% and 73% respectively) and $1.1 billion in total cash, these shares should be worth more like $50-a-share with silver trading at $34 and the company stating that they have 798 million ounces of silver reserves.
If you're looking for another good energy play with nice dividends consider ConocoPhillips (NYSE:COP) which explores for, produces, transports, and markets crude oil, natural gas, natural gas liquids, liquefied natural gas and bitumen on a worldwide basis.
See if you can bottom-fish for shares of COP. If they dip to $55 you'll catch a yield-to-cost of 4.8%, which is nothing to sneeze at. Their payout ratio is a modest 33%. Their financial numbers don't look as impressive as ExxonMobil (NYSE:XOM), but XOM pays only a 2.5% yield at its current price of $91.23.
Be prepared for a volatile period ahead for the stock market and both the energy and precious metals markets. If you know what you want and let the markets come to you, you're likely to find better prices and more attractive entry levels.
Disclosure: I am long AUY, INTC, PAAS, SLW. I wrote this article myself, and it expresses my own opinions. I am not receiving compensation for it (other than from Seeking Alpha). I have no business relationship with any company whose stock is mentioned in this article.